In a world driven by connectivity and the internet, routers have become quite popular devices. But people who crave control over their data should be wise enough to go that allow the installation of DD-WRT.
Besides providing you with enhanced control, security and flexibility, DD-WRT routers offer you unrivaled privacy with your connection through OpenVPN. There're a lot more features to look out for.
When it comes to choosing the right one, you can be sure to be besieged with a lot of options. That's exactly why we've prepared this guide highlighting the best DD-WRT routers in the market today. Make your choice here.
Best DD-WRT Routers for 2020
Router Name
Dimension
Specifications
RAM/Flash
Price
Asus RT-AC5300
15 x 11.5 x 4.8 inches
1.4GHz dual-core CPU

8 external Antennas
512 MB/128 MB
Check Price
Linksys WRT3200ACM
30 x 6.5 x 18.8 inches
1.8Ghz dual-core CPU

4 external Antennas
512 MB/256 MB
Check Price
D-Link DIR-878
10.2 x 7.1 x 1.8 inches
1.4GHz dual-core CPU

4 external Antennas
256MB/128 MB
Check Price
D-Link AC5300 Ultra
10.3 x 16.4 x 5.9 inches
1.4GHz dual-core CPU

8 external Antennas
4 GB/128 MB
Check Price
Linksys WRT1200AC
9.76 x 7.68 x 2.01 inches
1.3GHz dual-core CPU

2 external Antennas
256MB/128MB
Check Price
Netgear R7000
11.22 x 7.26 x 1.97 inches
1000MHz dual-core CPU

3 external Antennas
256MB/128MB
Check Price
Netgear R6700
11.22 x 7.26 x 1.97 inches
1GHz dual-core CPU

3 external Antennas
256MB/128MB
Check Price
Asus RT-N66U
11 x 14 x 3.5 inches
Broadcom 600MHz

3 external Antennas
256MB/32MB
Check Price
TP-Link Archer C9
8.7 x 3.4 x 6.6 inches
1GHz dual-core CPU

3 external Antennas
128MB/16MB
Check Price
D-Link EXO DIR-869
6.31 x 8.72 x 2.38 inches
1.0GHz dual-core CPU

4 external Antennas
64MB/16MB
Check Price
Asus RT-AC5300 – Best DD-WRT for Home and Work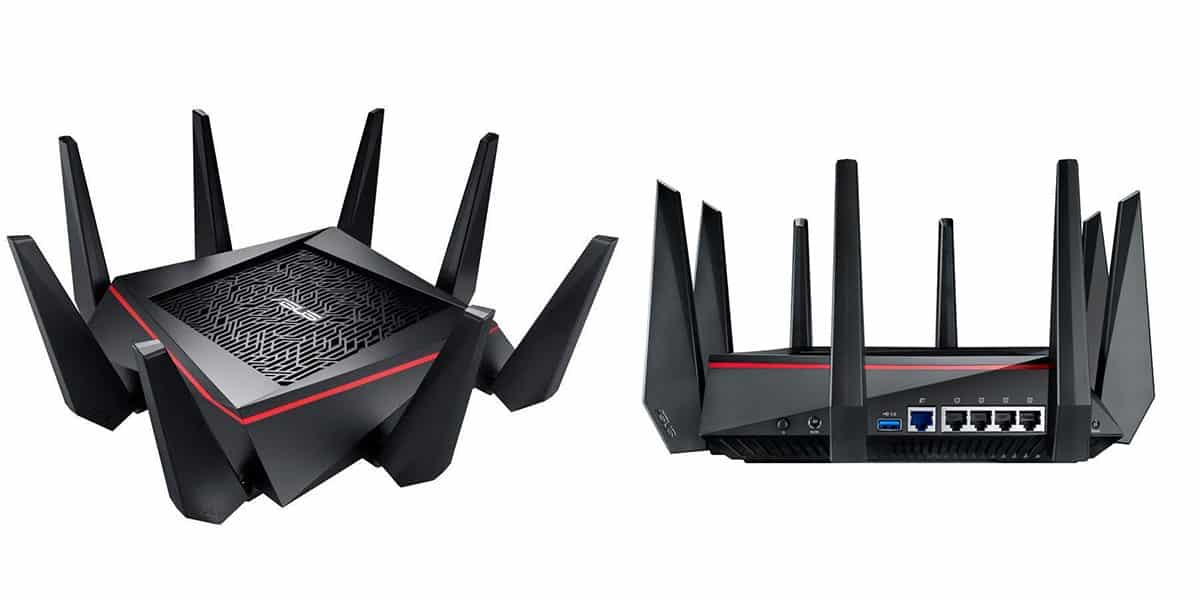 The Asus AC5300 looks like a spider because of its multiple antennas, but it does even better in terms of performance.
If you're looking for a router that gives you the most bang for your buck, this device is for you. It comes with eight detachable external antennas which have been configured to cover a wide range and produce impeccable connectivity.
With Asus AC5300, you can set up a couple of 5GHz networks. It comes with 512MB RAM and runs on a 1.4GHz dual-core processor – these are great specs that won't slow you down.
We can guarantee it's perfect for work. It's also a great choice if you need fast and stable WIFI at home.
Pros:
Impressive design
Smart performance
Your data is protected from hackers with AiProtection from Trend Micro
Great support
Cons:
Doesn't support wireless bridge
Considering the cheaper options out there, some might find this expensive
Bottom Line
You might not find a DD-WRT that performs better in terms of speed, coverage and performance.
Linksys WRT-3200ACM – Best for Gamers

In terms of range and performance, Linksys WRT3200ACM is one of a kind. It runs on a 1.8GHz processor and has 512MB RAM. This combines to give you a device that performs better than most for high-end tasks like video streaming and online gaming.
The device has four antennas. Most importantly, these allow you to install a DD-WRT management kit; that means you can customize it and gain access to those VPN features earlier mentioned.
However, we discovered this: if you flash them and install DD-WRT, it loses its Tri-Stream feature because that technology doesn't work with DD-WRT.
Pros:
Wide range
Superb transfer speed
Excellent connectivity
Cons:
They could do better with support
Doesn't do so well with 2.4GHz speeds
Bottom Line
You'll enjoy this device if you're looking for a router that performs efficiently for intensive tasks with a wide range.
D-Link DIR-878 – Best Customizable DDR-WRT

D-Link DIR-878 gives you the most freedom to customize and add as many features as meet your taste. You might have to spend a little more to make it happen, though.
This router flaunts a beautiful design; it has four adjustable antennas and four LAN port. The D-Link DIR-878 runs on a dual-core CPU and supports 802.11ac technologies.
In terms of speed, we think they could've done a little better here. But this device is a decent choice if you're looking the one that doesn't compromise on speed or overall performance.
Pros:
Easy to install
Very customizable
Good support
Cons:
They could've done better with the performance of Multi-User Multiple Input, Multiple Output (MU-MIMO)
Lacks USB connectivity
Bottom Line
Fair price for a dual-core device. Although it lacks USB connectivity, the fact that it's easy to install and customize plus its impressive speed makes it a good choice.
D-Link AC5300 Ultra – Best for Multiple Devices

You won't be wrong if you see the D-Link AC5300 as a digital twin of Asus AC5300. It even looks like a spider, just like the Asus. Both devices go neck-to-neck on many fronts in terms of specifications and overall performance. This is, however, slightly edges the Asus in terms of connectivity with multiple devices.
The D-Link AC5300 is a Tri-band MU-MIMO which can deliver a speed of up to 5.3 Gbps. This greatly dwarfs the offering of most high-end routers who offer just 1750 Mbps tops.
With eight external antennas, you won't have any problems with range if you buy this device. It also features four-gigabit ports and one standard WAN port.
Setting up the device is quite easy – more like plug and play. It has a network cable so you're sure to enjoy fast transfer speed and heightened performance with them; if you're willing to spend the money.
Pros:
Impressive performance on MU-MIMO.
Performs optimally, as you'd expect from an AC5300.
Antennas can be upgraded, still covers a wide range.
Cons:
Doesn't support wireless bridging.
Expensive. But good value for money.
Bottom Line
This is a top-quality device that focuses on delivering the best user experience in terms of network connectivity and overall performance.
Linksys WRT1200AC – Efficient and Powerful

The WRT1200AC is among the most durable routers out there. But in terms of speed, it doesn't quite measure up to the guys above it on this list. However, it's still a nice that'll meet most high-end needs like gaming and video streaming.
This unit brandishes a rugged design with two external antennas, four Ethernet LAN port and a WAN port for a modem.
They run on a 1.3 dual-core processor with 256MB RAM and 128MB flash. With a 2.4GHz band, you'll get up to 400MBps, while a 5GHz gets you 867MBps.
Basically, this dual-stream is very easy to install and use. The signal stability is also quite excellent. We didn't find any notable problems with the firmware or performance.
Pros:
Excellent performance.
Your home network can be managed remotely with its intuitive web interface.
Supports non-WDS bridging.
Can be customized with OpenWRT.
Rugged and durable.
Cons:
Doesn't have as many features as some of its competitors.
For a router that only supports midtier WIFI specifications, it's a little pricey.
Unattractive design.
Not the fastest one here.
Bottom Line
Linksys WRT1200AC delivers well on transfer speed and performance. But we think the price is a little bit on the high side.
Netgear R7000 Nighthawk – Most Reliable

Not long ago, the Netgear R7000 was the most sort after router in the market. Today, it has a place on our list because it still exudes quality and high performance.
Some features you'll find in the R7000 include a built-in OpenVPN server and support for DD-WRT. Also offers two guest networks and many customizable settings.
The R7000 can be relied on for speed – we found it efficient for high-end tasks like gaming and video streaming. It comes with a 1GHz dual-core processor and 256MB RAM plus 128MB flash. The device has a throughput of 1900 MBps.
Overall, this isn't the perfect one if you're looking for something that performs well with good speed.
Pros:
Remarkable performance.
Robust features.
Great for home networking.
Removable antennas.
Cons:
A little too bulky.
Range isn't the best.
They could've done better with the mobile app and web interface.
Bottom Line
This router is affordable for the features it offers. In terms of high-performance and speed, it is one of the few that'll meet your need.
Netgear R6700 – Best for Large Homes

The R6700 embodies lots of similarities with the R7000. However, the R6700 is a better for large homes because of its wide coverage range.
The router comes with a 1GHz dual-core processor and supports up to 450MBps on the 2.5GHz frequency band. For the 5GHz frequency band, it supports up to 1300MBps.
The range of the R6700 is helped by those three powerful, adjustable and removable antennas. We also commend its storage performance.
Pros:
Affordable.
Impressive range.
Excellent performance and speed.
Good 802.11ac speed.
Cons:
Throughput on the 2GHz band
Uninspired design.
Bulky.
Bottom Line
This device is not sleek. It's ambiguous to be fair. But it gets the job done pretty well and doesn't have problems with range and connectivity.
We strongly suggest you take a closer look at the R6700 if you want an affordable DD-WRT that performs excellently well and doesn't slow you down.
Asus RT-N66U – Best DD-WRT Cable Router

The Asus RT-N66U offers you great value for money if you're looking for a DD-WRT cable router. They require a separate fiber modem for internet connection.
It features 2.4GHz and 5GHz concurrent dual-band transmissions which reaches 450Mbps. It has four gigabytes LAN port and a WAN port. There are also three adjustable antennas for improved range.
The drawback we discovered with this router is that the firmware tends to be a little buggy. But this isn't a deal-breaker, the device still performs well overall.
Pros:
Performs excellently.
The WiFi signal is reasonably stable.
Allows for file sharing.
Can work as a VPN server.
Nice web interface.
Cons:
Not the fastest router we reviewed.
Doesn't support 802.11ac, supports 802.11n instead.
Setup might get tricky
Buggy firmware
Bottom Line
The RT-N66U is a fine router and will give you an excellent network for homes and small offices. But we suggest you look higher up the list if you're looking for a high-performance for intensive tasks like gaming and video streaming.
TP-Link Archer C9 – Best for Speed

You will fall in love with the Archer C9 sleek look and impressive white skin. Also, it's one of the most affordable that offers you up to 1300Mbps speed at a 5GHz band.
It is an AC1900-rated dual-band. it has three external antennas which are both adjustable and removable. These antennas support Beamforming which means they can be directed to a path of a particular set of devices.
The device features a 1.0GHz dual-core processor. The speed on 2.4GHz gets up to 300Mbps and 5GHz reaches 900Mbps. This was pretty impressive numbers for the price.
We didn't face any technical hiccup while setting up the TP-Link Archer C9.
Pros:
Easy to navigate software and iOS app.
Amazing speed.
Smashing design.
Cons:
No support for MU-MIMO.
Just one USB port available.
Low storage
Bottom Line
For the price, this device is a steal for the crazy speed it offers. The design also makes it an outstanding build.
D-Link EXO DIR-869 – Most Stylish

The D-Link EXO DIR-869 is a powerful one that gives you good value for money. The stylish design stands it out.
This dual-band features four LAN ports, beamforming, and automatic band selection. On the flanks are four flat-folding ultra-modern antennas.
We liked the speed which reached up to 450Mbps at a 2.4GHz band. For the 5GHz band, speed peaked at 1300Mbps. With these speeds HD video streaming, file transfers and gaming went on seamlessly.
We finished installing the DIR-869 in less than 12 minutes which shows the device is easy to set up.
The biggest drawback and perhaps deal-breaker for some is that it has no USB ports. People who want to connect external drive might find this too much of a bottleneck.
Pros:
Supports OpenWRT.
Easy to set up.
Impressive coverage range.
Great design.
Cons:
Firmware isn't the best.
No USB ports.
Bottom Line
We liked the design. But we looked past that and focused on performance. The EXO DIR-869 didn't disappoint. We think it's good value for money. If you don't mind the absence of USB port.
FAQs
What is DD-WRT Firmware?
For more than a decade now, people have turned to DD-WRT to make their wireless internet routers more capable than originally designed by manufacturers. A DD-WRT is a firmware based on Linux and developed specifically for this purpose.
In a nutshell, DD-WRT unlocks the hidden functionality of your router. This gives you an enterprise level at a far lesser price.
Why Do I Need a DD-WRT Router?
Without a VPN there's no way you can overcome censorship of your data. Your IP is basically out there for the world to see; including those ruthless black-hat hackers.
With a DD-WRT router, you get a device preinstalled with the software. You don't need to go through the frustrating rigor of flashing it yourself. Remember, if you don't know how to install the software, you run the risk of ending up with a dead router in your hands.
About price: a router flashed with DD-WRT gives you a device worth more than double or triple its original price.
Conclusion
Your internet privacy and security would've been more at risk but for the development of software like DD-WRT. With this software you get better control of your router's firmware, giving you a VPN that helps you to secure your web traffic. Thankfully we have a host of routers with this software installed.
We've gone out of our way to review the best DD-WRT routers in the market today. Getting a router pre-flashed with DD-WRT is the best way to get a VPN on your router.
We'll like you to let us know what you think about our list.