The thrill of explosions and the dread of battle often deliver simple or repetitive but fun game formulas. If you're here for that, what are the best war games on PlayStation you can play in 2022?
Online and offline war games offer satisfaction. It scratches an urge to vent, scream, and achieve victory. And if you play it with others, it also helps you share time and banter with your friends.
There're many war-time titles available for PS4 and PS5. We're trimming the selection down to the best, the ones you'd want to play for months and years.
Selecting the Best War Games on Play Station
War has been a heavy part of our media for decades. Films, shows, books, comics, graphic novels, and video games have become a platform for the genre.
War is an excuse for the gaming industry's over-the-top action, teamwork, and multiplayer.
Like so, war games are generally of two types: those that focus on fun and others that focus on realism. Most war games are shooters, but you may want to try something aside from shooters.
So, we're looking across various genres for a combination of fun, refined, realistic, immersive, popular, and creative experiences.
If it's a single-player game, the story should be either fun, historically accurate, or both. And if it has a campaign, we're evaluating how likely players are to finish it. In other words, how playable it is.
Then, the setting can be either original or historical. Both cases should be clear to the player and compelling enough to play and explore.
Other unique features (such as character progression or raids) can add an extra layer, a particular ingredient, to the war games we're listing.
Disclosure: we're not evaluating sci-fi or space games such as Mass Effect, even if they revolve around war.
Best War Games on Playstation
Mount and Blade II: Bannerlord
Developer: TaleWorlds Entertainment
Publisher: TaleWorlds Entertainment
Release Date: March 2020
Platform: PS4, PS5, Windows, Xbox One, Xbox Series X/S
Mount & Blade II: Bannerlord is one of the most popular games. It offers medieval warfare. You play as a lord and command an army against an enemy army. And as you progress, you develop skills, gear, and better soldiers.
It sounds complex, but it's impressively intuitive. You customize your hero and develop skills and gears in your style. Then, you travel on a sandbox map to fight against other armies, raiders, and castles. Meanwhile, your cities can recruit soldiers, craft weapons, and trade with other cities.
Your mission is to establish your power and your clan across the empire of Calradia. It's a lengthy campaign offering great freedom and skill-based and directional combat.
Lastly, you can play the campaign or play PvP with thousands of players online. There're additional casual game modes to enjoy, either solo or online. Moreover, there's a Modding Kit to create and share mods, maps, and content.
War Thunder
Developer: Gaijin Entertainment
Publisher: Gaijin Entertainment, Tencent Games, Gaijin Distribution KFT
Release Date: November, 2012
Platform: PS4, PS5, Windows, Linux, Xbox One, Xbox Series X/S -VR options / cross-play available across all platforms.
War Thunder is a free-to-play and cross-platform war game. It's an MMO focusing on vehicle and ground combat, but it focuses on aircraft vehicles.
Moreover, there're no foot soldiers in the game. The battles let you choose across 2,000 vehicles (ground, sea, and air) and join a wide selection of combat areas. Both the maps and the vehicles are historically accurate.
These situations are dynamic and gun. You may control bomber turrets, anti-aircraft guns, massive tanks, deadly submarines, fast boats, and more. All of these war vehicles are from the early 20th century.
Lastly, up to 32 people can join a match, and you can play as part of a squad. Also, there's PvE content with a dynamic campaign and solo missions. On top of that, the developers constantly add new content and features.
Hell Let Loose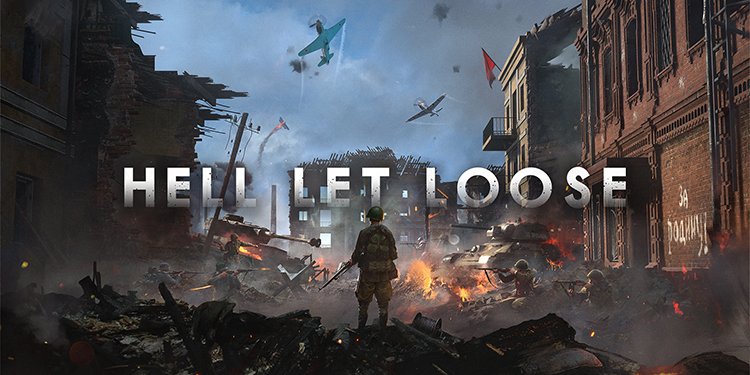 Publisher: Team17
Developer: Black Matter
Release Year: July 2021
Platform: PS4, PS5, Xbox One, Xbox Series, Windows
Hell Let Loose offers 50v50 multiplayer battles across seven historically accurate WWII maps. You enter a match as one of the 14playable roles (like recon or infantry, scout, or medic). Teamwork is essential, as well as advancing carefully through the map.
Combat relies on calculations like weapon recoil, bullet drop, bullet velocity, and similar. There's also localized damage (like limb damage), and the weapons are as inaccurate as they are deadly. These elements make the game less about racking up kills and more about helping your team members.
Across iconic battlefields like Omaha Beach, your mission is to take control of critical locations. These locations grant support team leaders can use for resources and supplies. You can also fortify places, build defenses, and smash enemy defenses.
Lastly, you experience points on each map. These allow you to unlock uniforms, weapon loadouts, and other apparel. The Commander role gains more topics, but it's also the hardest.
This War of Mine Final Cut
Developer:11 Bit Studios, Crunching Koalas
Publisher:11 Bit Studios
Release Date: November, 2014
Platform: PS4, PS5, Windows, Linux, OS X, Android, iOS, Xbox One, Xbox Series X/S, Nintendo Switch
This War of Mine is a war simulator. Rather than playing as the soldiers, you're playing as survivors, citizens taking shelter. That delivers a 2.5D grim and realistic experience revolving around shelter management and moral choices.
The game has a day and night cycle that determines your activity. During the day, snipers will hunt citizens exploring outside of the shelter, so you can work at the hideout. At night, you can explore your surroundings to scavenge resources.
On top of that, some incidents and events will force you to make life-or-death situations. The shelter is your place of survival, but it's also weak, vulnerable, and dire. Therefore, the survival of the few vs. the menu will come up at various times.
Lastly, "This War of Mine: Final Cut" is available on almost every central storefront. It includes all the DLCs, expansions, and upgrades the game has had over the years. In particular, the shelter management is hefty.
Call Of Duty: WWII
Developer: Sledgehammer Games
Publisher: Activision
Release Datte: November 2017
Platform: PS4, Windows, Xbox One
Call of Duty: WWII is a highly regarded game in the CoD franchise. It features an immersive and lengthy World War II campaign, and you play as a member of the 1st Infantry Division.
The setting is Europe, and the campaign is about Operation Overlord. You play as Ronald Daniels across several episodes and travel with capable AI companions. For example, the ally NPCs can supply you with ammo, health, and grenades.
The game changed little compared to previous entries in the series. However, it introduced sprint mechanics, plus the "hit-the-deck" movement to take cover. That said, the game feels grounded, realistic, and dangerous.
Lastly, you may only find a few people in its multiplayer section. Either way, the matches put you on the Axcis or the Allies' side. Then, you choose one of the divisions (classes) and progress through ranks to unlock perks and weapons.
Call Of Duty: Black Ops Cold War
Developer: Treyarch, Raven Software
Publisher: Activision
Release Date: November 2020
Platform: PS4, PS5, Windows, Xbox One, Xbox Series
Black Ops Cold War is the best, or, at least, the most creative Call of Duty campaign. However, we recommend Modern Warfare (2019) alongside this title, as it has very similar gameplay.
However, Black Ops features a cinematic campaign in the 1980s. Its most significant change is slight character customization, as you can choose a "perk" out of a simple selection. It's a novelty for the series and made a significant difference.
Anyhow, you play as Agent Bell in a series of episodes. The goal is to capture Perseus, a Soviet spy subverting the United States. Ultimately, your mission is about altering the balance of power.
The multiplayer introduced seasonal content (like Modern Warfare), a Battle Pass, and similar. There's a variety of game modes (like death matches and zombies) you play on small and medium maps.
Battlefield I
Developer: DICE
Publisher: Electronic Arts
Release Date: October 2016
Platform: PS4, Windows, Xbox One
Battlefield is the best game in Battlefield's recent history. And despite its age, it has over 1,000 players every day. That is enough to enjoy it and speak about the title's success.
The game features a World War I single-player campaign and multiplayer games. In particular, the campaign mode features large environments with alternative paths and several playable characters.
You play through a series of historical events with accurate weapons and vehiclñes. Various melee weapons, such as sabers and shovels, and destructible environments exist. Then, you play multiple roles during the story, such as rifleman or gunner.
The multiplayer mode supports more than 64 players per match on two teams. You can play as part of a squad and enter maps on the Alps, the Western Front, the Eastern Front, or Arabia. Lastly, various game modes include Conquest, Team Deathmatch, and Domination.
Battlefield V
Developer: DICE
Publisher: Electronic Arts
Release Date: November 2018
Platform: PS4, Xbox One, Windows
After its failure, Battlefield V's player base moved back to the 11th installment in the series. Therefore, it features a healthy gaming community and refined gameplay mechanics.
This first-person war shooter has a World War II setting. It focuses on party-based mechanics and decisions. The multiplayer revolves around collecting scarce resources and removing obstacles.
Moreover, you can create multiple characters to play online. Each of these characters can have cosmetic items and weapons. The battles happen in large areas, and the goal is to capture locations. Enemies respawn until one of the teams completes the objectives of the round.
Then, you enjoy several multiplayer modes, but the campaign is relatively short. However, there's also a co-op mode (Combined Arms), several expansions, and single-player special missions (War Stories).
Ace Combat 7: Skies Unknown
Ace Combat 7 is an arcade combat flight simulator. It's the seventh installment in the series and supports virtual reality headsets. For instance, you can play it with the PS VR gear.
Like previous games in the series, the game favors arcade mechanics, so it's not quite realistic. That makes it fun, fast, and easy to play. But you can choose various difficulty levels to increase the natural features.
And most of the gameplay is dog fights where you roll, dive, and perform complex maneuvers to defeat your enemies. Then, you can play with about 28 different airplanes with the base game. Extra content offers more planes and upgrades.
That said, you gain in-game currency during the campaign. You can expend the money on a tech tree or buy upgrades for your planes. Alternatively, you can play against other people in PvP action.
Sniper Elite 5
Developer: Rebellion Developments
Publisher: Rebellion Developments
Release Date: May 2022
Platform: PS4, PS5, Xbox One, Xbox Series, Windows, Nintendo Switch
Sniper Elite 5 is a third-person tactical shooter with heavy stealth mechanics. It features similar gameplay to its predecessors, so if you like it, try 2017's Sniper Elite 4 too.
You play through a series of maps to complete specific goals. Your primary weapons are long-range rifles, but you also have silenced weapons and similar tools. In general, it's about infiltrating war areas and military bases to kill a target, steal information, or something else.
The game feels very fluid, and you can tell it takes inspiration from other shooting franchises. However, the focus on stealth, ambient music, and sound effects make this game special.
Also, the game focuses on sniper rifles, which have various calculations and systems. Moreover, ammo and resources are scarce, so you must be careful about how you spend your bullets and where to go.
World of Warships
Developer: Lesta Studio, Wargaming
Publisher: Wargaming
Release Date: September, 2015
Platform: PS4, PS5, Windows, iOS, Android, Xbox One, Xbox Series X/S
World of Warships is a free-to-play game focusing on naval warfare and multiplayer battles. It features PvP, PvE, co-op PvE, and a mix of these experiences.
The game is tactical, slow, and complex. You control the ship's weapons (artillery, torpedoes, and anti-aircraft), and you drive in first-person. Then, you fight as part of a team on multiple scenarios and game modes.
Aiming and shooting is the best part of the game. These systems are manual: you arch the weapons, zoom in, shoot, and see the path of your missiles and torpedoes.
Lastly, while the game is free, it's a "freemium" title. There's plenty of content, progress, and fun gated behind paywalls. But if you want to avoid paying anything, there's still plenty to enjoy.
Call of Duty: Warzone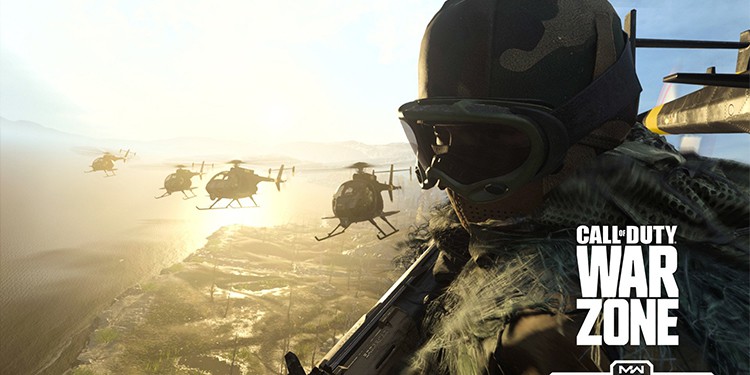 Publisher: Infinity Ward, Raven Software
Developer: Activision – Blizzard
Release Date: March 2020
Platform: PS4, PS5, Xbox One, Xbox Series, Windows
Warzone is a free-to-play battle royale first-person shooter. We add it to the list as we wait for the upcoming Warzone 2.0, which has a November 2022 release date promising to add new features and maps.
That said, Warzone needs no introduction, though. It's perhaps the most famous battle royale available. It's also a war game, though, and it's pretty good at adding military weapons, tactics, and gear.
It also has several systems (such as recoil and bullet velocity) to add a layer of realism. It can be hard to play Warzone without researching how these systems work. That's because you unlock better initial loadouts and apparel as you play and level up.
Also, you play on massive maps, which can have up to 150 players. Either solo or as part of a 4-player squad, you fight to survive until the end. And as you play, you loot weapons, earn money to spend on stations, and kill the enemy players.