Sony's technologies are not quite friendly. That means they may have trouble interacting with each other or with devices and cables from other brands. So, you may wonder: can you use a PS5 controller on a PS4? Or can you use a PS4 controller on a PS5?
Sony's unfriendly features are something I've discussed before. For example, the PS5 controller has a non-removable battery, which is a hassle when the DualSense can't charge.
But there's a reason: the PlayStation 5 has many fresh features. New-gen technologies come with a set of features and limitations. In specific, the PS5 DualSense is not backward compatible. The reason is that DualSense comes with a new set of features that wouldn't work with PS4 games.
That's a shame, as the PS5 is backward compatible with PS4 games.
Can You Use A PS5 Controller On A PS4?
The definitive answer is no. You can't use your PS5's DualSense controller on the PlayStation 4. Several users have tried and failed.
In fact, Sony's official response to the question is as follows: "The DualSense wireless controller is not compatible with the PS4 console."
The older console can only charge the PS5 controller, but it can't recognize it, much less use it.
Nothing will happen if you plug the DualSense on the PS4 and tab the PS button. And if you use the par function to connect via BlueTooth, it won't work either.
However, there's one way it can work, which is through PlayStation's Remote Play. We're covering more about it below.
Can You Use A Ps4 Controller On A Ps5?
The DualShock 4 controller works with the PlayStation 5, but only to play PS4 games.
In other words, you can play backward compatible games on the PS5 with your DualShock 4 controller.
The majority of PS4 games are available with the PS5. If you have the physical version, you can play them via CD. Or you can re-download these titles from the PlayStation Store if you have these games on your PSN account.
However, the DualShock 4 won't work on PlayStation 5 games like Ratchet & Clank: Rift Apart. The reason is, as I said, PS5 games have extra functionalities that can't work with the PS4 controller.
Can I Use DualSense with PlayStation Remote Play?
Remote Play is a remote streaming service. It allows you to stream the games on your PlayStation consoles to other devices. These include Android and iOS smartphones or tablets and macOS and Windows PCs.
You can cast the games from your PS4 and your PS5. The DualSense is available for either option, meaning that you can cast the games to a PC from the PS4 and use the PS5 controller.
That's a bit convoluted and not very convenient. See, the DualSense's new features like haptic feedback, built-in mic, and adaptive triggers won't work with PS4 games.
It means you won't get the benefits of the newer gear on your older titles. That's because older-gen games never had these functions in the same place.
On the same note, the DualShock is available only for PS4 games, but not PS5 titles you stream.
How To Use PlayStation Remote Play?
Remote Play needs an internet speed with at least 5Mbps download/upload. Sony recommends 15Mbps through Wi-Fi or mobile data, though.
The app streams games from your PS4 or PS5 to a secondary screen. So, it's currently the only way you can "use" a PS5 controller on a PS4.
In essence, here's what you need to do:
Set up Remote Play on your console
Enable network features while on Rest Mode
Put your console on Rest Mode
Download, install, and launch Remote Play on the secondary device
Log in with your PlayStation Network account
Use your controller to play
Once you log on to Remote Play on another device, you can use either the DualSense or the DualShock to play these games.
The app searches for the PlayStation games on the accounts. It will allow you to play any game installed on your console while using the display you selected.
Also, if you pause any game on the Remote Play app, you can resume your console.
How to Set up Remote Play on your Console
The first step to use Remote Play is setting the app on your console.
Here're the steps to use PS Remote Play.
Download the PS Remote Play app. It's free for Android, iOS, Windows, and macOS. Here's Sony's official link for PC; if you look it on the Microsoft store, it's not free.
Turn on your console and leave it in rest mode so it can stream to a secondary screen
Install Remote Play on your device
Connect your DualShock or DualSense controller to your device via BlueTooth. If you're on a Windows PC, you can connect it with a USB cable or a USB wireless adapter. }
Launch the app
Log in to your PlayStation Network account on the app. It's the same one you'd use on the PS4.
How to Enable Remote Play on Your PlayStation?
If it's the first time you use Remote Play, you also need to set it up on your console. Otherwise, nothing will happen when you launch the app.
Here's how to do it on the PS5:
Update your PS5 console to its latest version
Go to Settings
Go to System
Go to Remote Play Connection Settings
Turn on Enable Remote Play on the right panel
Enable network features while in rest mode
Put the console in rest mode
On the PS4, here're the steps:
Update the PS4 to its latest version
Go to Settings
Go to Account Management
Select Activate as your Primary PS4
Select Activate
Enable network features while in rest mode
Put the console in rest mode
How to Enable Remote Play While in Rest Mode?
Lastly, you need to enable particular power saving features to make the configuration work. These are easy steps:
Here's the process on the PS5:
Go to Settings
Select System
Select Power Saving
Select Features Available in Rest Mode
Toggle Stay Connected to the Internet, as well as Enable Turning on PS5 from Network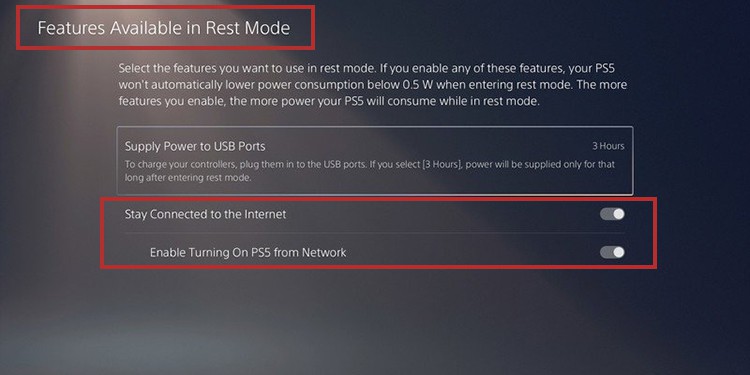 Lastly, the steps are similar on the PS4:
Go to Settings
Go to Power Save Settings
Select Set Features Available in Rest Mode
Check Stay Connected to the Internet, as check Enable Turning PS4 from Network.
Conclusion
So, can you use a PS5 controller on a PS4?
Not exactly, but you can use the DualSense to play PS4 games while using PlayStation Remote Play. This is the only way old-gen games are compatible with the newer peripheral.
However, as I said, the DualSense won't deliver haptic feedback, adaptive triggers, or built-in mic functions on PS4 games.
Overall, compatibility between the PlayStation 5 with PS4 controllers and vice versa is very limited. The better option is keeping the PS4 controllers for the PS4 and the PS5 controllers for the PS5.
The good news is that DualSense is top-tier hardware delivering some nice new features.
FAQ
Are physical PS4 games compatible on the PS5?
Sony says most PlayStation 4 games are backward compatible with the PS5.
If you have the PlayStation 5's physical version, you only need to insert the disk into the disc tray to play. The console won't require installing any patch to play older games.
Can I use the PS4 games I bought in the store on the PS5?
The PS4 digital games on your PSN account are also available on your PlayStation 5. This includes PlayStation Plus titles, but you need the active membership to play them.
Yet, even though we're talking about PS4 games, you could only use the DualSense controller to play them on the PS5.
Is every PS4 game compatible with the PS5?
There're "PS4 Only" titles. The full list of PS4 games not compatible with the PS5 is:
Afro Samurai 2: Revenge of Kuma Volume One
Hitman Go: Definitive Edition
Just Deal With It!
Robinson: The Journey
Shadwen
We Sing
Are PS4 games better on PS5?
The PlayStation 5 has a feature similar to the Xbox Series' FPS boost. It's also a "boost" mode that increases the FPS of older games, as well as loading times.
However, it's not available for every game. Moreover, you need to install the PS4 game on an SSD storage drive.
Can PS4 games have errors on the PS5?
Sony marks some games on the PlayStation Store with an error warning:
"When playing on PS5, this game may exhibit errors or unexpected behavior, and some features available on PS4 may be absent."
Games with the warning can still load on the PS5 but may have random bugs, glitches, and errors. Here's the list of games you should be careful of:
A Summer with the Shiba Inu
Active Soccer 2 DX
American Ninja Warrior: Challenge
Anomaly 2
APB Reloaded
Ape Escape 2
Arcade Land
Assassin's Creed Chronicles: India
Assassin's Creed Chronicles: Russia
Assassin's Creed Chronicles: Trilogy Pack
Assassin's Creed Syndicate
Assetto Corsa
Assetto Corsa Ultimate Edition
Atrapa La Bandera
Batman: Return to Arkham – Arkham City
Battlezone
Call of Duty: Black Ops 4
Call of Duty: Infinite Warfare
Chicken Police
Clan N
Close to the Sun
Crossout
Darius Cozmic Collection Arcade
Daylight
Dead Island Retro Revenge
Dead Nation: Apocalypse Edition
Dead or Alive Xtreme 3 Fortune
Dead or Alive Xtreme 3 Fortune Free-to-Play Version
Dead or Alive Xtreme 3 Scarlet
Deliver Us The Moon
Dino Frontier
Disney Classic Games: Aladdin and The Lion King
Doki-Doki Universe
DOOM VFR
Dungeon Rushers
DYNASTY WARRIORS 8 Empires
DYNASTY WARRIORS 8 Empires Free Alliances Version
DYNASTY WARRIORS 8: Xtreme Legends Complete Edition
Entwined
EVE: Valkyrie – Warzone
Everybody's Golf
Feral Fury
Filthy Lucre
Flinthook
Frisky Business
Game of Thrones
Gensokyo Defenders
Geometry Wars 3: Dimensions
Ghostbusters: The Video Game Remastered
GRIP
Hardware: Rivals
Hellblade: Senua's Sacrifice
How to Survive: Storm Warning Edition
Kickbeat Special Edition
Lara Croft and the Temple of Osiris
Left Alive
Let's Sing 10
Let's Sing 2018
Lightfield
LittleBigPlanet 3
Mafia III The Complete Edition
Mafia III: Definitive Edition
Manhunt
Metal Slug Anthology
MLB 14 The Show
MLB 15 The Show
MLB The Show 16
MLB The Show 17
MLB The Show 18
MLB The Show 19
MOTHERGUNSHIP
NBA 2K19
NBA 2K20
Need for Speed
NHL 19
Nobunaga's Ambition Souzou
Nobunaga's Ambition: Sphere of Influence
OKAGE: Shadow King
Onigiri
Operation Warcade
Paddle Vs. Paddle
Pinball Arcade
PixARK
PixelJunk Shooter Ultimate
Prey
Primal
Pro Evolution Soccer 2018
Pro Evolution Soccer 2018 LITE
Project CARS
Project CARS GOTY Edition
Pure Hold'em
Pure Hold'em – World Poker Championship
Pure Pool
Realm Royale
RIGS Mechanized Combat League
RISK
Roundabout
Saint Seiya: Soldiers' Soul
Sea of Solitude
Season Match 2 HD
Season Match 3 Curse of the Witch Crow
Senran Kagura Burst Re:Newal
Senran Kagura Estival Versus
Senran Kagura Peach Beach Splash
Shuttle Commander
Sleeping Dogs: Definitive Edition
SMITE
Space Junkies
Star Ocean Second Evolution
Star Ocean: Till The End Of Time
STAR STRIKE ULTRA
STAR STRIKE ULTRA VR
Star Trek: Bridge Crew
Super Kids Racing
Super Stardust Ultra
Super Stardust Ultra VR
Survive Said The Prophet VR Experience
Sword Art Online Re: Hollow Fragment
Teenage Mutant Ninja Turtles: Mutants in Manhattan
Tennis World Tour
The Golf Club 2019
The King of Fighters 2000
The Surge
The Tomorrow Children
The Walking Dead: Season 1
The Warriors
Tooth and Tail
True Fear: Forsaken Souls Part 2
Until Dawn: Rush of Blood
Valhalla Hills
Velocity 2X
Werewolves Within
WRC 8 FIA World Rally Championship
Zero Escape: The Nonary Games