Sometimes, loading comments on Facebook takes longer than usual. Even after pulling the screen to refresh more than once, the comments may not appear before you.
This happens if you have a fluctuating network connection, an unresponsive Facebook app, server issues, comment ranking settings, outdated software on devices, etc.
It may seem like a lot, but you can get through these issues with some easy fixes. You can learn about them in this article.
Why is Facebook Not Loading Comments?
Facebook may not be loading comments for varied reasons. A list of the plausible causes is given below.
Unstable internet connection
Facebook app not responding
Outdated version of the Facebook app
Sluggish device
Comment ranking setting
Facebook app cache
Try These Fixes When Facebook is Not Loading Comments
When Facebook is not loading comments, sometimes, the network connection may be in the wrong. If necessary, you can fix it by checking the connection and rebooting the modem and router.
Relaunch the Facebook app and if that doesn't measure up to be enough, update the app. Then, move on to your devices by restarting and updating them. More fixes are awaiting you as you go further in this article.
Refresh Internet Connection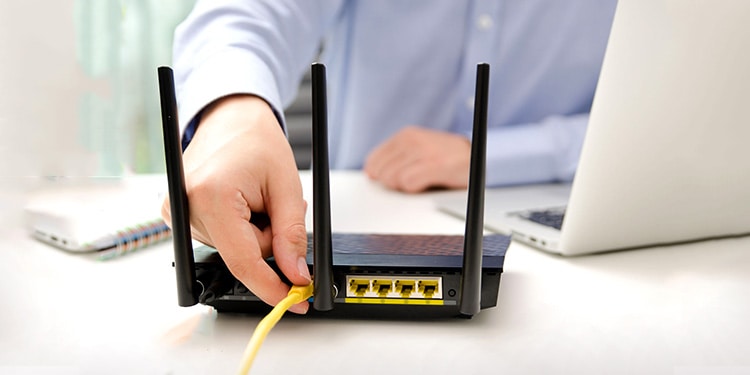 The most obvious thing to do when Facebook won't load comments is to check your internet. If you suspect something fishy with the connection, reboot the modem and router.
To guide you through the process, follow these steps to refresh the internet connection.
Plug off the modem and router.
Then, wait for 25 to 30 seconds.
Plug in the modem.
Wait for a minute or so before plugging in the router.
Relaunch Facebook App
Facebook can have issues in and of itself sometimes. In this case, restarting the app is a good idea.
To restart the Facebook app, you should first force-stop it. This will bring the running processes on the app to a halt. Then, start the app to see if the comments are visible now.
On Android
Launch Settings.
Tap Apps or Apps Notifications.

Choose See all apps in case you cannot find the Facebook app in the list.
Then, select Facebook.
Tap the Force Close or Force Stop option.

Hit OK to confirm.
Thereafter, relaunch the Facebook app.
On iPhone
On the home screen, swipe up from the bottom.
Then, pause once you reach the middle of the screen.
Once you see the opened Facebook app, force-touch the screen by slightly pressing down a bit harder.
A red minus symbol appears at the top-left corner of Facebook.

Tap it to force close the app.
Thereafter, select the Facebook app on the home screen to open it.
Update Facebook App
Outdated apps can never be a good thing. If you haven't updated Facebook app in a long time, it may have fallen victim to bugs, security flaws, and more.
This may have resulted in Facebook's bad performance hence, not being able to load the comments.
So, update the Facebook app with the steps below.
On Android
Go to Play Store.
Look for Facebook.
Tap Facebook and tap Update next to it.

On iPhone
Visit App Store.
Tap the profile icon.
Locate Facebook and check for its latest update.
Lastly, tap Update.

Restart Device
At times, you may forget the usual suspect, which is, your device. With the number of apps on your device, the background processes, cache files, etc. can take a toll on its functioning capacity.
This can impede the performance of the apps on your device too. So, restarting your device may work as a great fix.
On Android
Keep pressing the power button on the phone.
Then, select Restart/Reboot once the power menu appears on the screen.

On iPhone
Press and hold the side button or volume button (either one).
When the power-off slider displays, slide it to turn off the phone.

Wait for 30 seconds or so.
To turn it back on, press and hold the side button.
Log Out and Log In to Facebook
An uncomplicated process like signing out and signing into Facebook can come in handy when Facebook's not loading comments.
This problem may have come about due to server issues, unusual activity on your account, or other reasons. So, logging out and logging back in verifies you as the rightful user and might end up fixing the comments not loading issue.
Here's how you can do that.
On Android
Launch Facebook.
Tap the three-lined menu in the top-right.
At last, tap Log Out.

On iPhone
Open Facebook.
Tap the three-lined menu in the lower-right corner.
Scroll down and select Log Out.

Uninstall and Reinstall Facebook
When you uninstall an app, the bugs, cache, and other issues within the app get deleted too. This allows the app to have a fresh start after reinstallation in case it had encountered countless problems on its end.
Take the steps below to uninstall and reinstall the Facebook app on your device.
On Android
Open Settings
Select Apps
Locate and tap Facebook.
Tap Uninstall

To reinstall, go to Play Store.
Type Facebook in the search field.
Then, tap Facebook.
Select Install located right next to the app.

On iPhone
On the home screen, tap Facebook and hold it until it jiggles.
Tap the cross sign that is to the app's top-left.

Confirm by selecting Delete.

After deleting the app, visit App Store.
Then, look for Facebook by tapping the search button on the bottom right.
Tap Facebook and next to the app, select Get.

Select Install to confirm.
Enter Apple ID credentials, if prompted.
Switch From Most Relevant to All Comments
Sometimes, when you tap on comments, you may only see a few out of the total messages. This might seem strange to you.
Look closer and you will find Most relevant written on the top left corner of the comments. This feature on Facebook filters the comments and shows only the ones relevant to you.
However, if you want to see every comment, here's how.
On Android and iPhone
Open Facebook.
Tap any post you prefer.
Then, tap on the comment section on the bottom left.
Underneath the likes and reactions, tap Most relevant.
At last, select All comments.

Clear Facebook App Cache
The Facebook app cache can build up with more use. If you don't clear them from time to time, it can originate new problems, if they are corrupted.
To make sure you remove the corrupted app cache, follow the steps below.
On Android
The process to delete Facebook app data may differ with the models of Android smartphones.
On the home screen, tap and hold the Facebook app.
Tap App info.
Choose Storage & cache.
Select Clear Storage or Clear all data.

At last, hit OK.
On iPhone
Launch Settings.
Tap General.
Choose iPhone Storage.

Then, tap Facebook.
Tap Offload App. If there's no Offload App option, delete the Facebook app and reinstall it later.

Switch to Facebook Lite
If you can't wait to view Facebook comments, switching to Facebook Lite is a good alternative. The app is as light as it claims. So, it won't strain your device and provides the basic features of Facebook.
You can get Facebook Lite on your device in the way shown below.
On Android
Go to Play Store.
Type Facebook Lite in the search field.
Then, tap Facebook Lite.
Select Install located right next to the app.

Note: Since App Store discontinued Facebook Lite from their store, iPhone users may have to go to extra lengths to get the app.
To do so, changing your country or region is necessary. But, once you install Facebook Lite, you can switch back to your own region.
On iPhone
Visit App Store.
Tap on the profile icon in the upper-right corner.
Select the Apple ID.
Then, tap on Country/Region.

Choose Change Country or Region.
Scroll down and select the country, United Arab Emirates.
Agree with the terms and conditions.
Under Payment Method, tap on None.
Thereafter, under Billing address, you can insert any random words or number accordingly on other fields. But, you should enter Abu Dhabi in city and county field.

Tap Next.
After your Apple ID information has been updated, look for Facebook Lite app in the App Store.
Tap Facebook Lite and next to the app, select Get.
Select Install to confirm.
Enter Apple ID credentials, if prompted.
You can change your Apple ID region later, repeating the steps mentioned above.