Horizon Zero Dawn is parts action-adventure and parts RPG. A post-apocalyptic open-world and skill-based combat focusing on bows and parkour are the final ingredients of its core.
The first game and its sequel debuted alongside games of the year (Breath of the Wild and Elden Ring). Perhaps their release window failed to grant these titles the bigger success the Guerilla Games probably deserved.
But you seem like a fan. You look like you want more of what it offers. The games like Horizon Zero Dawn we found offer the good parts of the open-world design, exciting and evolving combat, a good enough story, and, if possible, parkour. 
Horizon Forbidden West
Developer: Guerilla Games
Publisher: Guerilla Games
Release Date: February 2022
Platform: PS4, PS5
After you finish Zero Dawn, the next step is the 2022 sequel. It continues the formula as an action-adventure game with challenging combat and RPG elements. And while it's almost the same, it evolves Aloy's journey by adding a glider, a grappling hook, swimming, and other tools and combat mechanics.
The setting takes you to a western post-apocalyptic United States. Here, you meet new tribes, but familiar NPCs will help your quest. The story follows Aloy as she discovers the origins of a disease destroying the land.
As before, you explore an open world with different biomes. Each biome has a main quest to complete, but the areas are wider and more varied than before. Similarly, the enemy AI is smarter, and the enemy variety is challenging.
Dying Light 2: Stay Human
Developer: Techland
Publisher: Techland
Release Date: February 2022
Platform: Windows, Ps4, PS5, Xbox One, Xbox Series X/S, Nintendo Switch
Rather than third-person, you're in first-person. And rather than fighting against machines and humans, you'll battle against zombies and humans. Dying Light 2 is an action-adventure RPG with parkour combat and traversal – melee slashes, dodges, kicks, vaulting, climbing, crouching, etc.
You're Aiden, a tough survivor looking for his long-lost sister on Old Villedor. There're two rival factions in the city, and your actions and choices (even on side content) influence these factions. It leads to five different endings and some variations on various main quests.
If you truly want a Horizon experience, Dying Light has a bow and many arrow types to craft. Additionally, survival depends on looting scrap from zombies, dungeons, and streets to craft supplies and gear. Also, there's a simple character progression system.
Shadow of the Tomb Raider
Developer: Eidos-Montreal
Publisher: Square Enix
Release Date: September 2018
Platform: Windows, PS4, Xbox One, macOS, Linux, Google Stadia
The Tomb Raider DNA is present on Horizon. In particular, we're talking about the action-adventure formula of the latest series reboot trilogy by Square Enix.
You play as Lara Croft, a young treasure hunter. She travels to a tropical region of the Americans om search of Mayan relics. Here, you will find semi-open hubs containing tombs for raiding, scavenging resources, and main quests to complete.
More importantly, combat is skill-based, and it relies on aiming and shooting the bow. You also have stealth, skill trees, ammo crafting, and parkour abilities. For instance, Lara can run, jump, climb, rappel down, swim, and swim underwater.
Monster Hunter Rise (& Monster Hunter World)
Developer: Capcom
Publisher: Capcom
Release Date: March 2021
Platform: Nintendo Switch, PS4, PS5, Xbox One, Xbox Series, Windows
Rise focuses on defeating monsters through a mix of maneuvers, a grappling hook, and evolving combat mechanics. The story is just that: you're a bounty hunter, and you hunt monsters for bounty and loot. And if you like it, you can play the previous entry, Monster Hunter: World.
There're no skill trees and no choices, though. Character progression relies on finding gear and weapons from monsters, as the loot grants stats and skills. Likewise, there're various weapon types, each one featuring different move sets.
So, you track and tackle big monsters either solo or co-op with up to four people. For action, you slash, dodge, jump, run, and use various offensive and defensive skills. Finally, once you take monsters down, you can use their loot to craft and upgrade weapons and armor.
The Legend of Zelda: Breath of Wild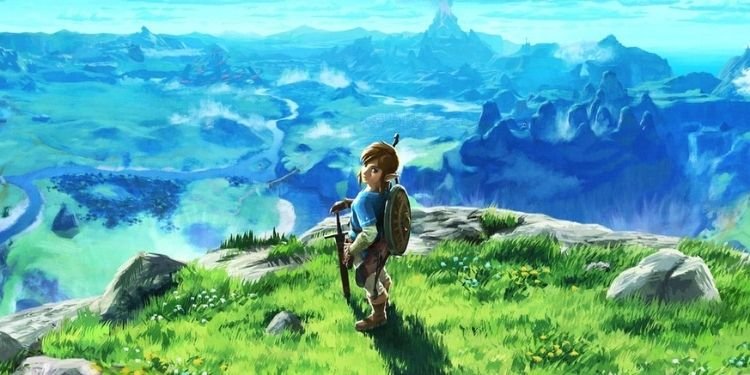 Developer: Nintendo EPD
Publisher: Nintendo
Release Date: May 2017
Platform: Nintendo Switch, Nintendo Wii U
Nintendo's hit follows a new incarnation of Link in a quest to defeat Calamity Ganon. Link is an amnesiac, so part of your quest takes you to recover his memories, which could lead you to an additional cinematic cut after the ending.
The action-adventure happens in an open-world with no map markers or indications. You're free to follow any path, although each path has its difficulty. Moreover, there're hundreds of puzzles in the game, plus temples with unique mechanics you need to understand.
For example, climbing, swimming, running, and gliding require stamina, so you won't be able to climb all mountains at first. These systems, as well as exploring temples, feels like Horizon. On top of that, there're various AI systems managing weather, NPC interaction, crafting, hunting, cooking, and more.
Red Dead Redemption 2
Developer: Rockstar Games
Publisher: Rockstar Games
Release Date: October 2018
Platform: PS4, PS5, Windows, Google Stadia, Xbox One
Red Dead Redemption 2 is one of the best action-adventure RPGs of the last generation. You play as Arthur Morgan, a member of a declining outlaw gang. Key moments during the story ask you to make choices that alter how missions go and lead to four different endings.
The character progression is simpler. You have three stats: health, dead eye, and stamina. Doing specific actions will improve these skills. Simply playing the game will make Morgan more powerful, and the progression will feel natural.
You play in first-person or third-person in a massive and immersive open-world. You can hunt, collect bounties, break the law, face bandits, face the law, help the law, manage a bandit camp, and, overall, live as a rough cowboy in the wild west.
The Witcher 3: Wild Hunt
Developer: CD Projekt Red
Publisher: CD Projekt Red
Release Date: May 2015
Platform: PS4, PS5, Xbox One, Xbox Series, Windows, Nintendo Switch
The Witcher 3 is an action RPG with skill-based combat, an open-world design, and a character-driven story. Also, it features a simple character progression that relies on leveling up to unlock passives, and "The Witcher" sense, a detective mode akin to the Focus.
Also, you play as a set character, but you can make choices that alter the story (unlike Horizon's single ending). Here, you play as a monster hunter, a Witcher, in search of her surrogate daughter.
You travel to various areas of the open-world. Each area has a main quest line to complete, plus many side quests, bandit camps, treasure hunts, etc. As in Zero Dawn, most gameplay requires defeating monsters, and your tools include magic, swords, dodges, parries, a crossbow, and grenades.
Ghost of Tsushima
Developer: Sucker Punch Productions
Publisher: Sony Interactive Entertainment
Release Date: July 2020
Platform: PS4, PS5
As another PlayStation IP, Ghost of Tsushima is another game you would like. It feels, behaves, and even looks similar to Zero Dawn. It's also a third-person action-adventure game with character progression and skill-based combat.
Yet, the setting is very different. You play as Jin Sakai, a samurai during the first Mongol Invasion of Japan. The character is fictional, which means you're to defeat the invaders and their leader Kublai Khan by yourself.
Combat and traversal happen from a third-person perspective in an open-word. You can slash, parry, counter, block, and dodge. Moreover, you unlock "Sword Stances" as you play, which work as the skill trees, or "ammo types." Because enemies carry different weapons, each weapon is susceptible to a particular sword stance.
God of War Ragnarok (& 2018's God of War)
Developer: Santa Monica Studio
Publisher: Sony Interactive Entertainment
Release Date: November 2022
Platform: PS4, PS5
The latest part of the God of War series continues 2018's mechanics and stories. Your play as Kratos (and sometimes as his son, Atreus) on a new journey against Zeus, the God of Thunder.
The Norse mythology setting delivers an action adventure with arcade melee combat. You chain combos and use different offensive and defensive skills, depending on the magical weapon you're using. You can also dodge, regardless of the weapon.
Then, the character progression allows you to invest skills into skill trees, and upgrade gear. These systems are nearly the same as 2018's God of War, which you can play on PC if you don't have a PS5.
Far Cry 4
Developer: Ubisoft Montreal
Publisher: Ubisoft
Release Date: November 2014
Platform: Windows, PS3, PS4, Xbox 360, Xbox One
Far Cry 4 had a great balance of silly explosions, big action set pieces, and a compelling plot to follow. It's an open-world first-person shooter with a linear quest line and simple character progression.
You play as Ajay Ghale in a fictional Himalayan country, Kyrat. Your goal is to take down the tyrannical government, which means taking down a fort and a military leader in each open-world area. Then, each area has bandit camps, collectibles, secrets, and markers all over the place.
Far Cry is mostly an action-adventure FPS, as there're very few RPG elements. However, there is a set of separated mystical quests where you "dream" a mythical hero's journey. He fought magical monsters with a bow, arrow, and magical powers.
Assassin's Creed: Odyssey
Developer: Ubisoft Quebec
Publisher: Ubisoft
Release Date: October 2018
Platform: Windows, PS4, Xbox One, Nintendo Switch, Google Stadia
Odyssey is an action RPG with a beautiful open world to explore. It adopts all of the elements of a Ubisoft game, though, as "cluttering" the maps with markers and activities.
Still, the world is impressive. It's gorgeous, full of secrets, great sights, good characters, and a compelling story. There's also naval exploration and naval combat. The third-person action is as usual: acrobatic, slashy, stealthy, and fast. However, there're skill trees to customize your playtime.
You'd be using an arsenal of ancient Greek weapons for this entry, mostly spears, and shields. You also fight against mythical creatures and explore historical sights across various Greek islands. That said, you play as a Spartan mercenary during the Peloponnesian War (431 – 422 BC).
Days Gone
Developer: Bend Studio
Publisher: Sony Interactive Entertainment
Release Date: April 2019
Platform: PS4, Windows
Days Gone is an action-adventure game in a post-apocalyptic open world. You play as Deacon St. John, a former outlaw, and a drifter. The story is about finding your wife in an open world, and the main focus is the motorcycle – you can upgrade it with bike parts.
From a third-person perspective, you drive around your bike on a large wasteland and engage or run from zombie hordes ("freakers"). You use firearms, melee weapons, improvised tools, stealth, and crafting.
Then, as an RPG, your character levels up and makes choices. The choices alter how the missions go and lead to four distinct endings. Moreover, you can freely explore the world, find or purchase new weapons, and earn a good or bad reputation with the settlements.
Metro: Exodus
Developer: 4A Games
Publisher: Deep Silver
Release Date: February 2019
Platform: PS4, PS5, Xbox One, Xbox Series, Windows, Google Stadia, Amazon Luna, Linux, SteamOS, macOS
Metro Exodus is a first-person shooter with a semi-open world design and sandbox elements. It's the third part of the Metro series, which follows Dmitry Flukhosky's novels. Here, you play as Artyom, and your job is to lead a group of survivors on a post-nuclear war surface.
The story is linear and happens in episodic semi-open hubs, where each area offers various ways to approach its content. Regardless of what you do, you need to hunt and loot for ammo, as it's the only way to trade (like Horizon's metal scraps).
Compared to others, the title uses immersive elements. There're no markers and no interfaces. For example, you craft items in real-time by getting the things out of your bag. Additionally, the AI randomizes enemy behavior, weather, and events. There's also a day/night cycle.