The Last of Us is one of the best games you have played, is it not? And you may or may not think the same about the sequel, but the series seems to be over.
We've compiled a list of games like The Last of Us that capture its key elements. We're focusing on emotional story-driven experiences, survival horror, zombie shooters, and single-player titles with overall high-quality standards.
Overall, we're sharing the type of games TLOU fans would like to play next. These titles are in no particular order. 
Uncharted 4: A Thief's End
Developer: Naughty Dog
Publisher: Sony Computer Entertainment
Release Date: May 2016
Platform:PS4, PS5, Windows
The Uncharted saga is a cousin to The Last of Us. It's a nice mix of Tomb Raider, Indiana Jones, and the cinematic third-person action-adventure you'd expect from the developer. Notably, the game features high-quality cinematics.
Nathan Drake's last adventure is a historical conspiracy around adventurer Henry Avery and Nate's missing brother, Sam. It forces the former adventurer to go back to treasure hunting.
You play in a third-person perspective through a linear action-adventure shooter. Drake has a grappling hook to traverse the linear areas. On top of that, he has various guns, a simple aim, and easy-to-use melee abilities to defeat foes.
God of War Ragnarok (& 2018's God of War)
Developer: Santa Monica Studio
Publisher: Sony Interactive Entertainment
Release Date: November 2022
Platform: PS4, PS5
Ragnarok is the latest entry in the hack & slash saga. As the title before, it's a linear action-adventure heavy on cinematics and emotional moments. Moreover, it features combo-based third-person combat.
The gameplay mixes combat segments, puzzles, bosses, and simple character progression systems. That said, combat relies on Kratos' weapons: each one features unique offensive, ranged, or defensive skills.
The story follows Katros (the God of War) and his son Atreus in a setting loosely based on Norse mythology. The God of Thunder, Thor, steers his hatred against the duo, which forces them on a new journey of truth and vengeance.
The Witcher 3: Wild Hunt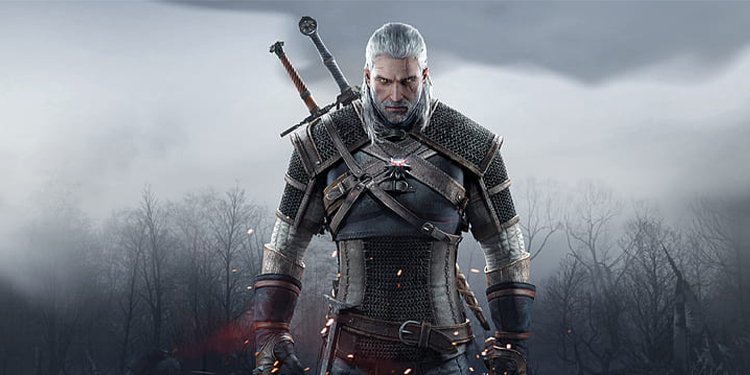 Developer: CD Projekt Red
Publisher: CD Projekt Red
Release Date: May 2015
Platform: PS4, PS5, Xbox One, Xbox Series, Windows, Nintendo Switch
The Witcher 3 is an open-world action RPG. You play as Geralt of Rivia, a Witcher. Witchers are mutated humans: they have no emotions or allegiances, but they have the power to defeat monsters for bounty.
You're traveling the world as a famous Witcher to find your surrogate daughter, Cirir. It sends you on a long journey full of intertwining stories, villains, and dramas. Notably, The Witcher 3 excels at its emotional moment and depth across most of its main and side content.
That said, the gameplay is quite different. You play in third-person with swords, a crossbow, grenades, magic, and potions. Swordplay relies on swings, blocks, rolls, and parries.
Cyberpunk 2077
Developer: CD Projekt Red
Publisher: CD Projekt
Release Date: December 2020
Platform: PS4, PS5, Xbox One, Xbox Series, Windows, Google Stadia
Cyberpunk 2077 is another game excelling in its single-player story. Notably, rather than getting loot, currency, or gear as rewards, completing important missions leads you to spend extra time with one of the NPCs in the world. Is that what you're looking for?
You play as V, a mercenary looking to make a name for yourself in the dystopian and oppressive Night City. A heist gone wrong puts the chip of a former rock star in your head and, together, you must find a way to heal the damage.
The setting delivers an open-world action-RPG shooter. You shoot, loot, level up multiple skill trees, and customize your playthrough across many options. While combat and gameplay are fun, getting to know the "chip" in your head through main and side content is the game's highlight.
Red Dead Redemption
Developer: Rockstar Games
Publisher: Rockstar Games
Release Date: October 2018
Platform:PS4, PS5, Xbox One, Xbox Series, Windows, Nintendo Switch
RD2 is an open-world action-adventure shooter with a wild west setting. Notably, the setting is immersive and it intends to simulate the activities and life of an outlaw in the 1899's western United States.
You play as Arthur Morgan, an outlawed Van der Linde gang member. As his group is falling apart, you must make your own choices to balance loyalty vs. your survival. The result is a deep and emotional character-driven story.
The gameplay comes in a third or first-person perspective. You can use an array of firearms, ride a horse, a rope, and melee. Other activities include heists, bounties, hunting, managing a bandit camp, and more.
Resident Evil Village
Developer: Capcom
Publisher: Capcom
Release Date: May 2021
Platform:PS4, PS5, Xbox One, Xbox Series, Windows
Resident Evil Village is the latest main entry of the zombie-shooter saga. It's also a unique entry, as it mixes elements of previous entries to deliver something most RE fans would like.
You continue Ethan Winter's story on a new first-person survival horror. You explore a decrepit village searching for your baby daughter. The goal is completing various areas (and defeating its bosses) to get the final key.
There's a lot of backtracking in its linear worlds, mazes, off-putting puzzles, challenging enemies, and more. Ammo is scarce, but you can upgrade your weapons, health, block, speed, and other key stats with collectibles.
A Plague Tale: Requiem (& Innocence)
Developer: Asobo Studio
Publisher: Focus Entertainment
Release Date: October 2022
Platform: Nintendo Switch, PS5, Xbox Series, Windows
If you're looking for an emotional single-player story, you may play A Plague Tale's Innocence's sequel. If you didn't play the first one, though, start there. Either follow a duo of characters on a story about family and survival, like TLOU.
In any case, Requiem continues the story with similar mechanics. You play as Amicia traveling alongside her younger brother Hugo. They fled a town devastated by the Plague in Middle Ages France.
Now, they attempt to start a new life, but death and destruction are following them. You have a variety of tools, weapons, and powers to defeat the shadows. However, like the first game, most of the experience is about hiding and sneaking past the threats -ammo and supplies are very scarce.
Shadow of the Tomb Raider (& Tomb Raider's reboot trilogy)
Developer: Eidos-Montreal
Publisher: Square Enix Europe
Release Date: September 2018
Platform: Windows, macOS, Linux, PS4, Xbox One
Shadow of the Tomb Raider is the third part of the franchise's trilogy reboot. We recommend playing the three games for the full story, but you can enjoy this one without prior knowledge.
You play as Lara Croft in a semi-open survival action adventure. Here, the gameplay, the crafting, the visuals, and the character progression feels similar to Naughty Dog's game. The main activity is different, though: Croft raids tombs for treasures.
As for the story, Lara and her friend Jonah Maiava are fighting against the paramilitary organization Trinity. The conflict becomes a race for ancient magical tools you must find to stop a Mayan apocalypse.
Beyond: Two Souls
Developer: Quantic Dream
Publisher: Sony Computer Entertainment
Release Date: October 2013
Platform: Windows, PS3, PS4
Beyond: Two Souls is an interactive drama adventure. It means gameplay revolves around interacting with the environment and making choices on dialogue trees.
These choices take the story to branching paths and different endings. Still, anything you do translates into the movie that unfolds. If you're unfamiliar, it works like Detroit: Become Human.
The story follows Jodie Holmes, a teenager who can speak with an ethereal entity, Aiden. She wants to have a normal life, but the authorities are chasing her for the paranormal powers she has.
Horizon: Forbidden West
Developer: Guerilla Games
Publisher: Sony Interactive Entertainment
Release Date: February 2022
Platform: PS4, PS5
Forbidden West is the action-RPG open-world sequel to Horizon: Zero Dawn. It improves its mechanics, gameplay, and story, but continues the same gameplay loop. It's a game to pick if you're looking for story-driven cinematic games and cinematic action.
You play as hunter Aloy of the Nora tribe in the post-apocalyptic Western United States. The main enemies are robots that behave and look like ancient massive animals. To hunt them, you must quickly swap between your different weapons, tools, and ammo.
Hunting is key to survival: you use resources to craft ammo, and resources come from enemies. Elsewhere, the plot follows a journey to uncover the origins of these beasts. You traverse the world with parkour acrobatics, mounts, a glider, swimming, climbing, and more.
State of Decay 2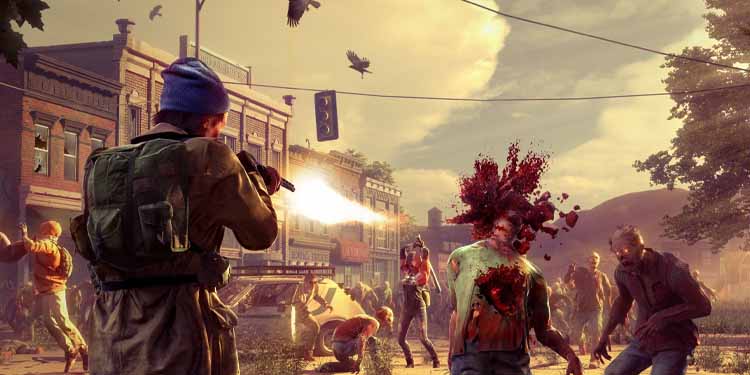 Developer: Undead Labs
Publisher: Xbox Game Studios
Release Date: May 2018
Platform: Windows, Xbox One
State of Decay is like opening TLOU's world to play an open-world sandbox survival zombie experience. Rather than following a story, you craft your own.
You play with a third-person perspective either solo or co-op (up to three other players). The idea is to build up bases on one of the available locations. Then, turn these facilities into self-sustainable sites: kitchens, watchtowers, sleeping quarters, medical bays, etc.
So, the gameplay loop is managing these resources and traveling across a desolate world for resources. You can scavenge resources on the land, or trade with other survivor NPCs.
The Evil Within
Developer: Tango Gameworks
Publisher: Bethesda Softworks
Release Date: October 2014
Platform:Windows, PS3, Xbox 360, PS4, Xbox One
Resident Evil creator Shinji Mikami created The Evil Within under Bethesda's publication. Consider it as RE 4's spiritual successor, an entry first-person survival horror fans may like.
You follow Detective Sebastian Castellanos. He's investigating a mass murderer at the Mental Beacon Hospital. Soon, though, a strange force takes them to a surreal world full of monsters.
Sebastian is weak, and ammo is scarce, so players must resort to sneaking often. However, there's a character progression system, there're weapon upgrades, puzzles, and mazes. Lastly, as in TLOU, the aiming and the shooting are quite simple.
Dying Light 2: Stay Human
Developer: Techland
Publisher: Techland
Release Date: February 2022
Platform:PS4, PS5, Xbox One, Xbox Series, Nintendo Switch, Windows
Dying Light 2 puts you in a familiar setting of managing scarce resources to craft supplies. You gather resources to upgrade weapons, craft survival tools, make arrows, and make healing items. Moreover, like on TLOU, character progression relies on finding special collectibles.
You play as Aiden, a survivor on land destroyed by a zombie-like virus. In 2036, many years after the fall of civilization, Aiden, a Pilgrim, is traveling between human settlements. His journey is about searching for his lost sister, Mia.
The journey becomes a first-person action RP with parkour traversal and skill-based combat. You use skills like jumping kicks and parries to fight zombies and humans on roofs, streets, and dungeon-like basements and laboratories.
Days Gone
Developer: Bend Studio
Publisher: Sony Interactive Entertainment
Release Date: April 2019
Platform:PS4, Windows
Days Gone is another zombie survival shooter. Its post-apocalyptic setting presents the protagonist, Deacon St. John, a bounty hunter. Soon, he finds himself in a fight for humanity's survival.
However, the world is tough and unforgiving. The zombie hordes are everywhere, and they are fast. Ammo, though, is scarce and hard to find, but combat is fluid and relentless.
Additionally, Days Gone features crafting mechanics, character progression systems, vehicles, stealth, dynamic weather, a day and night cycle, and more. Notably, it focuses on upgrading the bike (and finding its parts) to travel further in the open world.
Marvel's Spider-Man
Developer: Insomniac Games
Publisher: Sony Interactive Entertainment
Release Date: September 2018
Platform:PS4, PS5
Spider-Man could be the game you're looking for if you're not exactly looking for horror. It's one of the best Peter Parker stories in recent times, and it feels as cinematic as action-packed.
You control the Friendly Neighborhood Spider-Man in an original story. The plot features a large ensemble of Marvel characters, a wholesome tone, and profound lessons to learn. Moreover, the villain gallery includes Electro, Scorpion, and Vulture.
Gameplay-wise, it's an open-world action-adventure game. You can swing with outstanding traversal abilities, and you can combat with evolving skills, gadgets, and melee moves. The mechanics are smooth, refined, and easy to learn.