Whether we're talking about purpose-built WiFi Extenders or secondary routers configured to rebroadcast the signal, WiFi Extenders are a convenient way to improve WiFi coverage. As convenient as they are, one major problem is that there's a lot of confusion regarding WiFi Extenders as a whole.
For instance, even though these terms are used these days interchangeably, WiFi Repeater, Extender, and Booster are technically different things. So, picking the correct one to purchase can be difficult if you're a prospective customer.
If you're repurposing a secondary router as an Extender, the various options available, like WISP Client or Wireless Access Point, can further add to the confusion.
And we haven't even gotten to the elephant in the room; do WiFi Extenders actually even work? With all the negative reviews you might've seen online, it wouldn't be unreasonable to assume that they're a waste of money.
So, what is the reality? How do WiFi Extenders work, are they actually any good, and should you use them? These are some of the main queries we've attempted to answer in this article.
What Do WiFi Extenders / Repeaters Do?
Let's first talk about purpose-built extenders. These devices typically connect to the router via an Ethernet cable and create a wireless network that other devices can connect to. WiFi Extenders can also operate in Repeater mode, where they wirelessly connect to the main router and rebroadcast the signal, usually repeating it with the same SSID.
As the connection is wireless, one disadvantage of repeaters is that if the signal it received was weak to start with, the rebroadcasted signal would be weak as well.
Additionally, repeaters are half duplex, meaning you can't simultaneously send and receive data. One of the repeater's two radios will be busy communicating with the main router, while the other will be occupied with the end device, such as your phone. What this essentially means is that the bandwidth is halved.
The selling point of repeaters is their convenience; they're affordable and easy to set up. Some modern repeaters are even capable of wired connections, meaning both the signal strength and bandwidth problems are resolved. This allows for a lot more applications, but as we said, that's just some models.
In general, the con is that repeaters are simply not that effective. They certainly do extend the WiFi coverage, but the improvement isn't as good as most people expect. Even in the case of good signal quality, the throughput and interference can be a problem.
Extenders are a bit more expensive and harder to set up, as they require a wired connection to the router. But consequently, you also don't have to deal with the aforementioned issues. The Ethernet connection allows you to utilize the full bandwidth while connected to the extender's network, and the signal strength will be optimal as well.
There's also the option of Powerline Adapters. You plug one unit into a socket, connect it to the router with an Ethernet cable, and plug another unit wherever you want to create the new access point.
Finally, we should also mention WiFi Boosters. WiFi Booster is just another term used to refer to WiFi Extenders and Repeaters, in general.
Routers As WiFi Extenders
Most modern routers also offer a range of working modes, such as Extender, Repeater, Wireless Access Point (WAP), etc. These operation modes allow you to use a secondary router to extend the WiFi coverage.
The Extender or Repeater mode allows your device to operate like a dedicated extender or repeater, rebroadcasting the signal from the main router. The effectiveness, of course, will depend on whether the connection between the two routers is wired or wireless.
WDS Bridging allows you to connect multiple access points wirelessly, similar to a mesh system. Similarly, WISP Client Mode lets the router connect to a WiFi hotspot and share the internet connection with other devices.
Finally, WAP, or just AP mode, is self-explanatory. The secondary router has a wired connection to the main router, which lets it function as a Wireless Access Point.
WiFi Extender Applications and Effectiveness
Now, let's talk about effectively using a WiFi Extender. First, you should make sure you actually need a WiFi Extender to start with. In an apartment setting, for instance, there could be numerous routers operating in the same band as yours. The interference could be the reason for your WiFi issues.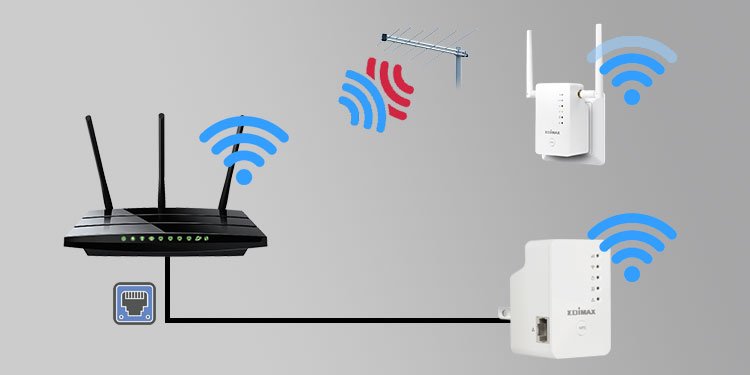 Assuming you've actually got a signal strength problem, the best case scenario would be to use a WiFi Extender as the wired connection will allow for optimal signal and bandwidth. But as setting up a wired connection isn't always possible, the application of this method is limited.
Powerline Ethernet can also work, but it's not very reliable. For instance, you can't plug these units into surge protectors as the network traffic would be seen as power surges. Even when plugged into the wall, power dips can prevent the device from working properly.
Finally, there's the convenient but fairly ineffective option of wireless repeaters. For instance, if you've got a dead zone in your living room, a repeater could be a viable option. But for significantly extending the WiFi coverage, a repeater is no good.
This is because the repeater can only 'repeat' the signal as it receives. If the signal is poor quality to start with, the rebroadcasted signal wouldn't be any good either.
Most people place the repeater at the very edge of the router's range, but it should be evident by now that this is what you're supposed to not do. Instead, you should place the repeater in a location where the connection is still somewhat reliable. The coverage won't improve hugely, but atleast the extended network will still be usable.
When purchasing a repeater, look for a dual-band option that can be configured to allow the repeater to connect to the main router and end device on different bands. Second, you'll have to manually switch between the two networks depending on where you are for maximal effectiveness.
Alternatives To WiFi Extenders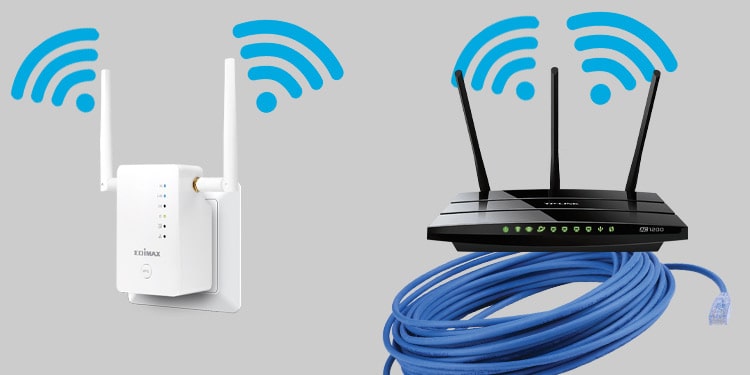 We've talked about the effectiveness and some limitations of WiFi Extenders. One common complaint from users is that if the router and extender are from different vendors, they don't work well. In such cases, you have a few alternatives.
First, depending on your circumstances, upgrading and/or relocating the router could be all that's needed for better coverage.
You could also use a secondary router to extend the WiFi coverage, as compatibility generally won't matter for this. In this case, our recommendation in order of effectiveness is:
Wireless Access Point > WDS Bridging > Extender / Repeater / WISP Client
You could also opt for a Mesh WiFi setup. Mesh isn't perfect and certainly has its own shortcomings, but most users have found it to be an upgrade compared to extenders.