Let's be honest, we all hate cables! That's why we talk about cable management in all our servers and gaming PC guides. But when considering our network connection speeds, we want the best we can get.
While Wi-Fi connections offer more convenience than wired Ethernet cables, they lag behind in terms of speed. And when we think about how our internet gaming and streaming has transitioned, our connection speeds need to be the best we can get. They also need to be consistent, with lower latency.
It's for such reasons the ethernet cables aren't going away any soon. Keep in mind the new Wi-Fi standards like 802.11ac offer maximum speeds of 866.7 Mbps, which is good enough to handle most of our daily tasks. Only that they are unreliable due to their higher latency levels.
Since cords come in different categories with features that suit different needs, we have made a detailed guide that will lead you to the best Ethernet cable for gaming and streaming. Whether you are playing online games that need quick reaction time. Or maybe connect devices that stream from a media server like Kodi or share large files on your local network, you should find the ideal cable herein.
Best Ethernet Cable in 2023
Ethernet Cable
Category
Specifications
Price
Vandesail

Cat 7
Maximum Speed
(Gbps): 10
Maximum Bandwidth
(MHz): 1,000
Length (Feet): 3 to 146
Check Price
AmazonBasics

Cat 6
Maximum Speed
(Gbps): 10
Maximum Bandwidth
(MHz): 250
Length (Feet): 3 to 50
Check Price
Mediabridge

Cat 5e
Maximum Speed
(Gbps): 10
Maximum Bandwidth
(MHz): 550
Length (Feet): 3 to 100
Check Price
XINCA

Cat 6
Maximum Speed
(Gbps): 1
Maximum Bandwidth
(MHz): 250
Length (Feet): 6 to 100
Check Price
TNP

Cat 7
Maximum Speed
(Gbps): 10
Maximum Bandwidth
(MHz): 600
Length (Feet): 1.5 to 50
Check Price
Cable Zosion

Cat 8
Maximum Speed
(Gbps): 40
Maximum Bandwidth
(MHz): 2000
Length (Feet): 1.64 to 100
Check Prices
Cable Matters

Cat 6a
Maximum Speed
(Gbps): 10
Maximum Bandwidth
(MHz): 550
Length (Feet): 1 to 200
Check Price
Cables Direct Online

Cat 5e
Maximum Speed
(Gbps): 1
Maximum Bandwidth
(MHz): 350
Length (Feet): 30
Check Price
Cables Direct Online

Cat 6
Maximum Speed
(Gbps): 1
Maximum Bandwidth
(MHz): 550
Length (Feet): 50
Check Price
Ugreen

Cat 7
Maximum Speed
(Gbps): 10
Maximum Bandwidth
(MHz): 600
Length (Feet): 3 to 100
Check Price
How Do You Choose The Best Ethernet Cable?
It all narrows down to the range and performance needs you want to meet. But there is more to cords that it meets the eye.
1. Speed and Bandwidth
You're probably going for a wired connection so that you can boost your internet speed. However, you need to start by understanding the speed of your home internet connection or ISP's router.
If you're having a gigabit internet (over 1 Gbps) an older ethernet cable will hold you back. Similarly, if your connection is slow, say 15 Mbps, it will bottleneck newer cable models. Such models like Cat 5e, Cat 6, and Cat 7.
Ethernet cables come in about 8 categories (Cat) that represent the different ethernet technologies. Newer categories have better speeds and bandwidth. For the purpose of this guide, we will feature the 5 categories that make the most sense today. They include Cat 5e, Cat 6, Cat 6a, Cat7, and Cat 7a.
Other types include the Cat 3 and Cat 5 which are obsolete in terms of their power. They have lower speeds and bandwidth. Which are the reasons why we wouldn't recommend buying them! There are also Cat 8 cables that aren't widely available in the market at the time of this writing.
(i) Cat 5e
They are unshielded and offer speeds of up to 1 Gbps (1,000 Mbps) at 100 meters with a maximum frequency of 100 MHz. The "e" stands for enhanced – from the category 5 types. Cat 5e cables are not only affordable but also reliable when handling daily internet tasks. Such as browsing, streaming movies, and productivity.
(ii) Cat 6
They come both shielded and unshielded with speeds up to 1 Gbps (1,000 Mbps) at 100 meters and a maximum frequency of 250 MHz. The shielding offers the twisted pairs of wires in cable with protection, hence preventing noise interference and crosstalk. Their higher bandwidths render them ideal for gaming consoles like Xbox and PS4.
(iii) Cat 6a
They are shielded and offer speeds of up to 10 Gbps (10,000 Mbps) at 100 meters with a maximum frequency of 500 MHz. The "a" stands for augmented. They support twice the maximum bandwidth of Cat 6, with capabilities of maintaining higher transmission speeds over longer cord lengths. Their thick shielding renders them much denser and less flexible than Cat 6 but allows them to eliminate crosstalk completely.
(iv) Cat 7
They are shielded and offer speeds of up to 10 Gbps (10,000 Mbps) at 100 meters with a maximum frequency of 600 MHz. These cables utilize the newest ethernet technology that supports higher bandwidths and faster transmission speeds. That's, you will manage to get 10 Gbps in the real world, not just on paper. Some reach up to 100 Gbps at 15 meters, but we don't think you would need such transfer speeds. We might be wrong! The fact that Cat 7 cables use a modified GigaGate45 connector renders them backward compatible with the traditional ethernet ports.
(v) Cat 7a
They are shielded and offer speeds of up to 10 Gbps (10,000 Mbps) at 100 meters with a maximum frequency of 1,000 MHz. We can confidently say that a Cat 7a ethernet cable is an overkill! They are a lot more expensive despite them offering the same transmission speeds as Cat 7. They only give you some bandwidth improvement that you don't need!
2. Compatibility
Cat 6 and Cat 7 cables are backward compatible. However, they won't give you the advertised speeds if you are using an ISP (or router) with slower connection speeds. Simply put, if the maximum internet speed at your router is 100 Mbps, a Cat 6 ethernet cable won't make the speeds go up to 1,000 Mbps.
Such a cable will probably give you a connection with lower ping and no lags when performing internet intensive online gaming. It will also reduce interference that would have resulted from dropped signals due to objects blocking the connection around your house. That's when using Wi-Fi connections.
When buying cables, ensure that they are compatible with the devices in question. You also want to ensure they won't bottleneck the speeds or end up being overkill. Like getting a Cat 7 ethernet cable for your Facebooking laptop is probably an unwise investment!
3. Range
After you have checked the speeds, bandwidth, and compatibility, it is time to consider the range. How far do you want the cables to go? For a connection from your router to the PC in your office, a 10 feet cable will probably work. But you would probably need a 100 feet cable for an outdoor connection or from one room to another in a large house.
1. Vandesail CAT7 Ethernet Cable – Best Bang for the Buck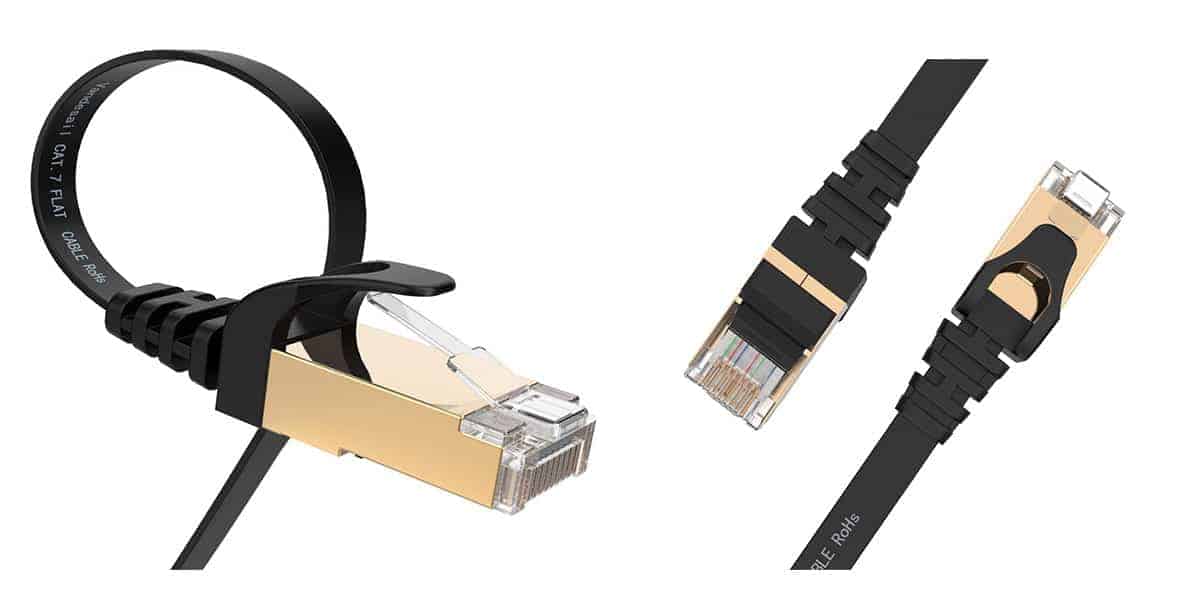 Vandesail CAT7 features copper plated RJ-45 connectors that ensure a stable, interference connection. Its flat shape allows you to easily route it in hard-to-reach places like corners and under carpets. Being one of the best ethernet cables, it's suitable for PS4, PC, laptop, routers, and most of the devices out there.
The packaging includes 2 cables of lengths that range from 3 feet (1 meter) to 164 feet (50 meters). It is lightweight and easy to wrap due to its flat design. These features make it the ideal cable for traveling as it rolls up compactly. The Vandesail CAT7 would make the perfect cable for highly intensive online gaming or 4K streaming from media servers like Kodi and Plex.
2. AmazonBasics CAT6 – Best Ethernet Cable for Streaming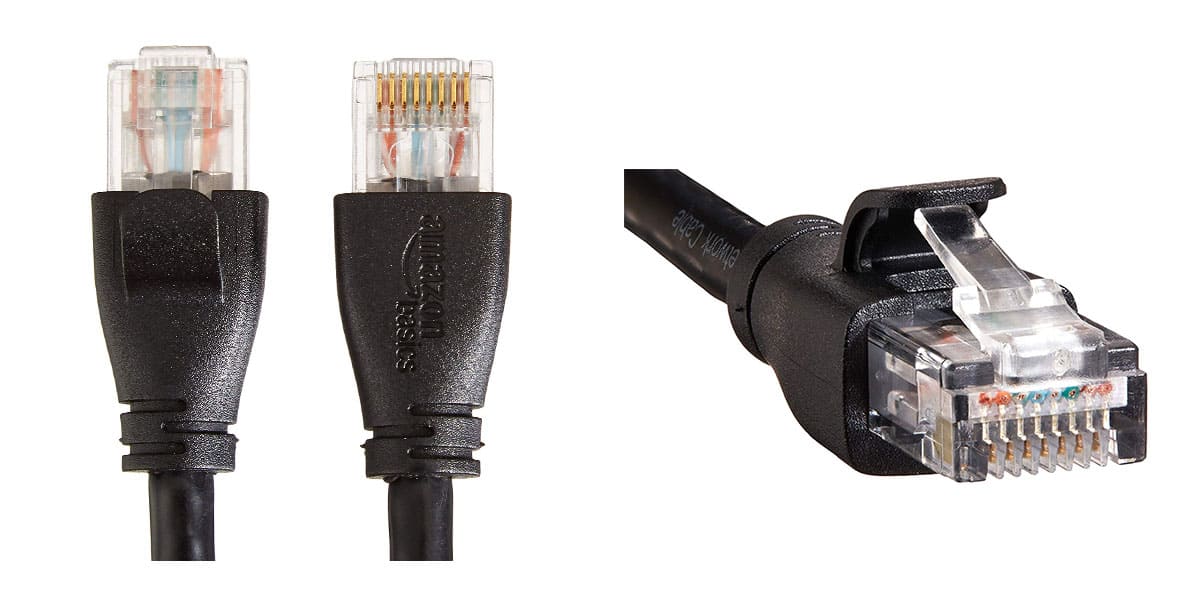 If your home internet can achieve speeds of between 1 and  10 Gbps, a Cat 6 cable allows you to get the most out of it. The AmazonBasics Cat 6 Ethernet cable will manage maximum speeds of 10 Gbps at up to 55 meters.
It comes with an RJ45 connector that offers for universal connectivity. The cable is affordable, secure, and reliable. The fact that it is shielded and with a bandwidth of 250 MHz makes it ideal for streaming.
AmazonBasics RJ45 comes in lengths that range between 3 and 50 feet. However, its main drawback is the round design that makes cable managing a little bit of a task. The design can also be bulky for a longer cord.
3. Mediabridge CAT5e Ethernet Cable — Best Affordable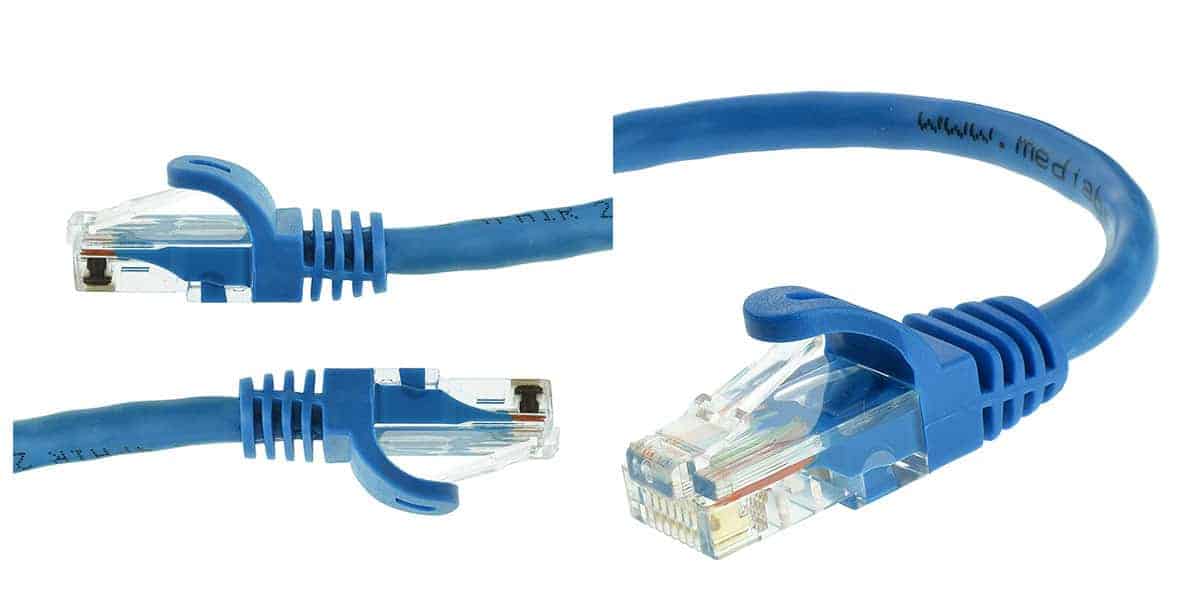 The Mediabridge CAT5e is a highly versatile cable. Thanks to the Rj45 connector that allows you to use it in most of the standard ports. It offers for speeds of up to 10 Gbps and comes in lengths that range from 3 to 100 feet.
Mediabridge CAT5e supports CAT6, CAT5, and CAT5e applications. With the bandwidth of 550 MHz, you are assured of high-speed data transfer. As icing to these cool features, Mediabridge has included reusable Velcro straps that will help you organize your cables.
This is a cable that you can rely on when streaming HD videos online or when playing esports. It will still handle most of your day-to-day home and office internet needs.
4. XINCA CAT6 Ethernet Cable for PS4 Streaming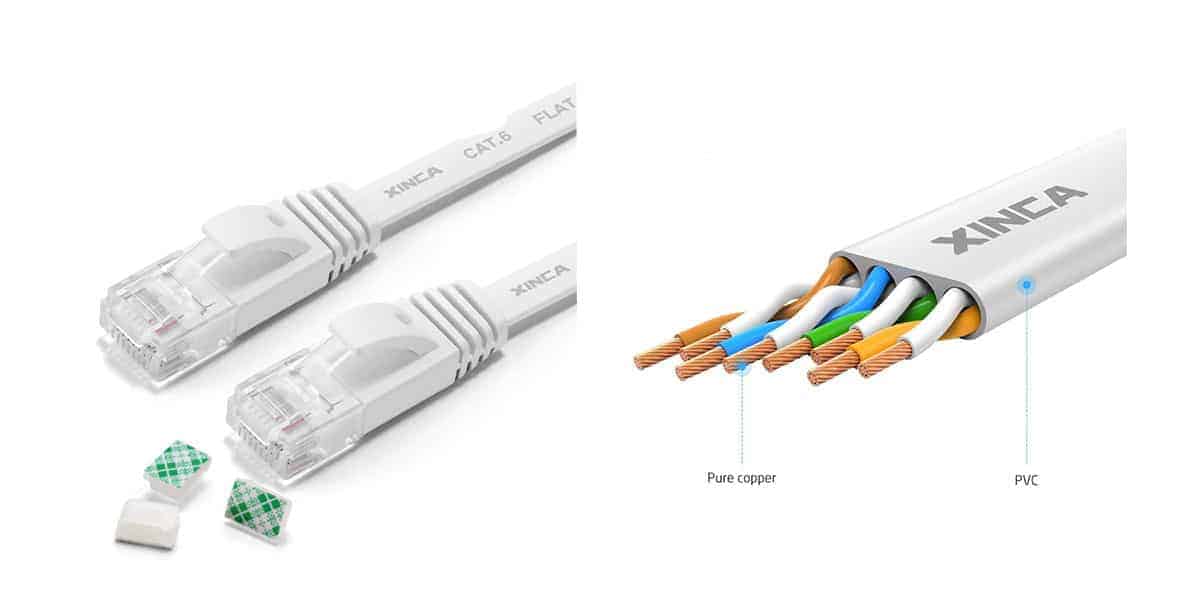 The XINCA Ethernet cable embraces a flat-wire design with 0.06-inch thickness. The ultra-thin design makes it ideal for concealing under carpets and furniture. Its RJ45 connector gives you universal connectivity, making it one of the most affordable and best ethernet cable for PS4 gaming.
It offers for data transfer speeds of up to 1 Gbps at 250 MHz. Owing to its design and excellent features, this cable will meet both your performance and aesthetic needs. Its available in lengths that range from 6 feet to 100 feet.
XINCA CAT6 is made from 100% pure copper. Making it RoHS compliant. And just like most of the cables in our list, you can use it to connect routers, Xbox, Gigabit Ethernet switch, and PC among other devices.
5. TNP CAT7 Ethernet Cable – Best for 4K Streaming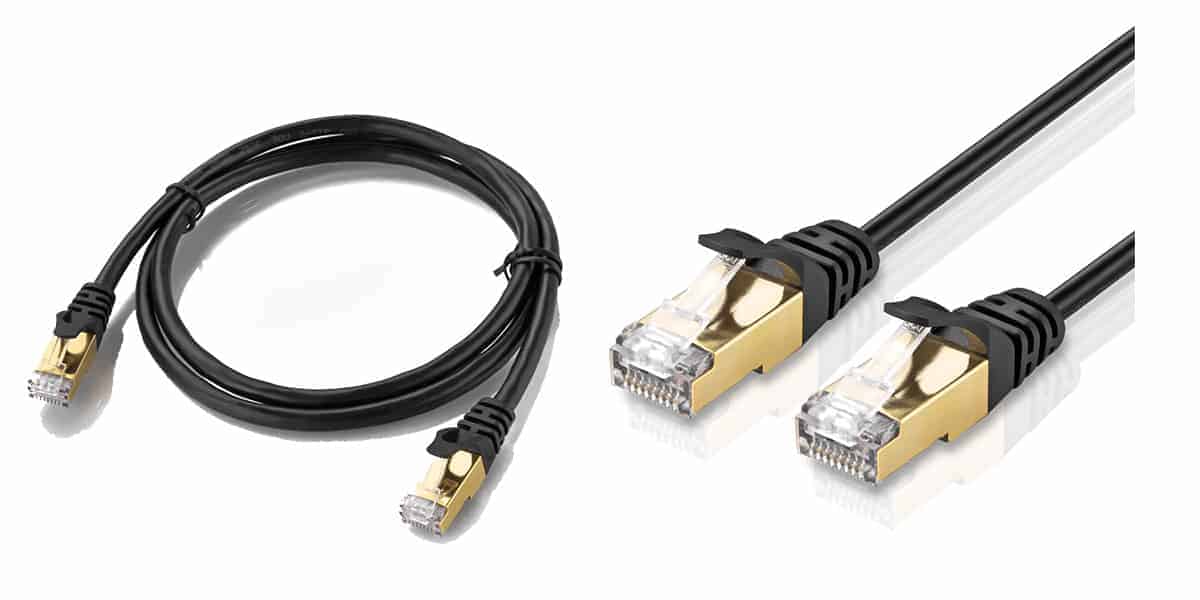 TNP CAT7 Ethernet Cable packs all the standard features of a Category 7 ethernet cable. But that is not its selling points. Its flexible design and durability have made it stand out from the competition.
The cable offers connection speeds of up to 10 Gbps with a bandwidth of 600 MHz. It has been designed by a reputable brand that promises error-free signal transfer. This cable is backward compatible with CAT6, CAT5e, and CAT5.
6. Cable Matters 160021 CAT6 Snagless Ethernet Cable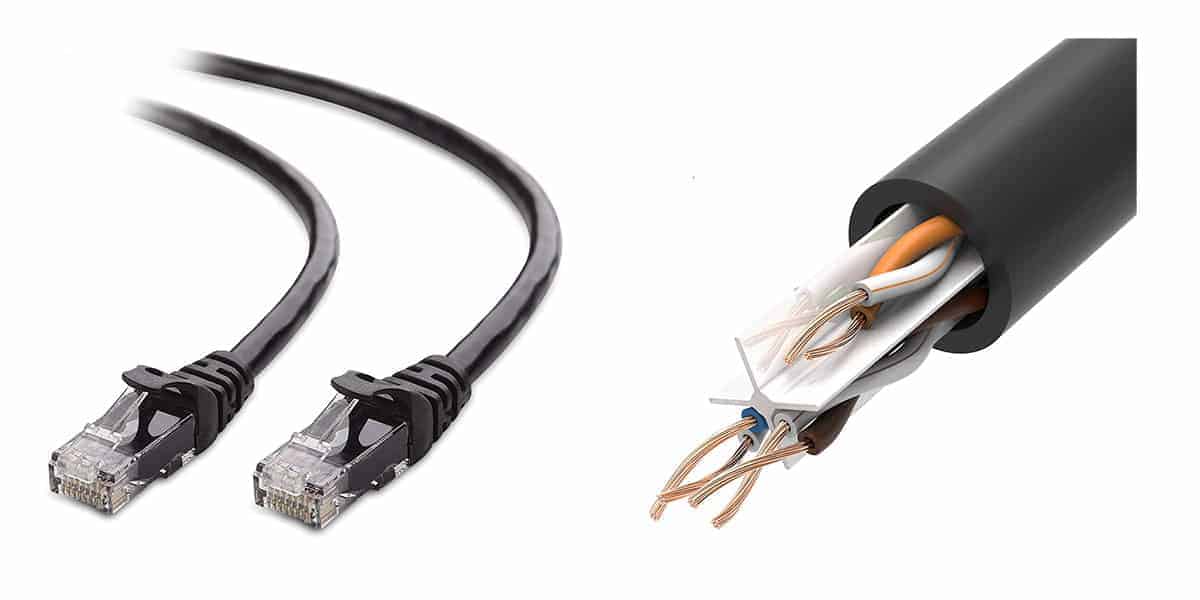 The Cable Matters 160021 CAT6 is an affordable alternative for anyone looking for a short ethernet cable with up to 10 Gbps transfer speeds. It is available in lengths that range from 1 foot to 14 feet and comes in a pack of 5 cables.
Cable Matters understand that you may want to go with color options that allow for easy cable managing/identification. That's why the cables have been designed in 5 different colors per pack – Black, Blue, Green, Red, and White.
This is probably the best ethernet cable for anyone looking to connect multiple devices. Maybe set up an office server or connect PoE devices, VoIP phones, printer, and PCs at home. The snug-less design allows for easier unplugging.
7. Cable Zosion CAT8 – Best for Complex Office Networks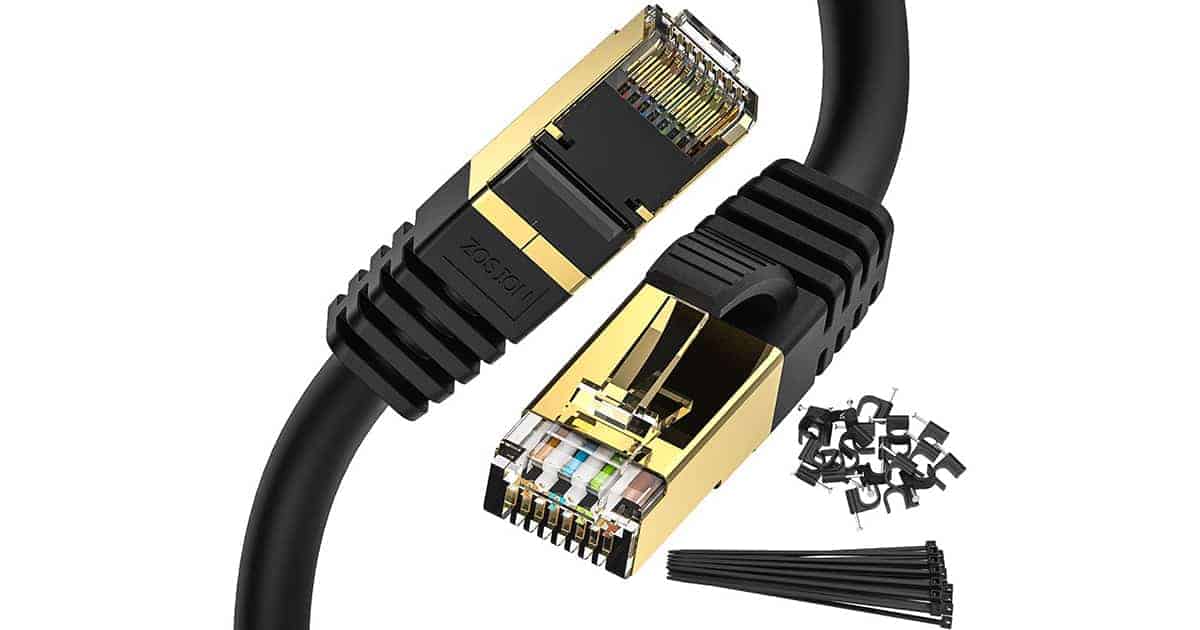 The Zoison Cat 8 has a copper-plated RJ 45 for better stability and toughness. The STP is rounded and gives better protection against crosstalk, noise, and disturbance. The cable uses environmental outer PVC which ensures durability, flexibility and anti-aging features. The cable works equally with every device and is backward compatible with older wires like Cat 7/Cat 6/Cat 6a etc.
The cable is best suited for the user who has a 100 Mbps package in their home/ The cable delivers the data at a high rate of transfer and is way more reliable than the cat 7 cables. The package comes with a single cable ranging from 1.5 Feet to 100 Feet. Zoison is gracious to even ship it with 5 clips and 5 cable ties to store the cable.
8. Cables Direct Online CAT5e 30FT Networking RJ45 Ethernet Patch Cable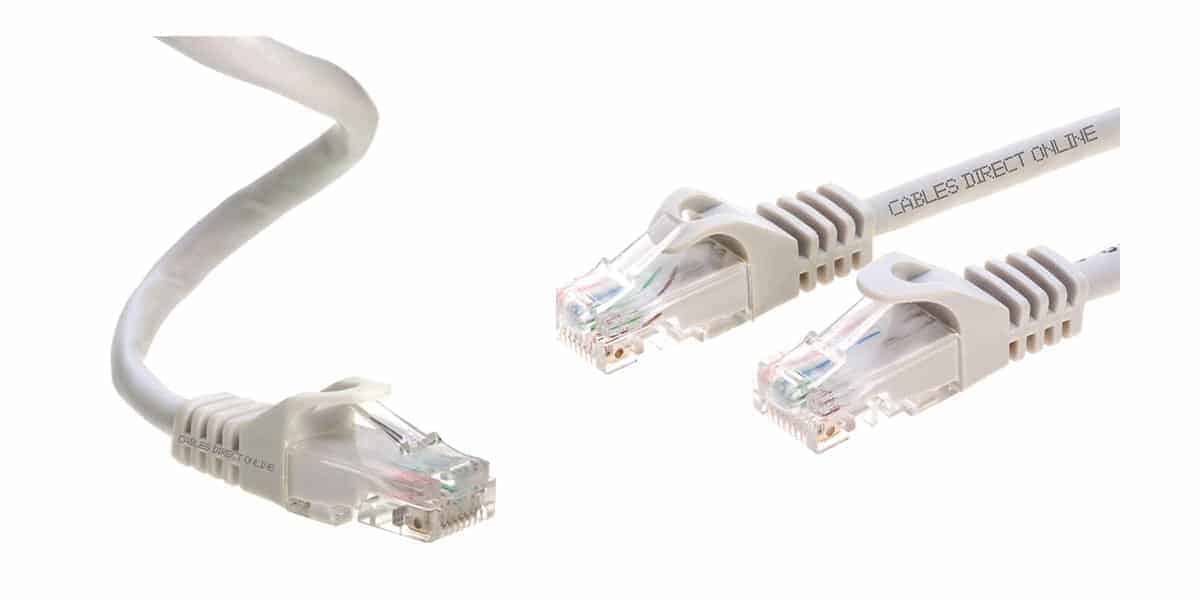 A 30 feet ethernet cable sounds like the average cable length we all want when extending our internet connections. It's sufficient to connect our modem/router to PCs, Laptops, and gaming consoles.
The Cables Direct Online CAT5e is such a cable that comes with a 30 feet (10 meters) long cord. Its capable of achieving 1 Gbps speeds at a bandwidth of up to 350 MHz. At a $5 price, you get a quality cable without breaking the bank.
9. Cables Direct Online CAT6 50FT Networking RJ45 Ethernet Patch Cable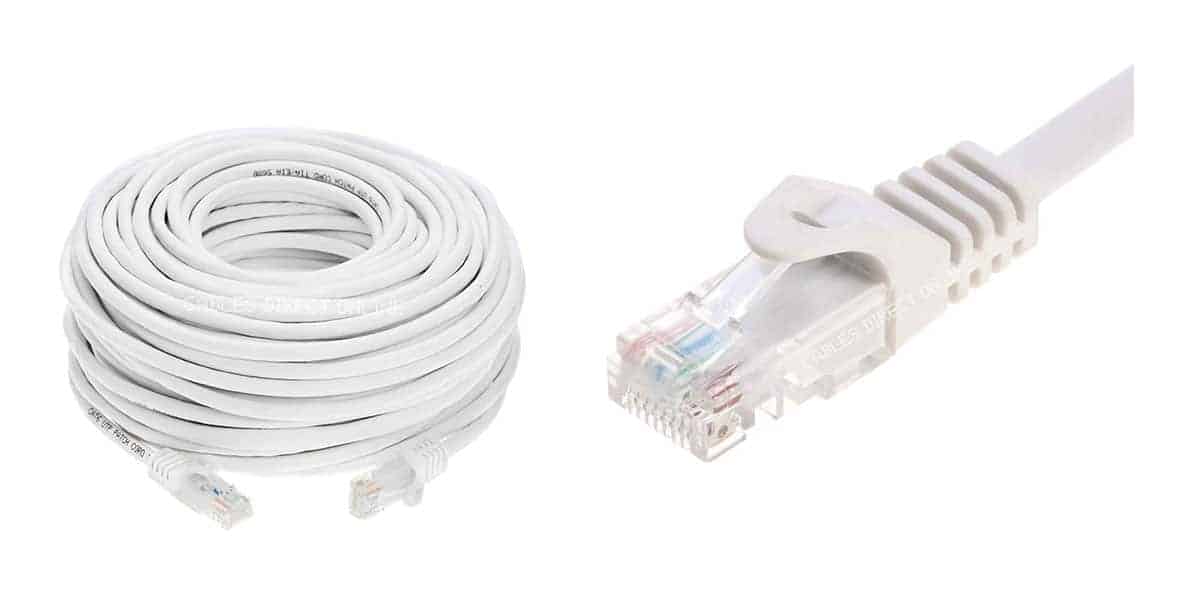 Yet another best ethernet cable by Cables Direct Online. The CAT6 alternative comes with a 50 feet long cord. A length that's more than enough to extend your internet connections at office and home.
The cable will manage transfer speeds of up to 1 Gbps with a maximum bandwidth of 550 MHz. It has been affordably priced at $6.95, making it a low-cost alternative for gaming enthusiasts who are on a budget.
10. Ugreen CAT7 Ethernet Cable – Best Ethernet Cable for PS4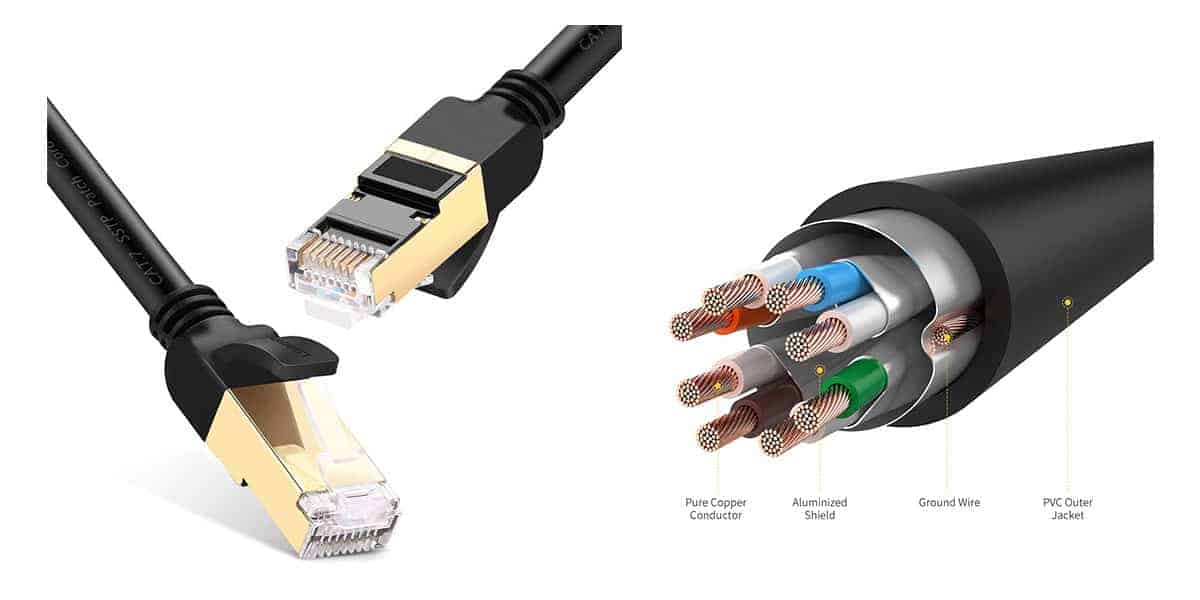 We have already featured two other cables that are great for PlayStation gaming. But the Ugreen CAT7 Ethernet Cable not only packs the performance features but also comes in a black-feel design that blends well with the PS4 gaming console.
It has a maximum transfer speed of 10 Gbps with a bandwidth of about 600 MHz. Making it such an ideal ethernet cable for playing high-end games at high speeds. Even more, the clip protector will keep the RJ45 connector from unwanted snugs while routing the cable.
The cable comes with cords that range from 3 feet to 100 feet in length. Its made of 4 STP copper wires that offer for better protection from interference and crosstalk noise. Such features give you the best signal quality even when streaming 4K videos.
Final Remarks:
Finding the best ethernet cable narrows down to your internet speed needs. And how far you want to extend the connection. In most cases, a CAT5e ethernet cable will give you all the performance you need for your day-to-day internet needs.
But getting a CAT7 cable ensures that you are going with a recent ethernet technology that supports fast data transfer speeds of up to 10 Gbps. Such speeds will give you peace of mind when streaming 4K videos and gaming.