There are fewer moments as gut-wrenching as feeling your PC heat up to extreme temperatures and wondering if it's too late to get the best pc case for airflow. If you're here because you're looking for a higher CFM, don't feel bad—we've been there too. If you want to prevent your PC from overheating, you've come to the right place.
The good news is that there are many PC cases on the market. However, not all of them are ideal for promoting healthy airflow. Therefore, we did the digging for you and rounded up the best airflow PC cases that will fit various budgets and PC uses.
Are you ready to get a PC case that offers excellent airflow once and for all? Keep reading, and we'll let you in on all our tips.
Best PC Cases For Airflow
| Case | Notes | |
| --- | --- | --- |
| PHANTEKS Eclipse P500A | Best Overall Airflow Case | Check Price |
| Lian Li Lancool II Mesh(Performance) | Best ATX Airflow Case | Check Price |
| Fractal Design Focus G | Best Budget Airflow Case | Check Price |
| Silverstone Redline RL06 | Best Mid-Range Airflow Case | Check Price |
| Cooler Master MasterCase H500M | Best High-End Airflow Case | Check Price |
| Lian Li O11 Dynamic XL | Best Airflow Case for Water Cooling | Check Price |
| Fractal Design Meshify S2 | Best Mid Tower Airflow Case | Check Price |
| Thermaltake Core P3 TG | Best Open Air Case | Check Price |
| Cooler Master TD500 Mesh White | Best Looking Case with Airflow | Check Price |
| Corsair Carbide Air 540 | Best Cube Case for Airflow | Check Price |
| Phanteks P300A | Most Beginner Friendly | Check Price |
| Phanteks P400A Digital RGB | Best RGB Airflow Case | Check Price |
Phanteks had some great performers focused on airflow in the P300A and the P400A. Now they have charged the market with an even bigger case – the Eclipse P500A. It has muted styling and stealthy design.
It has room for flexibility: with an optional $20 mount, you can install a second mITX system, like some streamers prefer to do. It is about mid-range, shipping at $110 for the regular version, and $140 for the DRGB one.
The size of the chassis is quite large, but the P500A uses it excellently. Airflow is, obviously, a big win in this case. But the interior utility and ease of cable management is nothing to scoff at, either. Build quality is excellent, and the swivel TG door is fantastic.
If you get the RGB model, the front fans show off cool effects that'll keep you in a trance. It is not the quietest but gets the job done.
The downside of this PC case is perhaps its size. This is quite a large mid-tower. And, if you are not using the second system option, then maybe it is simply too large for comfort. And depending on your preference, the design might look a bit also focused on utility.
The bottom line is that there are no compromises to be made with the Phanteks P500A. For a reasonable price, you are getting a fantastic piece of hardware. And it has one of the best airflow performances in the closed mid-tower category. This PC case is a no-brainer.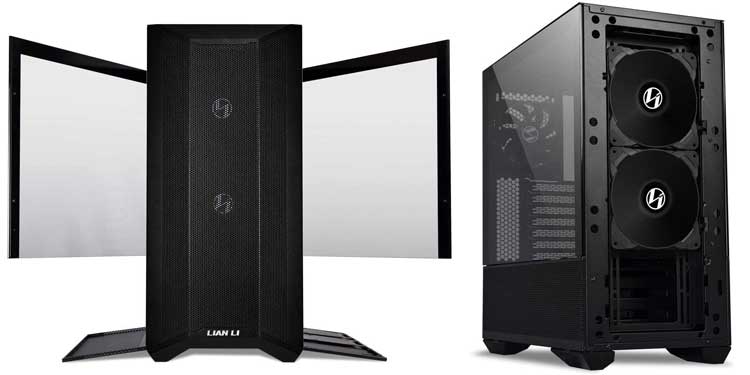 We'd suggest you opt for the 'Performance' model. It comes with a duo of 140 mm PWM fans and a fan controller. This combo seems to us like a better deal than the 3 120 mm RGB fans alternative. Almost every single detail of this case is engineered to near-perfection.
The dual TG panels look great. The bottom side panel being mesh now allows for significant air to be drawn in by bottom fans. The internal is reasonably spacious, and you can fit a whopping nine drives inside this case. Airflow is, above all, superior to anything Lian Li has put out previously.
One reason it loses favor compared to the P500A is that USB-C support is optional, aka you need to shell out more money for it. We understand this is meant to be a cost-cutting move, but most consumers will appreciate the inclusion of USB-C, so this option is simply a hassle.
Just put it in, Lian Li. Another downer may be the somewhat bland design, similar to its predecessor. If you want a case that looks just as good as it performs, look further down our list.
That one nitpicks aside; you really cannot go wrong with this case. Its performance is top-notch, and Lian Li is known for its stellar build quality. For the price, you are getting so many features and such a flexible interior. Among normal ATX mid-towers, the Lancool II Mesh sets the bar.
The Fractal Design Focus G is definitely our top pick for budget users. In addition to being the cheapest option on this list, it also comes bundled with two great intake fans out of the box, though you'll need to add your own exhaust fan to the setup.
The Focus G offers a reasonably compact size (especially with the Mini version), a builder-friendly interior, and most importantly for airflow, a full mesh front panel.
This mesh front panel allows for superb air intake into the PC, especially if you utilize both of the available intake fan slots. Elsewhere in the chassis, you also have room to mount an extra bottom intake and top exhausts.
The only real downside of this case that we can think of is its side panel window, which is made of Acrylic instead of Tempered Glass. This is a minor nitpick, though, and won't have any kind of impact on the thermal performance of your components inside of this rig.
If you want great airflow but can't afford the higher-end cases on this list, then the Focus G should be perfectly suited for your needs. If you want to do a smaller Micro ATX build instead, you can also opt for either the Focus G Mini or Meshify C Mini linked below.
Want a smaller version of this case? Get the Focus G Mini or Meshify C Mini instead
Let's just get this out of the way: according to third-party reviews, the Silverstone Redline RL06 offers among the best, if not the best, airflow of any case on the market.
Knowing what we know about front panels now, it's easy to see why: not only is the front panel mesh, it is huge, and it leads very directly into the three provided intake fans.
This case is focused on providing superb airflow above all else, and it shows. In addition to the three included intake fans, you also have an included exhaust fan pre-installed in the back.
While you will spend more for this than the Focus G, you won't need to worry about buying any extra fans: out of the box, this one is already a positive pressure powerhouse.
In addition to the great airflow, you have extremely spacious internals to work within, including a dedicated PSU basement, with cable management and drive mounting in the back. This is a very clean-looking case, aesthetically-speaking, and a superb performer on top of that. We highly, highly recommend it.
The Cooler Master MasterCase H500M (as well as the stock H500), offer dual 200 mm RGB fans for truly superb air intake and gorgeous RGB aesthetics. If the main selling point you need to hear is "it has RGB", congratulations: it has RGB, and great thermals. What's not to love?
Well…the price point. Despite mostly being the same case as the H500 (which is available for roughly half the price), getting addressable RGB fans adds a significant price premium.
The difference between regular RGB and addressable RGB is the ability to address individual LEDs inside the RGB device, whereas plain RGB can only address the entire device. Addressable allows for even deeper customization of your RGB lighting, but you'll pay a price for that.
If you don't care about addressable RGB, feel free to opt for the H500. It's virtually the same case, just with a less powerful RGB implementation.
RGB and pricing nitpicks aside, this is a truly gorgeous case that performs well…as long as you swap to the included mesh front panel.
Both the H500 cases ship with two front panels: a glass front panel, which chokes airflow, and a mesh front panel, which doesn't. In the context of this article, the choice should be fairly obvious: always go mesh.
The rest of the case is huge, but extremely flexible and builder-friendly. For those of you who want an Extended ATX build, congratulations: this is definitely the case for you.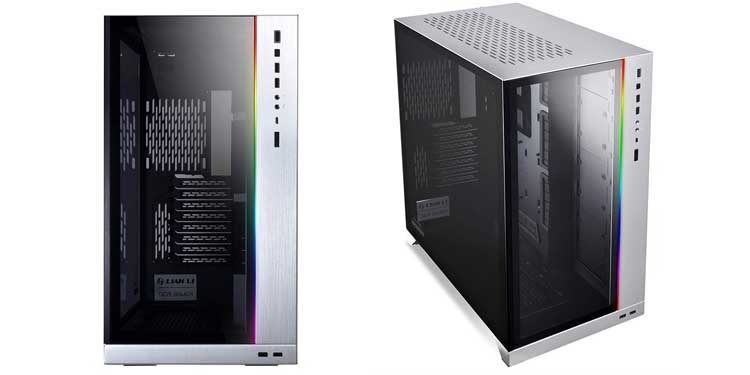 The Lian Li O11 Dynamic XL is ideal for the computer enthusiast especially for water cooling build with distro plate support, this case is a product with excellent value considering all of the features it offers.
The 011 Dynamic XL includes the option of an additional 120mm fan at the rear, and enough space for a radiator at the bottom. In addition, it includes 3 360mm fans on the top, side, and bottom.
The exterior offers a lot for the eye to see. It accommodates four USB 3.0, one USB Type-C, and audio plugs with an embedded RGB controller. The interior of the case packs a punch with three options for liquid cooling, as well as easy swapping without shutting down the system, and additional space for adding more components.
The Lian Li O11 Dynamic XL also accommodates multiple other customizable features like a custom distro plate for custom loops, EBB boards, vertical GPUs, and more storage.
Fractal Design is the brand revered for unmatched user experience. They brought mesh panels to popularity with the Meshify C, making airflow not only a priority for hardcore enthusiasts but for the general consumer as well.
The S2 is a scaled-up version of the same concept. It has the chassis of the Define R6 and their signature attention-to-detail. It is a bit expensive at around $150.
A huge positive for this case is the immense space it offers. This has two implications. The first, building inside this case is a breeze and all your components fit in nicely. The second is that airflow is not hindered by the constraints of compactness.
The numerous accessories and the user guide are also a boon for first-time PC builders. The performance doesn't just cater to airflow fanatics, however.
The radiator support is superb, with up to a 360/280 mm unit at the front, 420/360 mm at the top and even a 280/240 mm at the bottom. There is plenty of space to route pipes easily and even install a custom loop if you're up for it.
Let's go into some downers. The price is a bit higher than it needs to be. The mid-tower market has so many worthy rivals that Fractal's pricing feels a bit off. Also, this case is basically Meshify C + Define R6. While that is not a bad thing necessarily, some effort to innovate would have been nice.
At the end though, the spacious interior and ample airflow in this case defend its place among the great airflow cases. Whether going for an airflow, water-cooled or balanced build, the Meshify S2 is flexible enough to accommodate it all.
An open air case is a strange beast. Midway between having your components out in the open and enclosing them within a full frame, open air cases offer a unique sell. By definition, most have airflow unmatched by traditional closed PC cases. The downside to this is the frustrating amount of dust that accumulates from allowing air to pass unmeshed or unfiltered.
If you understand the predicament of open air cases, then the Thermaltake Core P3 is an easy recommendation. Compared to the earlier Core P5, now the company has made things easier for beginners. You can now install an AIO without any DIY.
Also, the size is much more manageable and most components are modular. The airflow is not hindered by anything and the case itself does not produce any noise. Mounting options are myriad, both of the case and the components within.
Negatives about this case are few, and there's nothing in particular to complain about. The thing is, almost all open air cases do things their own way, so comparing them is not really an easy task. For example, Thermaltake's own core P90 looks really unique. So does InWin's D-Frame and the Cougar Conquer.
The one big thing that sets the Thermaltake P3 TG is price. At $149, it might seem above mid-tier when compared to mid-towers. But in the open air category, this PC case is well worth the money.
Do you want a balance between looks and airflow? Then Cooler Master's TD500, the mesh white to be particular, might be the product for you. While it seems like the company is in love with the number 500, this white case looks really great from afar.
The metal mesh front lets in sufficient airflow, which is of course our main concern. There are three pre-installed 120 mm RGB fans there. This is addressable RGB, and a controller is included as well, which is nice.
The internals are roomy enough for large GPUs and coolers. The unique thing about this case includes the side TG panel which has an angled look we find alluring.
But, Cooler Master put a plastic piece at the front which is a letdown when you examine the case up close. The flexibility in terms of drives and components is also subpar. And, it does let out a bit of noise, compared to similarly price offerings from be quiet!
All in all, the Cooler Master TD500 Mesh White could cause you to fall in love with it on first sight. If it does, there are no pressing reasons not to get it, at a reasonable price of $120. It may not be the best at performance or utility, but it looks darn good.
If you dislike the traditional tower shape of PC cases, then opting for cube cases is a genuine option. While you may not get many alternatives in this category, thankfully there is the Corsair Carbide Air 540 to save the day. A disclaimer first: this is a really old case, eight years old.
While design and layout of the Air 540 might look a bit dated, the airflow is not. The space is well-designed and fits plenty of fans or radiators.
The dual-chamber interior houses up to large components easily. Inclusion of toolless design is a plus. The construction quality is also robust. Three excellent 140 mm fans are included as a bonus.
This is, sadly, a noisy case. And among today's cases, the front I/O looks out of place. The industrial design may put you off, as the market has shifted; now a case is not just a box where you put your PC, but the centerpiece of your build.
If you want a cube case, for any particular reason, and yet want great airflow, pick the Air 540. At the price of $140, it is the best in its class for performance. We do hope Corsair refreshes this product, though, to bring it into the new decade.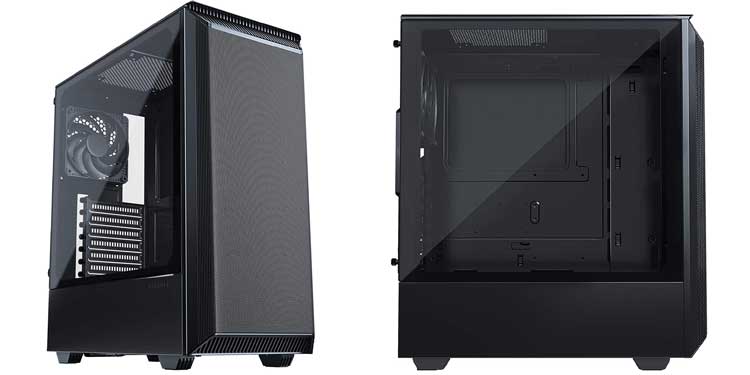 Every PC beginner needs a product simple enough to start out with. The Phanteks P300A has an intuitive design and a good price point for beginners just learning the ropes. The chassis included in this case is minimalist, which helps keep the price range low and the learning experience great.
While this case only includes one fan, the chassis allows for a 240 or 280mm AIO cooler for maximum performance. The front has a mesh panel to help with optimizing the airflow, and the compact size of this case makes it ideal for smaller areas.
Its size, however, does not sacrifice the basics of the internal layout. Inside there is room for a motherboard, graphics card, and cooling components. While this may not appeal to the enthusiast, for a beginner, this setup is great.
Last but not least, though..we know some of you won't be satisfied with anything less than the most superb RGB implementation. The Phanteks P400A Digital RGB is the perfect fusion of new-age compatible airflow with classic design elements. This case takes focus away from the plain exterior design and shifts it towards the new interior features.
This model includes not one but three front D-RGB fans, accompanied by a mesh front panel to optimize airflow. This model excludes a front panel dust filter, which may seem like a downgrade but is handy for improving airflow.
Another internal element to note is the quality of cable management, making this the most organized airflow PC case for cable management. The P400A comes with plenty of grommets and holes to secure your cables cleanly.
There are extra drive spaces available for purchase with the case as well. On the top, I/O provides accommodations for two USB 3.0 ports, microphone and headphone ports, and a large power button.
All You Need To Know About PC Case Airflow
Now that we covered the best airflow PC cases on the market, you still might have some lingering questions about what features you should look for. Every person has different needs, so we'll give you some items to consider as you do your research.
What is airflow, exactly, and how does it work?
Airflow in this context refers to the speed and volume at which air flows through your chassis. Generally speaking, you want as much air going through your case as fast as possible, that way the heat generated by your components doesn't linger and build inside your PC.
While a PC could technically work without any intake or exhaust fans, it would also run much hotter and therefore much slower, since the CPU and GPU will throttle themselves to protect from damage.
Good airflow is vital for two reasons:
Ensuring that your components perform in tip-top shape
Ensuring that your components have the longest possible life, as higher temperatures degrade hardware faster
The last thing you'd want is for your PC to underperform or for your parts to die quicker than they otherwise would. A proper airflow configuration can also help prevent excessive dust from building up inside your PC, though even with the best airflow and filters, dust is still inevitable over time.
Difference between Positive and Negative Air Pressure
Now, let's talk pressure. This is actually fairly important to consider when balancing a case for proper airflow, as it can make a massive difference in how everything works out.
Depending on whether you're running a Negative or Positive pressure configuration inside your PC, the exact same chassis with the exact same number of fans can experience fairly different results.
Allow us to explain.
Negative Pressure
Negative pressure refers to when there is more air being exhausted than air being taken in. For a particularly extreme example, this could refer to a PC where all fans are on exhaust instead of intake duty, but most won't make this mistake.
Negative pressure results in a lack of cool air being created inside the case and excess dust being pulled in from outside of the chassis. This is because all of the fans present are working against each other and pushing the same hot air just outside of the PC, where it's likely to return very quickly due to the negative air pressure inside of the chassis.
As you've probably figured out by now, negative pressure is definitely not what we're looking for. So what about positive pressure?
Positive Pressure
Positive pressure is when more air is being taken in than air is being exhausted. This ensures that the PC is always receiving fresh, cool air, which helps keep components cool…within reason.
Without at least one exhaust fan in a positive pressure configuration, you'll begin noticing similar downsides as with negative pressure. Excess dust will build over your air intakes, and while the case will technically be cooler than with negative pressure, heat will still have difficulty escaping from your chassis.
For these reasons, it's best to have a balanced-leaning-on-positive air pressure configuration. For every one exhaust fan you have, you'll want to have one intake (balanced), or 2+ intakes (positive). If you add additional exhaust fans to your chassis, be sure to also add intakes in order to keep the balance leaning toward positive pressure.
If you can avoid it, never allow your exhaust fans to outnumber your intakes.
Fan and radiator mounts
Fans and liquid cooling radiators alike use the same mounts, and often what you'll do is mount a radiator to a given space and an additional fan directly to the radiator in order to push air through it and keep the liquid (and therefore the component it's cooling) cool.
We'll explain this in more detail below.
Fan mounts and sizes
For most PC cases, fan mounts come in one of two sizes: 120 mm and 140 mm. These measurements refer to the length of one of the fan's four sides.
While 120 mm fans are by far the most popular, 140 mm fans can be fairly useful, too. The main reason to opt for a 140 mm fan over 120 mm is noise, since larger fans can push more air more quietly than smaller fans.
In terms of raw airflow performance, however, some of the best fans on the market are still 120 mm: just not necessarily the quietest.
Generally-speaking, you're going to want at least three fan mounts available in a given PC to accomplish a positive pressure setup, with two fans being used as intake and one being used as exhaust. (This applies especially to Mini ITX PCs.)
With larger cases, it's common to have 3-4 intake fans with 1-2 exhaust fans, which is still a perfectly fine setup for accomplishing positive pressure.
How liquid cooling radiators work
Liquid cooling radiators are measured in mm, but of their longest side. A 120 mm radiator will slot right into a 120 mm fan slot with no issue, but a 240 mm radiator will require two 120 mm fan slots side-by-side in order to be properly mounted.
In most situations, it's best to use a radiator in an intake position rather as an exhaust, since testing shows that CPU temps are massively impacted by configuration whereas GPU temps are not.
Front panel types and what you need for good airflow
For good reason, we've gone with one specific type of front panel for all of our main picks, for reasons that will become quickly apparent.
Solid Material (Tempered Glass, Plastic, etc)
Easily the worst for airflow. A solid front panel may look pleasing aesthetically, but unless there are vents elsewhere on the chassis for intake, then your airflow and temps are going to suffer.
If airflow and performance are your chief concern, do not buy a case with a solid front panel: at least, not one without ventilation on the sides.
Solid w/ ventilation
Like above, but better. As more users have become aware that solid front panels are bad for airflow and bad airflow is bad for their PCs, manufacturers have started using this to compromise between aesthetics and performance.
In some cases, this can be done by creating a wide gap between the glass and intake fans, usually protected by some sort of dust filter. In others, vents on the side or full-on side fan mounts may be the solution.
While these still won't provide the best thermals, it's still better than dealing with a fully-solid front panel with no form of air intake.
Perforated metal
An interesting choice, but one becoming more common in recent cases from Corsair and Cooler Master. While this isn't the highest-performing option, it's certainly a lot better than having a solid front panel.
On the scale from aesthetics to performance, this leans fairly close to performance…though whether or not perforated metal is actually aesthetically pleasing is going to vary from person to person.
Mesh
The best option…short of just pulling off your front panel (which you should not do, unless you want to dust your PC like a madman). Mesh prevents air from being outright blocked in any area, and requires only minimal fan power in order to pull air through.
Mesh's high airflow performance has made it our top choice for the cases we've selected today, and third-party testing from sites like GamersNexus confirms it to be the best.
How case size impacts airflow
Case size doesn't necessarily impact airflow by itself, as we discuss in our Mini ITX case article. However, case size will naturally impact temperatures if proper airflow isn't in place, since the same amount of heat is being generated in a smaller space.
As long as your case has proper ventilation and enough fan mounts (at least three recommended for any Mini ITX/Micro ATX PC build), then you shouldn't need to worry too much about airflow.
In addition to our main recommendations below (which are for standard ATX builds), we've also included a few smaller case picks that still have good airflow. So if you're worried about getting good airflow but still want a smaller PC, don't worry: we have you covered.
How many fans you need for good airflow
As we've discussed prior, the main thing you need is a positive pressure configuration: at least 2 intake fans per single exhaust fan. 1:1 configurations can be okay too, but are less ideal for keeping temps low and air flowing.
The more room for fans you have in your chassis, the more you'll benefit from adding fans to it. We recommend mounting as many intake fans as your case can support, and adding a second exhaust fan if that number happens to exceed three.
As long as your fans are half-decent and in a positive pressure configuration, you'll have the best airflow you can get with your chassis.
If you want some great fans for intake and exhaust, we recommend these Noctua fans.
When to Add More Fans to Your PC Case
If you're on the fence about whether you need to add more fans to the PC case you purchased, the scenarios below should help you decide.
If the fans that came with your PC case are noisy or you want larger and better quality fans.
If you're a gamer or have a powerful PC.
If you'll be overclocking since this increases the voltage and creates more heat.
You'll want to make sure the PC case you purchase comes with mounts so you can install more fans. Even budget PC cases like the Phanteks P300A offer mounts for additional fans.
Issues with Choosing a PC Case With Poor Airflow
Choosing a PC case with good airflow is critical for your PC's longevity. Below are some of the issues that can occur if you install a poor-quality case.
The vital components of your PC will overheat.
Can lead to permanent loss of data on your PC.
Blue screen errors may occur on your screen.
Your PC may frequently crash.
Shortens the lifespan of the components at best and destroys them at worst.
The good news is that there are many options for affordable but high-quality PC cases designed for cooling on the market. One of our favorites is the Fractal Design Meshify C.
How the CPU and GPU are impacted by airflow
While your CPU and GPU have their own coolers, they still need to be receiving cool air for the best results, especially your CPU. With a positive pressure configuration, ensure that both components are getting the influx of cool air that they need to achieve peak cooling performance.
This will also allow them to sustain higher clock speeds for longer periods of time, resulting in a not-insignificant increase in performance.
Addressing the Controversy
Some people believe that not having a PC case is the best solution because it allows plenty of air to reach the PC. However, while this is an understandable assumption, it's misleading because studies show that cases with good airflow are highly effective at keeping a PC cool.
In fact, some people even say that having a high-quality PC case with plenty of fans keeps the PC cooler than not having a case at all.
That said, if you currently have a poor quality case, it's likely trapping in heat. In that case, removing the PC case might keep the PC cooler.