Mid-tower PC cases have become the go-to option for most custom builds today as they provide the perfect amount of space to house all the hardware components comfortably.
On the other hand, full tower cases are well-suited for highly advanced and intricate PC setups, such as gaming rigs or powerful workstations. Their roomy interior helps you effortlessly integrate the hefty hardware components like a graphic card or a custom loop cooler.
I typically stick with mid-tower cases because I normally don't prefer bulky hardware such as DIY water coolers or multi-GPU setups. My workspace is small, and mid-tower cases are a good match for both the size of my space and my budget.
Now, let's find out if you need a mid-tower or a full-tower PC case.
Differences Between Mid Tower and Full Tower PC Case
No matter whether you opt for a mid-tower or a full-tower PC case, they both are there to house your hardware and safeguard it.
However, they do have some differences, like the physical dimensions, supported motherboard form factors, and number of PCIe expansion slots. Let's quickly go through each once.
Physical Dimensions
The most noticeable difference between a mid-tower and full-tower PC case is their physical dimension.
Let me quickly tell you that full tower PC cases have an impressive height of 55 cm to 70 cm or (22 to 27 inches). While the height is amazing, do note that you may have a hard time comfortably fitting them into your workspace.
In contrast, mid-tower cases typically measure between 45 cm to 55 cm (17 to 21 inches) and quite easily fits in your work area.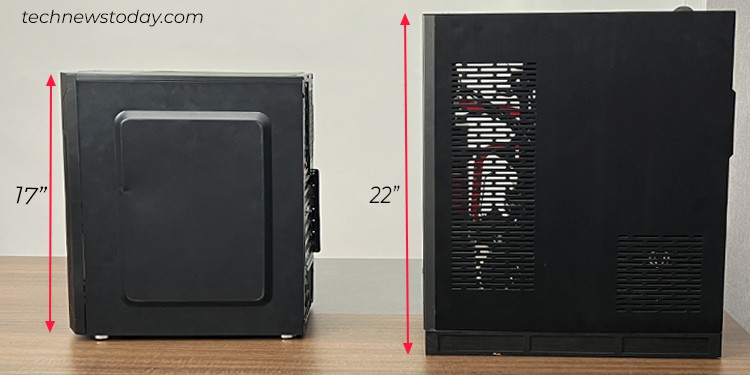 Referring to the dimensions, it would be a no-brainer to state that full-tower PC cases are not just taller but also considerably heavier.
Ranging from Phanteks Enthoo Pro, which weighs 11.9kg, there are some extremely heavy full tower cases like Thermaltake Tower 900, which weighs 24.5kg and makes them very hard to transport.
On the flip side, mid-tower cases tend to be more manageable in terms of weight, which lies anywhere between 5-15 kgs.
To be honest, full tower cases are like a monster. But if you have quite a spacious workspace, you might be good to go. Otherwise, full-tower PC cases are a red flag in terms of physical dimensions.
Motherboard Support
Interestingly, the PC cases are named after the motherboard they are designed to accommodate. If you have heard about Micro ATX or Mini-ITX PC cases, let me tell you that they are made to house Micro-ATX and Mini-ITX boards, respectively.
In the same way, full-tower PC cases are primarily designed to take in E-ATX boards and mid-tower PC Cases for ATX motherboards.
Nonetheless, you can still use smaller boards if they have necessary standoff locations or mounting holes to align the mobos.
So, it's always a good idea to check the specs of your PC case to know which motherboard will fit into it.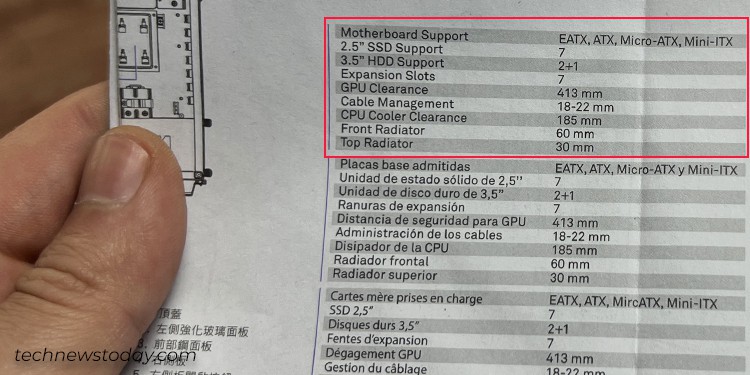 Number of Drive Bays
Frankly speaking, full tower cases take storage capacity to the next level. They typically integrate 9 to 15 drive bays (2.5", 3.5", and 5.25" bays combined) to house your HDDs, SSDs, and optical drives.
On the other hand, mid-tower PC cases have quite a few bays as compared to full-tower ones. Mostly, 5 to 10.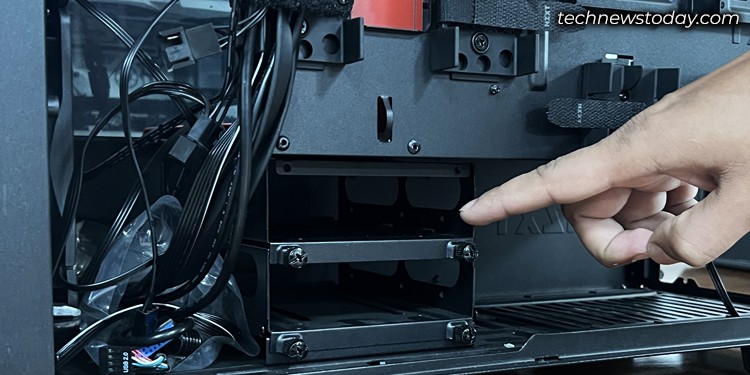 I think this is enough, even for most of the high-end setups. But it's up to you. If you are planning to use a huge number of drives, say, for setting up a RAID, full tower cases may be a better option.
Do note that some modern mid-tower PC cases, like my NZXT PUBG H700, also include brackets to mount the SSDs instead of the traditional bays.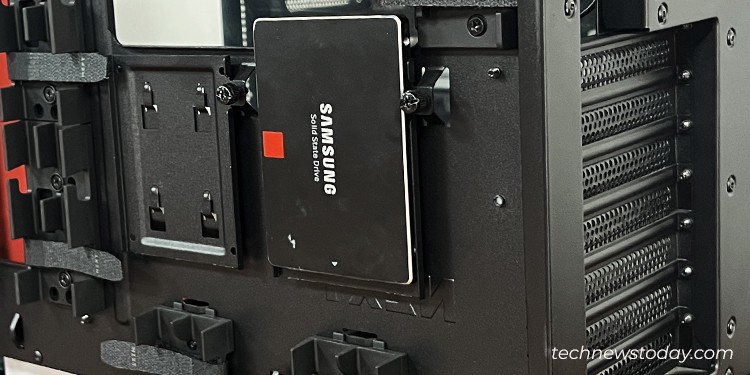 GPU and CPU Cooler Clearance
Graphic cards these days are quite bulkier in size. This also holds true for some CPU air coolers.
Since mid-tower PC cases offer limited horizontal and vertical clearance in comparison to the full tower ones, you might have a hard time fitting those girthy components inside the case.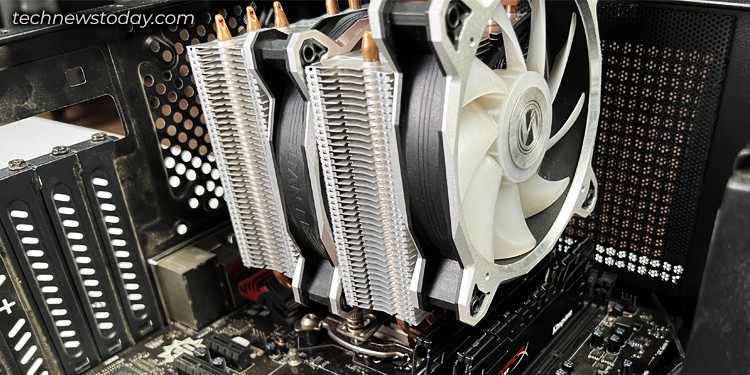 The mid-tower offers 160-200 mm clearance for CPU coolers and 300-320 mm for the graphic cards.
Full tower, on the other hand, has spacious interiors that can comfortably house larger CPU coolers and graphic cards. They can fit CPU coolers with a clearance of 200mm or higher and a GPU of up to 400mm.
So, a full-tower PC case may be an ideal choice for gaming enthusiasts and professionals who require high-performance GPUs and CPU coolers that are bulky in size.
PCIe Expansion Slots
Although the number of graphic cards supported by your system depends on the number of PCIe slots on the motherboard, the PCIe expansion slots on the chassis also make a difference. Wondering how?
Assume your motherboard has three PCIe slots that can accommodate three GPUs. But does that work if your PC case does not have enough expansion slots to support them?
Obviously NO! Not only does this hold true for graphic cards, but also if you are planning to install additional Wi-Fi cards, sound cards, or any other specialized expansion cards.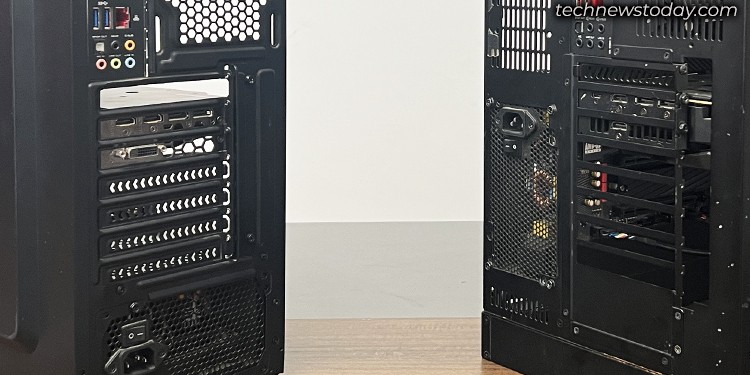 Full tower cases generally offer 7 to 10 expansion slots on the chassis, which is always the best option for complex builds and future-proofing.
On the other hand, mid-tower offers 4 to 7 expansion slots. It is quite sufficient for standard gaming or content-creating rigs but may pose restrictions for having a multi-GPU setup.
Airflow and Cooling
The more spacious your PC case is, the more components it can house. And it also holds true for cooling elements like case fans and custom coolers.
Mid-tower PC cases often come with 2 to 3 case fans pre-installed, with extra room for installing an additional 2 or 3 fans.
On the flip side, full tower PC cases come with 3 to 4 case fans pre-installed. Depending upon your cooling needs, you may further add up to 6 fans.
Both these cases can integrate either a 120mm or 140mm fan. But 120mm ones are generally the best fit for mid-tower cases.
If you want more advanced cooling, you may also install AIO coolers or custom loop water cooling. Most mid-tower cases can accommodate AIO coolers with radiator sizes of 120mm, 240mm, or 280 mm. In contrast, full tower cases can house a radiator of 360mm up to 420 mm.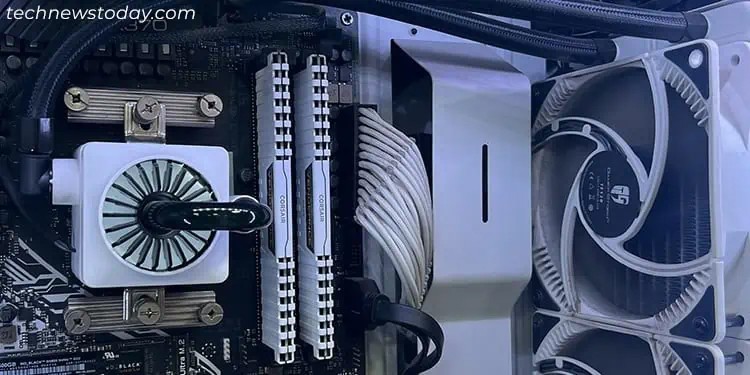 Not to mention, full tower cases also provide more room and flexibility for installing custom loop water cooling. Although not impossible, it can be quite challenging to integrate the reservoirs and pumps of a custom loop cooling system in the mid tower PC cases.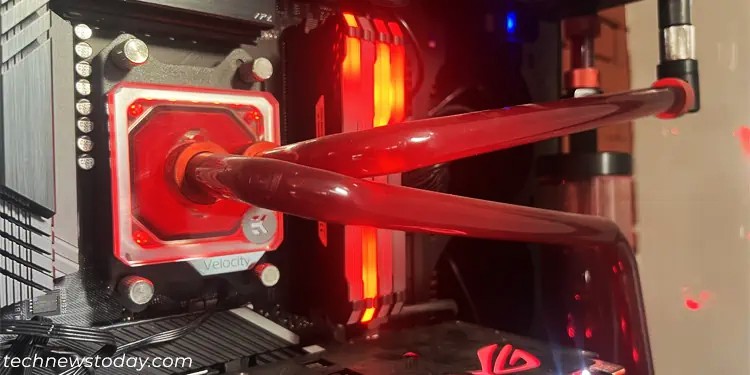 So, if you have powerful CPUs or GPUs that generate a lot of heat, full tower PC cases might help you dissipate the heat efficiently and avoid thermal throttling.
Pricing
The more space and customization a case has to offer, the more the price tag. So obviously! Full-tower cases are more expensive than mid-towers. They nearly cost 1.5 to 2 times the cost of a mid-tower PC case. Or even more than that.
Verdict – Mid Tower Vs Full Tower PC Case
Now that you are at the end of this article, I hope you have already made your choice. If not, here's a quick comparison table that will help clear all your doubts.
| | | |
| --- | --- | --- |
| | Mid Tower | Full Tower |
| Height | 22" to 27" | 17" to 21" |
| Supported motherboards | ATX or smaller | E-ATX or smaller |
| Drive bays for HDD and SSD | 5 to 10 | 9 to 15 |
| GPU clearance | Up to 400 mm | > 400 mm |
| CPU cooler clearance | 160 mm to 200 mm | >200 mm |
| PCIe expansion slots on chassis | 4 to 7 | 7 to 10 |
| Case fan support | Up to 6 fans | Up to 10 fans |
| Maximum radiator size (in AIO coolers) | 360 mm | 420 mm |
| Custom loop water cooling integration | Possible but difficult | Easy |
| Dual motherboard/ PSU setup | Impossible | Can be implemented |
| Pricing | Comparatively cheaper | Expensive |
Quick comparison between mid-tower and full-tower PC case
Frankly speaking, just keep calm and get a mid-tower PC case unless you want luxury and want to make a lot of modifications to the system.
Mid-tower PC cases are more than enough to run mid-range to high-end builds. Only opt for a full tower case if you are planning to house massive components in your build or building a PC for servers or workstations.
With that, here are some of the best collections of mid-tower and full-tower PC cases for you to choose from.