If you ever want to expand your local network through an Ethernet connection, it's better to use network devices such as hubs, splitters, and switches. These devices are designed for this purpose and prevent the need for using multiple long Ethernet cables and/or routers in the network.
While switches are commonly used in various scenarios, splitters have unique benefits in certain situations.
In this article, I will provide insights into splitters and switches and highlight the striking differences in terms of working, usage, and many more.
What is Ethernet Splitter?
Ethernet Splitters are networking devices that you can use to connect a router to Ethernet devices at a relatively long distance from the router via a single Ethernet cable. 
You need to use Ethernet splitters in pairs. One splitter connects to two Ethernet ports on the router or access point using two cables, and the other splitter connects to two devices. You need to connect the two splitters with a separate Ethernet cable.
So, in practice, it uses one long piece of cable instead of two to connect two devices to the Router's ports.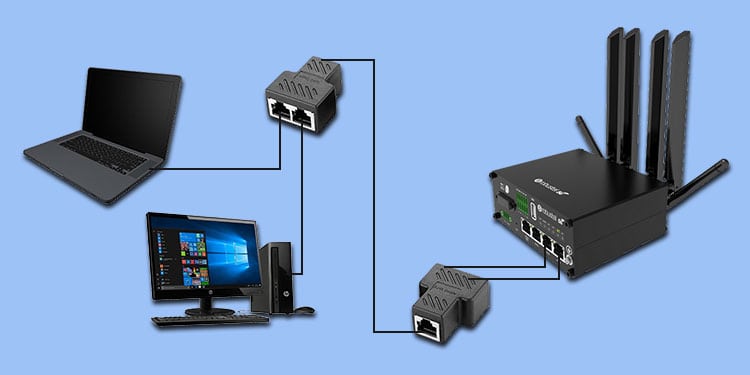 These devices use the Cat5 Ethernet's design to concurrently run two separate Ethernet signals in a single cable. Ethernet cables can use 8 wires or 4 twisted pairs (Cat 5e onwards) and 4 wires or 2 pairs (up to Cat 5) for transmission.
A splitter transmits the signals from one device to 4 wires and from the other device to the rest of the 4 wires in the cable.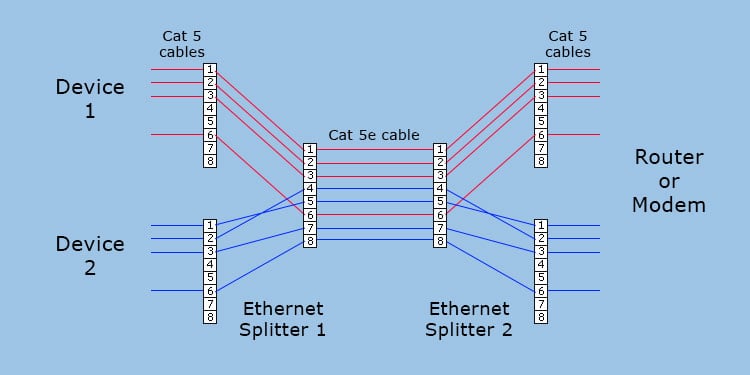 Since a splitter pair makes two separate data signals use the same Ethernet cable, you may encounter additional issues, such as crosstalks and interference.
What is Ethernet Switch?
An Ethernet switch or a bridge is a packet-switching device that connects multiple devices to the same local network.
A switch works in the Data Link Layer (Layer 2) of the OSI model. It allows node-to-node data transfer using proper MAC address identification. This way, it predetermines the proper device where it needs to transfer packets.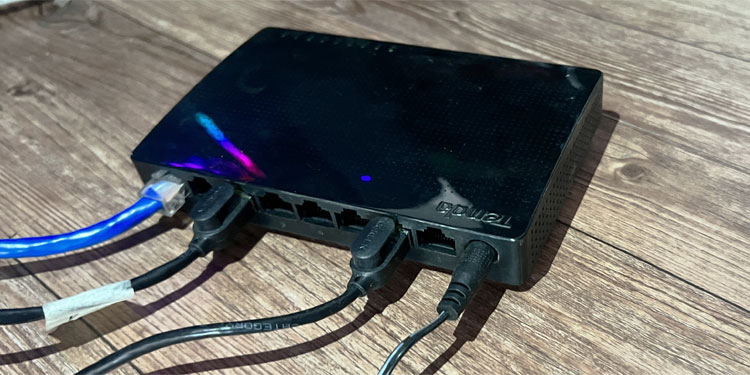 It allows you to connect all these devices to the internet simultaneously through a single port on the router and can transmit the data on a frame-by-frame basis.
Here, a frame is a combination of the transmitted data after encryption and some additional data necessary for the protocol and error checking.
What Are the Differences Between Them?
Now that you know what Ethernet Splitters and switches are, let's look at the differences.
Number of Connections and Ports
A pair of Ethernet splitters only connect two devices and occupy two ports on the Router. So, the only advantage it brings is the capacity to expand the network to two devices.
Switches are more sophisticated devices that contain multiple output ports. They can have anywhere between 5 to 52 ports depending on the device. Unlike Ethernet splitters which require two ports, it only connects to a single port on the router.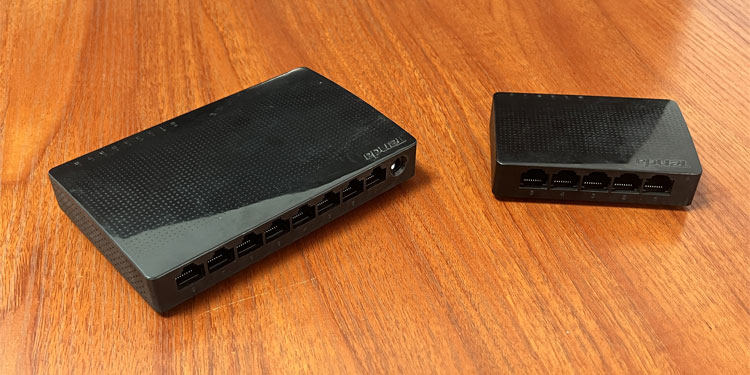 Connection Speed
As mentioned earlier, Ethernet splitters run two separate Ethernet signals in a single cable. This process, however, limits the rate of transmission to 100 Mbps as the 4-wire Ethernet cable design only supports up to this transmission rate.
Since the most common standards at this time are Cat 5e and Cat 6, both of which provide a 1000 Mbps data rate, the splitters effectively cut down the speed by 90%.
A switch does not have such limitations. It only forwards the data frame by frame after determining the exact device the data needs to go to. So, you can take full advantage of the maximum data rate of the cables in the network, whether it be 1000 Mbps or 10 Gbps.
Cost
Since switches offer much more in terms of connectivity and performance, it is natural that they would be more expensive than splitters.
A splitter usually costs around 5$-10$, but even the switches with the least ports are available for 10$-20$ depending on the manufacturer. 
However, you need to use two splitters at the same time, so there's no reason to use this device if you can get a low-cost switch for just a slightly higher price.
Power Requirement
You need to use an external power source to power up the Ethernet switch, whereas splitters have no such power requirement.
Ease of Use
Ethernet splitters are more portable options as they are small and you can even carry them around in your pocket.
A switch takes more space and while you can transport it with a small effort, you need to be more careful while doing so.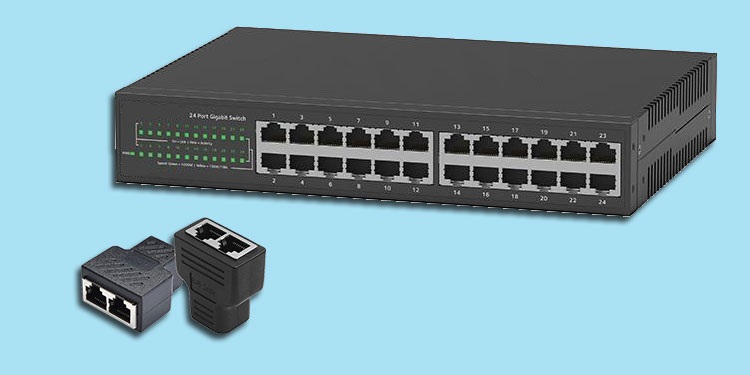 On the other hand, splitters are easier to lose for the same reason while switches are hard to miss. Also, you need two splitters at the same time, so having to connect and disconnect the devices to the router via these devices can be tedious.
Should You Choose a Splitter or a Switch?
If you need to extend the Network at some distance from the router and don't care much for internet speed above 100 Mbps, feel free to use a splitter pair. Otherwise, there's no real reason to use it.
You can get a switch with only 5 output ports at a low price, similar to two splitters, and the switch provides better connectivity and internet speed. You may need to invest in Ethernet cables, but it is a necessary cost anyway if you are looking to expand your network.
In fact, nowadays, hubs and splitters are not used that much. So, I highly recommend investing in a network switch if you are trying to set up a connection for a typical SOHO network.