"Microsoft account unusual sign-in activity", as the message suggests, is an alert message issued by Microsoft account security when it detects any unusual sign-in attempts into your account. This message usually appears when a device that your account does not recognize is making the login request.
Apart from someone trying to access your account, the message can be because of a device that not yet registered. The message can also appear if the account is being accessed from a location 300 miles or further from previously logged in location, with a new IP address.
To fix this, users can disable the warning message by changing alert settings from their Microsoft account. However, if the threat is legitimate, it is best for you to update your account's security to avoid any theft, leak or loss of information.
How to Fix Microsoft Account Unusual Sign-in Message
Contacting Microsoft and issuing a complaint there can help narrow down the issue of any unusual sign-in activity from your account.
you can manually set up various configurations to strengthen the security and stop this alert from appearing.
Check Recent Sign-in
To check if the threat is legitimate, log into your Microsoft account and see if the Recent sign-in tab displays any suspicious login attempt. This tab contains all the devices and their location from where your account has been accessed.
Log into your Microsoft account and click on Security located at the top

Inside Security, click on Sign-in activity

In the Recent activity section, expand the login attempts if any of them seem suspicious

If the details seem suspicious, click on Secure your account and perform the necessary steps

Register Device from Microsoft Account
To fix this, register or connect your device to a Microsoft account. Registering your device to Microsoft ensures that the device can be trusted when logging in. By making a device trusted, we are vouching that devices accessing the Microsoft account are legitimate and won't cause any harm.
Log into your Microsoft account and then scroll down to the Devices section and click on Register device

On the new Window, select the region and the serial number of your device

For Windows devices, open command prompt and type wmic bios get serialnumber on the console to get the serial number of your device

For mobile devices, check the IMEI number or the SIM card tray to get the serial number

Click on the Terms of privacy checkbox and click on Confirm to register your device

If the issue appears even on a registered device, you can unregister the device first and then re-register it to fix the error.
To remove, on the Devices section, click on Remove Device

On the new window, click on the checkbox and then click on Remove to unlink the device

Follow the above mentioned steps to again register a device to your Microsoft account
Change Security Credentials
If you believe that the security of your account is weak or has been compromised, you will need to update the security credentials of your account. Changing the account password, updating the contact information and adding a backup email address can help resolve the issue.
Click on the Security tab and on the new window, click on Password security

On the Change your password section, fill out the appropriate fields and be sure to make your password strong by using a combination of numbers, symbols and upper/lower case letters

After filling out the fields, click on Save to apply changes.
You will be logged out of all your previously logged in devices

To access your account again, sign-in by entering the new credentials
If you have made sure that the security message popping up is erroneous, you can disable it from appearing in your Microsoft account.
You can do this by turning off security alerts or removing two-step sign-in verification. However, we strongly recommend users to not perform these as it can compromise the security of your Microsoft account.
Turn Off Security Alerts
The easiest method to stop the unusual sign-in messages is to disable them by logging into your Microsoft account and unchecking the non critical account alerts. This process will, however, deactivate all the security alerts that you receive on the unselected devices.
Log into your Microsoft account and then click on the Security tab

Click on the Advanced Security options

Expand the Email a code and Text a code sections

Toggle the Receive alerts to Off
Another method to stop receiving the security alert is to open this link, unchecking the appropriate boxes and then saving your preferences.
Could be a Phishing Scam
As weird as it may sound, sometimes all you should do is ignore.
If you received this message and believe that it is not justified, you should consider the possibility that it may be fraudulent. Many users and information sites have also reported that the "Microsoft account unusual sign in activity" message that they have received, could potentially be a phishing scam.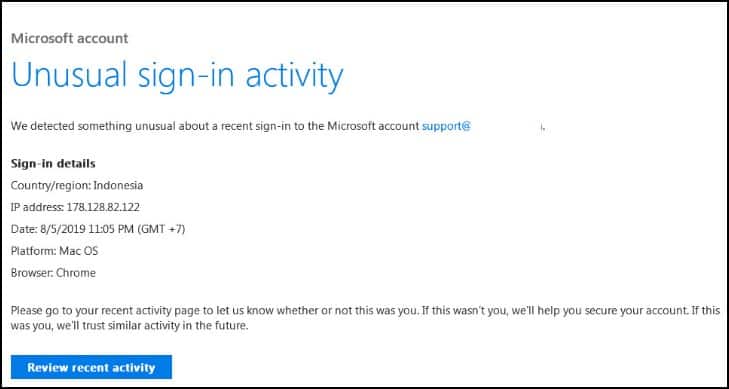 Microsoft has issued warnings that could help protect the user from such phishing attacks. To differentiate if the email/message that you have received is legitimate or not
Copy the IP address shown on the message and compare it on an IP lookup site
Legitimate Microsoft alerts will always appear in the inbox of your email
Account security emails will always be sent from this Microsoft address:
[account-security-noreply@accountprotection.microsoft.com]
Check if the sender's contact information is legitimate
Do not click on any hyperlinks posted