With the NVIDIA user's account locked, NVIDIA restricts you from using any NVIDIA-related application like GeForce Now, GeForce Experience, NVIDIA Broadcast app, etc. This usually happens if you have broken the terms of service that you agreed on while creating an account.
Although highly unlikely, account server maintenance or system error in NVIDIA itself might cause your NVIDIA account to lock. In such a case, you can try changing the NVIDIA password.
Reset NVIDIA Password
If you are facing this issue in any NVIDIA applications, like GeForce Experience, GeForce Now, etc., changing its password should fix the issue. You can change the NVIDIA account's password as long as you know the email address you used to create the NVIDIA account.
If you have this email and know its password, you can reset it through the link NVIDIA sends.
Go to the official NVIDIA account login web page.
Hover on the user account icon on the top right and click on NVIDIA Account.

Here, click on Login Help.

Under I forgot my password, click on Reset Password.

On the email box, type in the email that you used to create the NVIDIA account.
Click on Submit. NVIDIA will now send a reset link to your email address.

Check your mail and open the recent email from NVIDIA Accounts.

Click on Reset My Password. This will take you to a separate web page.

Here, type in your new password and click on Submit.

Once you get the prompt password successfully changed, you will again need to authenticate your email address.
Check your mail and open the mail from NVIDIA Accounts.

Click on Verify Email Address.

Now go to the NVIDIA login page and try logging in to your account using the new password.
Contact NVIDIA Support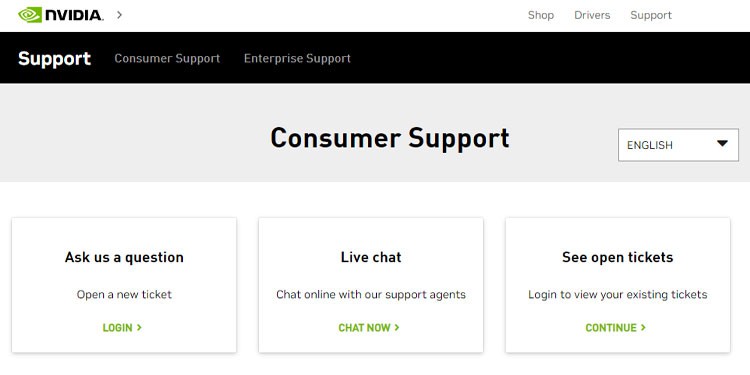 Since the account is locked by NVIDIA itself, there is little you can do to unlock it yourself. You can try contacting the official NVIDIA Customer Support page to determine the reason behind your locked account.
You can create a ticket or live chat with NVIDIA's Support Agent. If it is a technical issue that blocked the account, you might be able to recover it.