Starting from USB 1.0 with a minimal transfer speed, it has now released to USB 4.0 with an incomprehensible transfer rate.
In our present day, however, we are most familiar with USB 2.0 and USB 3.0 as they are the ones available for our PC right now. The major difference between USB 2.0 and USB 3.0 is the speed at which they transfer data.
In this article, we are going to talk about these two most used versions of USB and discuss their difference in detail.
What is USB 2.0?
USB 2.0 is the second generation of a Universal Serial Bus standard released in 2000 with the name Hi-Speed. Upgraded from the USB 1, the 2.0 version of the USB helped in providing a universal connection between peripherals and hosts with its speed of 480 Mbps.
Almost every computer has a USB 2.0 port, peripherals such as keyboard and mouse, and flash drives utilize the USB 2.0. It is the only version in the USB 2 series and did not receive any upgrades.
What is USB 3.0?
USB 3.0 is the third generation USB version released in 2008 as a SuperSpeed USB. It immediately superseded USB 2.0 due to its blazing speed of 5 Gbps.
USB 3.0 received several upgrades that have quite a confusing name. It was upgraded to USB 3.1, increasing the speed to 10 Gbps. With the release of USB 3.1, USB changed the name of 3.0 to USB 3.1 gen 1.
USB 3.1 received yet another upgrade with double the speed. USB-IF (Implementers Forum) named the new upgrade USB 3.2 Gen 2 x 2 while changing the USB 3.0 to USB 3.2 Gen 1 and USB 3.1 to USB 3.2 Gen 2.
For now, let's just say it is USB 3.0 and see its difference from its predecessor, USB 2.0.
Differences in USB 2.0 and 3.0
Even though the USBs are nowadays common in almost every electronic, they have several variations of their own.
The USB 2.0 and 3.0 can vary in shape, appearance, version, speed, bandwidth, and so on. Let's look at them in detail.
Type of Connector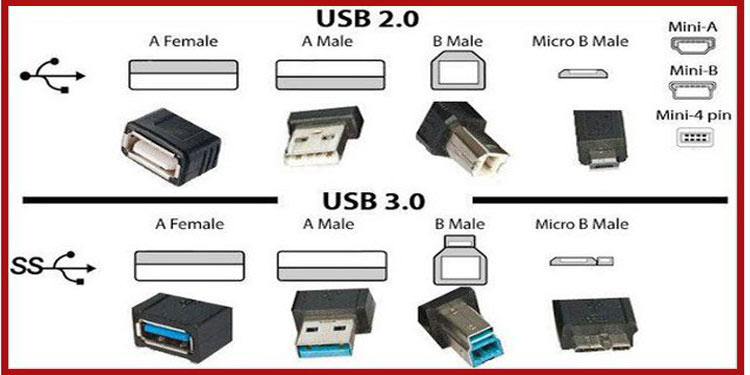 The USBs are divided into USB Type A, Type B, and Type C and subdivided into Micro A, Micro B, Mini B, and so on as per their shape. A host such as your computer mainly uses the Type A USB while Type B is saved for peripherals such as cameras and phones.
But now, Type C has revolutionized by using the same type of connector for both host and peripherals.
Both USB 2.0 and USB 3.0 have Type A and Type B USBs. However, the Type C USB only features USB 3.0 and higher. Along with this, USB Type B varies in shape and size for these two versions.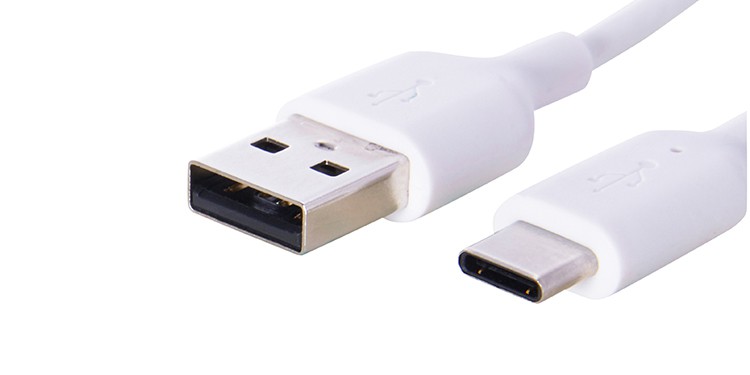 To give an example, the USB Micro-B using the 3.0 version is larger than the typical USB 2.0 Micro-B. You can find the USB 2.0 Micro-B as the charger for your regular android phone, and the USB 3.0 Micro-B is used to drive peripherals such as an external hard drive.
Speed

We were talking from the start that USB 3.0 leaves USB 2.0 far behind in terms of speed.
Theoretically, a USB 2.0 can transfer data at a rate of 480 Mbits/second.
During its launch, the USB 2.0 was termed Hi-Speed. It is designed to provide data transfer service at three different speeds which are named Low Speed, Full-Speed, and High-Speed.
But practically, a USB 2.0 does not have a data flow rate of 480 Mbits/second or 60 MB per second. Users can transfer data at the speed of 30 to 40 MB per second at max.
So, it is not always a High-Speed device.
The USB 3.0 incorporates a higher speed of 4.8 Gbits/second and is called a SuperSpeed device. It features the earlier Low-Speed, Full-Speed, and High-Speed ranges and adds SuperSpeed to it.
However, the case is the same as that for a USB 2.0. It is not always a SuperSpeed device as advertised and can supply up to around 90 to 110 MB per second.
But, it is still 3 times faster than USB 2.0.
Appearance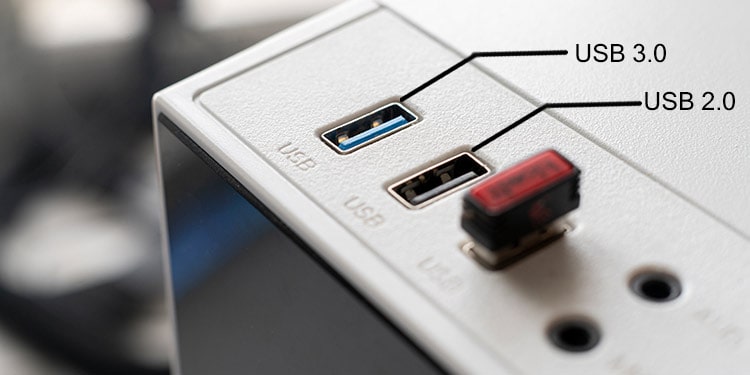 You can easily distinguish between USB 2.0 and USB 3.0 by looking at the port's appearance. You must have seen the USB port on your PC in an all-black or grey color. This port is a USB 2.0 port. Similarly, a flash drive with the same black appearance is a USB 2.0 device.
But, USB 3.0 has received a classy light blue color on both the port as well as the device. If you have a newer system that launched around the last 10 years, you might have noticed a blue USB port on your system. That is a USB 3.0 port.
To add to this, some manufacturers have coded the newer USB 3.1 ports to purple and USB 3.2 to red in some of the devices.
Compatibility to Other Versions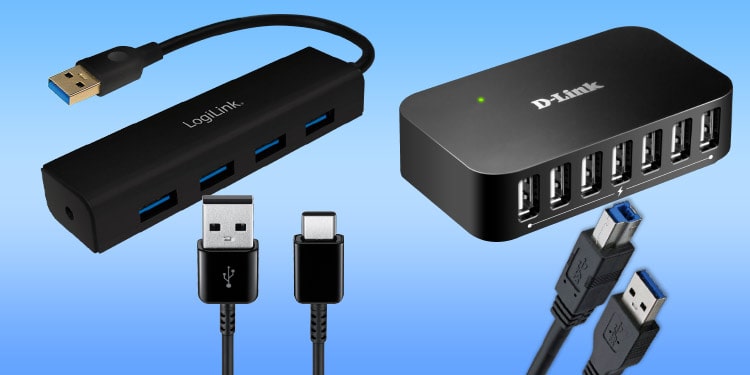 Both USB 2.0 and 3.0 of Type A are backward compatible. That is to say, you can a USB 2.0 connector to a USB 3.0 receptacle and vice versa without needing any additional connecting cable. However, you will have the speed limiting to the former version if you use a USB 3.0 device to USB 2.0 receptacles.
But the rest of the USBs, Type B, Micro-B, Type C, and so on featuring USB 3.0, will require a connector to insert into the USB 2.0 receptacles. This is because these USB types differ in physical shape and size from USB 2.0 to USB 3.0. On top of that, the USB Type C runs on 3.0 and does not have a 2.0 version.
Power Supply and Usage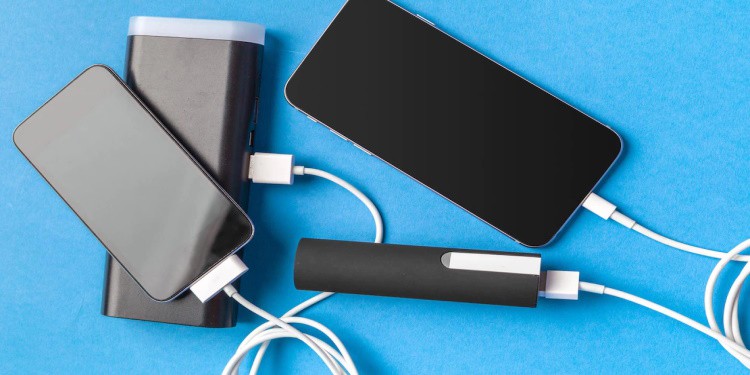 USB is the standard to transfer not only data but power as well. You can both transfer files from your phone as well as charge it with a USB cable. A USB's power transfer varies from a Standard downstream port (SDP), a Dedicated charging port (DCP), and a Charging downstream port (CDP).
You can find the SDP on a computer by which a USB 2.0 have the potential to supply up to 2.5 Watts with the current of 0.5 A (500 mA) and a standard voltage of 5 Volts. A USB 3.0 can provide up to 900 mA of current, leading to 4.5 Watts of power through this port.
But in a DCP that only supports power transfer and a CDP which also supports fast-charging, a USB 3.0 can supply up to 1.5 A or 7.5 Watts.
That's why a USB 3.0 is used to power up high-end devices such as hard drives that require more stable power.
In the same way, the USB 3.0 cables can work in a power-optimized way. I.e., it will save power much more efficiently when the device is not used in comparison to USB 2.0 cables.
Number of Wires
As the transfer rate and power supply have upgraded in USB 3.0, the two USB versions also incorporate a varying number of wires inside to facilitate the changes. USB 2.0 has four wires; two wires serve for data transfer, and the rest fulfill the power requirement.
Unsurprisingly, the USB 3.0 consists of 9 wires with a red VBUS wire providing the 5 V power. It then consists of two SDPs or Shielded Differential Pairs. Each of these two SDPs consists of three wires, with two for assisting in SuperSpeed data transfer and one drain wire for grounding.
It also has a white D- and a green D+ wire for USB 2.0 data transfer, providing backward compatibility.
Channel of Communication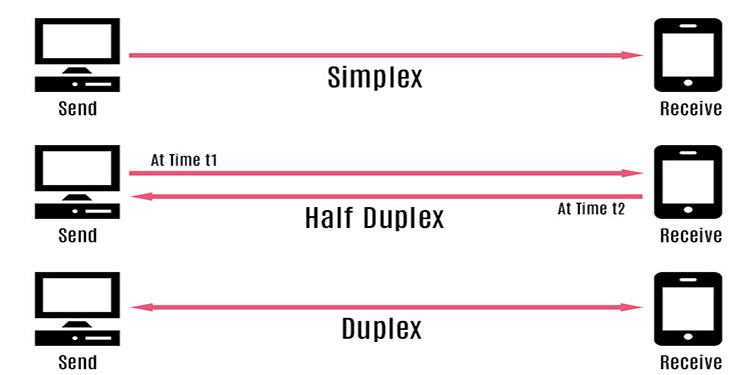 Even though we use USB for receiving and sending data, it can either send or receive instruction but not both at the same time.
USB 2.0 uses a Half-duplex channel for unidirectional data flow. Half-duplex means it can receive as well as send the data but performs one function at a time.
But, USB 3.0 is designed to simultaneously send and receive information making it bidirectional. Only a full-duplex channel can do both works at the same time. However, USB 3.0 does not use full-duplex to achieve this. There are Dual-simplex channels pointed in the opposite direction to send and receive data.
A simplex channel can only send or receive data through it, making it unidirectional. But if such two channels are used in the opposite order, then they can separately do the job at the same time. USB 3.0 uses this to achieve bidirectional data flow.
Due to the use of a dual-simplex channel, the USB 3.0 can also behave as a unidirectional system when one of the channels is in use.
Length of Cable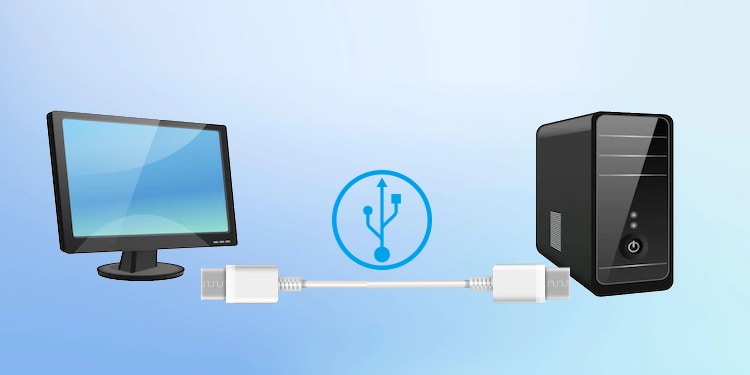 The data flow can be of optimum value for a limited cable length. Beyond that, either the speed decreases or the device gets disconnected.
The recommended length for a USB 2.0 compatible cable is five meters for High-Speed and Full-Speed data flow. Beyond this length, you may experience less data flow speed.
USB 3.0 has not specified any fixed length to achieve the SuperSpeed in data transfer. However, USB – IF has recommended the cable of 2-3 meters for effective data transfer.
Price and Users
If you have gone through all the features of USB 2.0 and 3.0 above, you might have already guessed which one will cost more. It is a USB 3.0.
The price, however, varies according to the company for USB flash drives as well as some cables. But still, USB 3.0 will cost you more any day unless USB 2.0 becomes a vintage one in the future.
Verdict
As our files and programs are getting heavier, the need for USB 3.0 and its transfer speed has become more lucid.
Even though USB 2.0 has an acceptable transfer rate, the upgrade of USB 3.0 to 3.1 and 3.2 as well as the release of USB 4, have left it far behind. With the new demand by the EU making it mandatory for all devices to feature a USB Type C port running in USB 3 and USB 4 versions, USB 2.0 is likely to be ruled out in the near future.
Still, If you wish to do general work and do not require transferring files every day, a USB 2.0 can suffice your work. However, it is always best to go for a USB 3.0 for any situation.
We leave the final verdict of the comparison to you.
| | |
| --- | --- |
| USB 2.0 | USB 3.0 |
| Available in Type A, Type B connector but not Type C | Available for all three types: Type A, Type B and Type C |
| Less speed up to 480 Mbits/second | High speed up to 4.8 Gbps |
| Grey or black in appearance | Blue in appearance |
| Low power supply and less efficient power management | High power supply and efficient power management |
| Four Wires Inside | Nine wires inside |
| Half-duplex: Can either send or receive instructions at a time but not both | Dual-Simplex: Can both send and receive data simultaneously |
| Longer length of wire for data transfer at maximum speed, 5 meters | Shorter wire for data transfer at maximum speed, i.e 2-3 meters. |
| Less cost | Costs comparatively more |
USB 2.0 VS USB 3.0