A Way Out is a unique and emotional ride of two men working together to escape a prison. It's chaotic, memorable, and not afraid of mixing many gameplay segments to deliver an entire story arc.
The experience ends after about six hours, and you may be wanting more. Can we find games like Way Out for smooth and cinematic co-op titles?
We're looking for the type of games that are better or only work in co-op. We're keeping our eyes open for story-driven action adventures, platforming, puzzles, cover shooting, and dynamic mechanics.
It Takes Two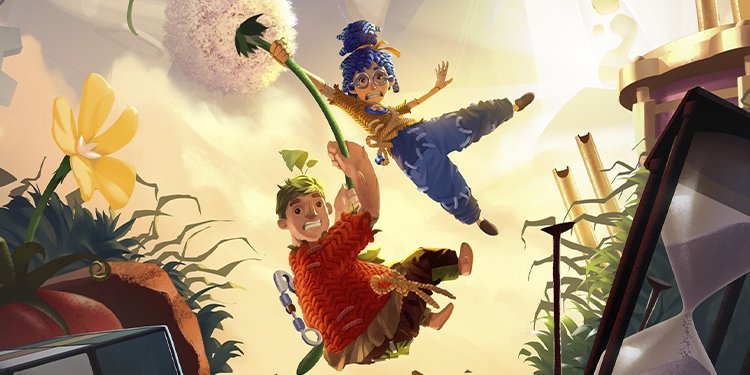 Developer: Hazelight Studios
Publisher: Electronic Arts
Release Date: March 2021
Platform: PS4, PS5, Xbox One, Xbox Series, Windows
It Takes Two is the latest game by A Way Out creators. It's a co-op-only experience where two players take the role of Cody and May, a couple on the verge of divorce.
The setting delivers an earnest, family-friendly story. Gameplay-wise, it's a dynamic platforming adventure with evolving mechanics. You play across three levels and use an evolving set of mechanics and skills to bypass increasingly creative puzzles and enemies.
The fantasy setting sets husband and wife playing as rag-dolls. Only by working together can they go back to their bodies and possibly heal their relationship.
Portal 2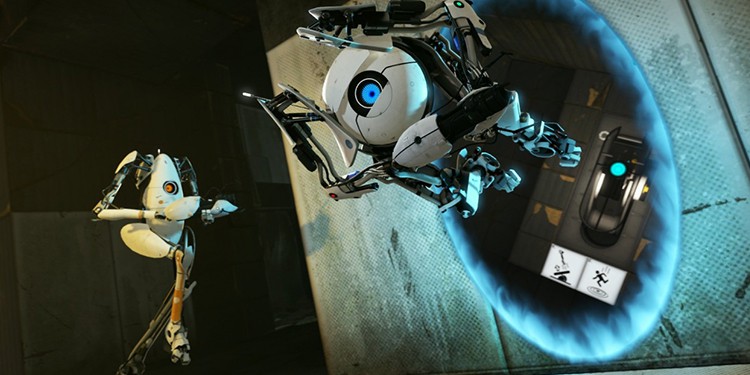 Developer: Valve Corporation
Publisher: Valve Corporation
Release Date: April 2011
Platform: Windows, mac OSX, Linux, Xbox 360, PS3, Nintendo Switch
Portal 2, part of the Half-Life universe, is one of the best puzzle games in the industry. Moreover, it packs a single-player campaign and a separate co-op campaign with two different characters.
The co-op campaign sets you and a friend playing as robots. Both carry a portal gun, a weapon capable of creating a portal anywhere in the maze-like research lab. The goal is to use the gun to escape a massive underground laboratory together.
Both campaigns are thrilling and humorous. The game's Source engine allows you to interact with anything in the environment with the weapon to add a "sandbox" feeling to the puzzle adventure. Even so, Portal is quite challenging.
TRINE 4: The Nightmare Prince
Developer: Frozenbyte
Publisher: Modus Games
Release Date: October 2019
Platform: Xbox One, PS4, Windows
TRINE 4, the fourth entry of the Trine series, is a 2.5D fantasy action RPG with physics puzzles. You can play its campaign with up to three players online working together to defeat foes and obstacles.
The story follows three playable protagonists, each with a set of unique powers, unlockable skills, and starting abilities. The idea is to mix and match different skills to solve the puzzles -for example, using shields to reflect light and burn three branches.
The co-op is not simultaneous, though. It means the camera is fixed at the center of all players, so all players must remain close. Additionally, the game ends when all players die, although it takes a few seconds to respawn.
Monaco: What's Yours Is Mine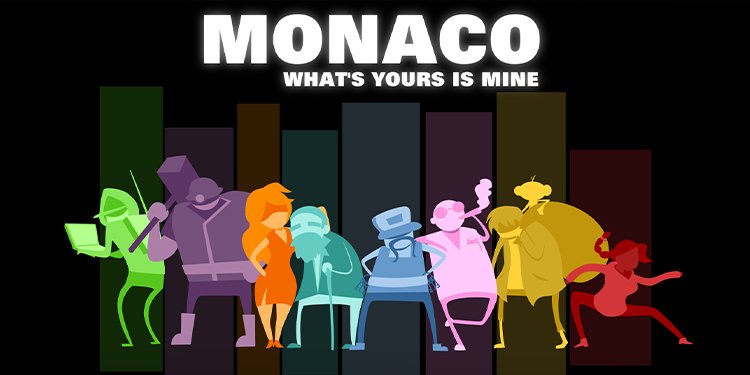 Developer: Pocketwatch Games
Publisher: Pocketwatch Games
Release Date: April 2013
Platform: Windows, Xbox 360, macOS X, Linux, Nintendo Switch
Welcome to a four-person criminal operation. It's a co-op experience where you and three other friends work together on a series of high-stakes heights.
You play in a top-down perspective, though, and the visuals are simple and neon-drenched. The gameplay mechanics are simple to understand as well. A few minutes of playing the game would allow you and your friends to pull off the craziest heights the title offer
For example, each player has a role in a class to pick. Available roles include Locksmith, Lookout, Cleaner, Moler, Hacker, or a femme-fatale Redhead. You enter the game, select one of the eight classes, and play through a 4-part campaign.
The Escapists 2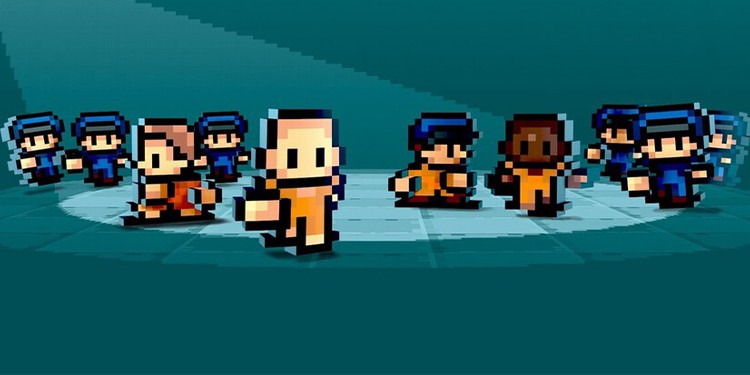 Developer: Mouldy Toof Studios
Publisher: Team17
Release Date: August 2017
Platform: Windows, macOS, Linux, PlayStation 4, Xbox One, Nintendo Switch, iOS, Android
A Way Out tapped into complex breakout plans, strategies, and camaraderie between strangers. The Escapists 2 feels quite similar: you play as an inmate desperate to break free. However, you must go through increasingly challenging prisons every time you escape.
The ways you can escape get ridiculous as new scenarios come by. That's because each prison has unique obstacles, like security cameras or electric fences. You'll be able to explore, buy, craft, or get tools for your plans, and you can do it with up to four people online.
The gameplay happens from a top-down perspective. The mechanics are about interacting with the environment and other NPCs. In essence, you click on elements in the UI and make choices to move on. Also, you move your character across the prison to find relevant items and paths.
Sea of Thieves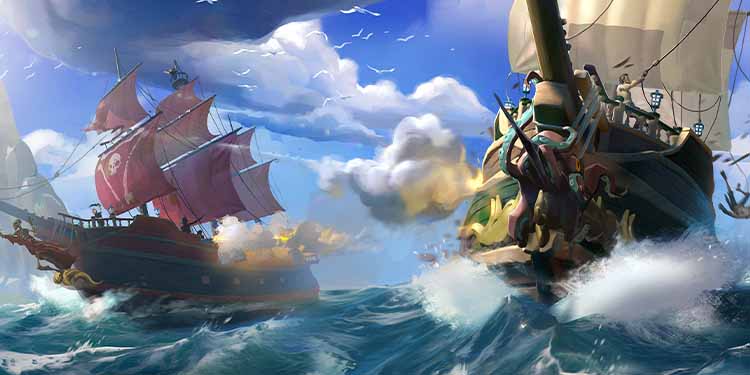 Developer: Rare
Publisher: Xbox Game Studios
Release Date: March 2018
Platform: Xbox One, Xbox Series, Windows
Sea of Thieves is an online pirate sandbox. The goal is to be able to manage or become a part of a ship crew to explore the sea and the islands.
In particular, it's a first-person action-adventure sandbox with a persistent online world. Servers can hold 2 to 20 people, and a pirate crew can hold 1 to 4 pirates working together.
Here, you're a pirate completing quests for trading companies. You can explore the open world from a first-person perspective and via pirate ships. And if you encounter other players, you may work together or fight them for their loot.
Overcooked! 2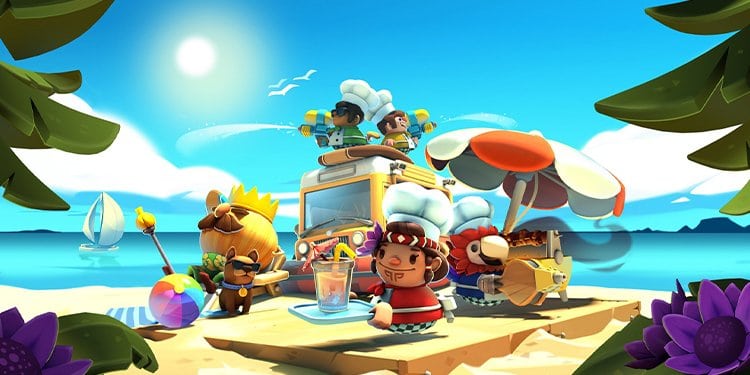 Developer: Team17, Ghost Town Games
Publisher: Team17
Release Date: August 2018
Platform: Windows, Linux, macOS, PS4, PS5, Xbox One, Xbox Series, Amazon Luna, Nintendo Switch
If you're looking for fun, friendly co-op games, Overcooked 2 could be your choice. It's a cooperative kitchen simulator you can share with your friends and family members.
The cooking simulator sets a team of two to four players. The chefs cook absurd orders in a campaign that takes you to many nonsensical restaurants. Every level introduces new challenges and obstacles to keep players on their toes.
So, the gameplay divides itself into tasks. One player could chop, whereas the other cooks, and others serve and wash dishes. Coordination, teamwork, and avoiding bumping into each other are paramount to completing each scenario.
Lovers in a Dangerous Spacetime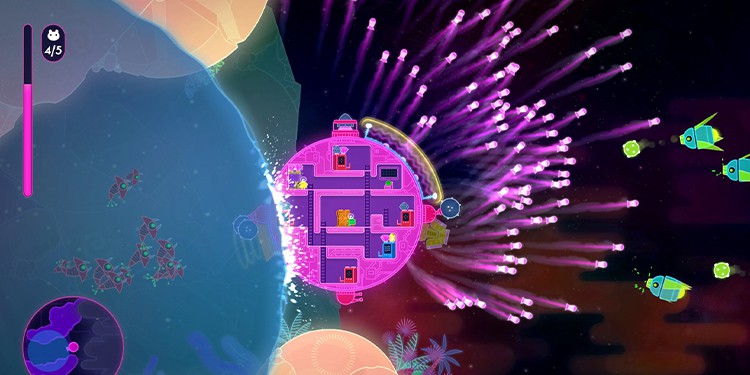 Developer: Asteroid Base
Publisher: Asteroid Base
Release Date: September 2015
Platform: Windows, Linux, macOS X, PS4, Xbox One, Nintendo Switch
Galaga is a spaceship with various people controlling every aspect of the ship. The setting delivers a 2D co-op space shooter, and you can play alone or as a 4-player team. That works either locally, online, or with AI players.
You can explore the galaxy while managing the various parts of the ship: shields, thrusters, lasers, and turrets. Teamwork is the key to defeating the forces of "Anti-Love" while you rescue "space bunnies" in space.
Another element is ship customization. You can find space gems as you explore to add new abilities and tools to the ship. Moreover, levels are randomized, so the loot is always different.
Payday 2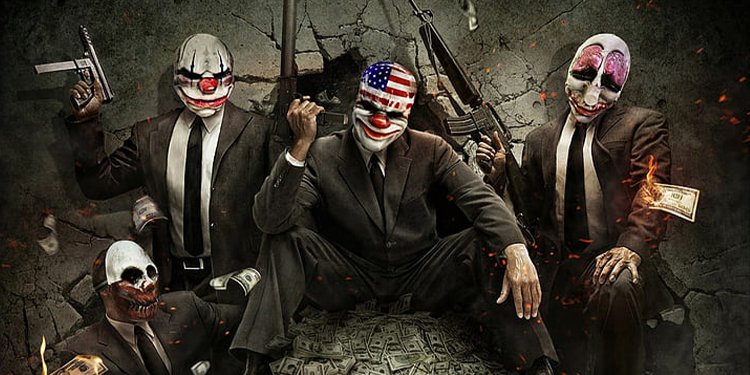 Developer: Overkill Software
Publisher: 505 Games
Release Date: August 2013
Platform: Windows, Linux, macOS, Xbox 360, Xbox One, PS3, PS4, Nintendo Switch
Payday 2 is a co-op-only FPS title focusing on criminal activities such as bank robberies, kidnappings, and heists. However, the mechanics lean into action and strategic planning.
You're part of a four-person team, and you can play it as a local co-op or online. The four characters perform a series of criminal activities in Washington DC. Missions reward money for crafting resources, guns, weapon mods, gear, and XP to unlock skills on five different skill trees.
The scenarios are dynamic and varied. It ranges from drug trafficking to light political errands. That means mechanics and gunplay feel fresh on each level, with even traversal mechanics unique to particular scenarios.
Unravel Two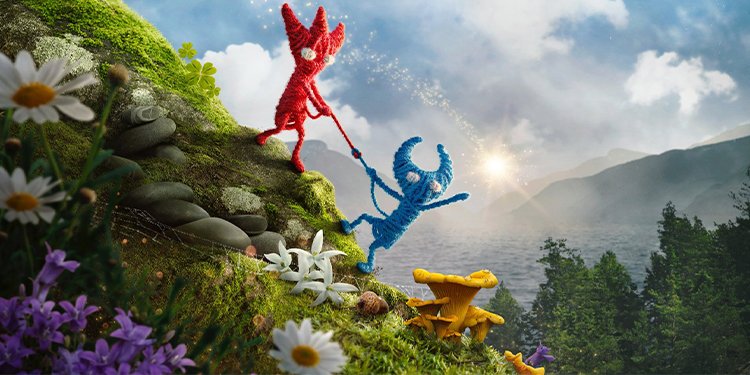 Developer: Coldwood Interactive
Publisher: Electronic Arts
Release Date: June 2018
Platform: Windows, PS4, Xbox One, Nintendo Switch
On Unravel Two, you play as a "Yarny," the little creature you control on the co-op adventure. The story takes you to multiple scenarios and against various monsters.
You can play single-player with the AI, local co-op, or online co-op. Both players use the same screen for the 2D platforming adventure experience.
You need teamwork to solve puzzles, mini-games, trials, and platforming segments. Aside from puzzles and platforming, the world has rich storytelling, plus wonderful music to imprint the gaming experience in your mind.
Borderlands 3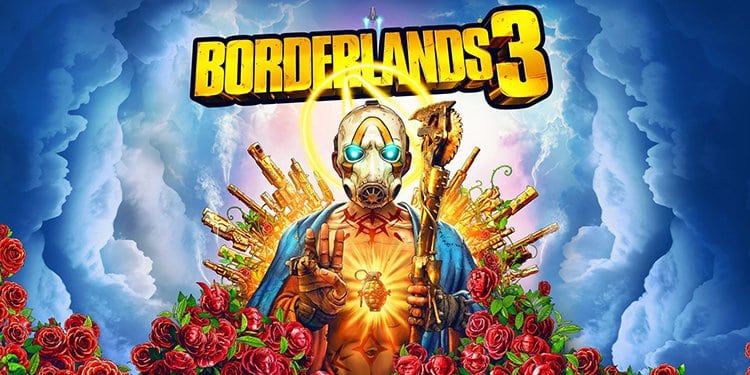 Developer: Gearbox Software
Publisher: 2K Games
Release Date: September 2019
Platform: Windows, PS4, PS5, Xbox One, Xbox Series, Google Stadia, Apple macOS
Borderlands 3, the latest entry of the looter-shooter series, is the ultimate co-op shooting game. You can play its campaign alone, but it gets much better with a friend at your party.
You play as a "Vault Hunter," an interstellar mercenary looking for alien treasures. For the third entry, you're looking for vaults on various planets in a race against the evil Calypso brothers.
The gameplay happens in first-person. You shoot, jump, take cover, throw grenades, loot, and use the active power of your "class." As you play the quintessential co-op shooter looter, you'll level up the character, invest skill points, and test millions of weapons.
Halo: The Master Chief Collection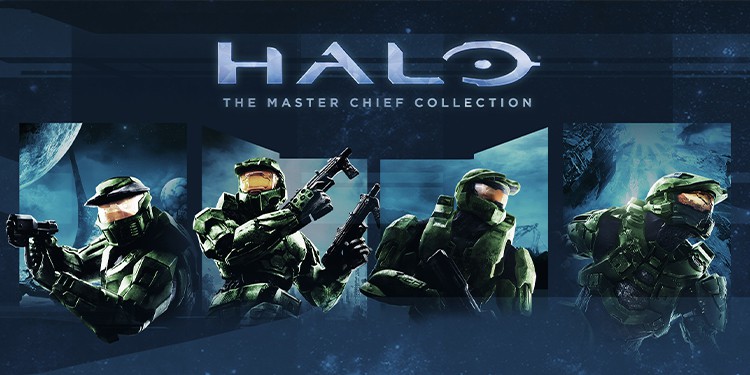 Developer: 343 Industries, Splash Damage, Ruffian Games, Bungie, Saber Interactive
Publisher: Xbox Game Studios
Release Date: December 2019
Platform: Windows, Xbox One, Xbox Series X and Series S
Halo: The Masterchief Collection brought remastered Halo games to PC for the first time. The bundle packs six series entries with enhanced graphics and full co-op support.
If you played A Way Out for its cover shooting co-op, look no other than Halo. It's a no-nonsense, fast-paced sci-fi shooter available on Steam or the Microsoft store.
There're no puzzles or mini-games on Halo, though. However, the story is rich the combat is challenging, and the arsenal is pure fun.
Gears 5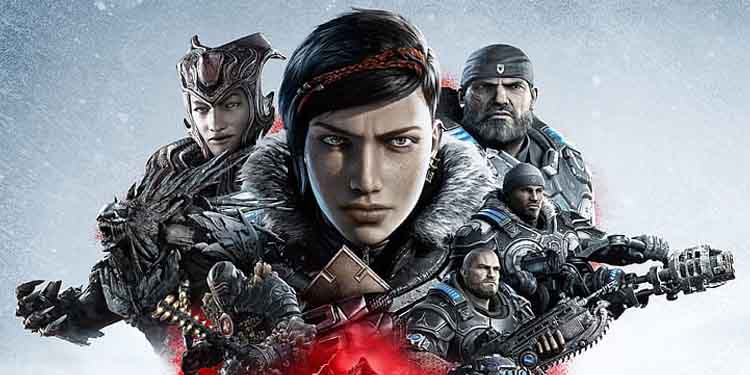 Developer: The Coalition
Publisher: Xbox Game Studios
Release Date: September 2019
Platform: Xbox One, Xbox Series, Windows
Gears 5 is a third-person shooter and the latest entry in the Gears of War saga. Like Halo, you can play the entire campaign in co-op (up to three people in split-screen), and there're additional multiplayer co-op and PvP modes.
The gameplay is similar to its predecessors. Characters have three weapon slots (one light weapon, and two heavy weapons), and rely on quick maneuvers to shoot and take cover. Players also have explosive and melee weapons.
You can pick it for extra co-op shooting experiences. While it's the latest entry in the saga, you can follow the story without too much issue. You play as the "Delta Squad " fighting against the "Swarm" alien invasion.
Cuphead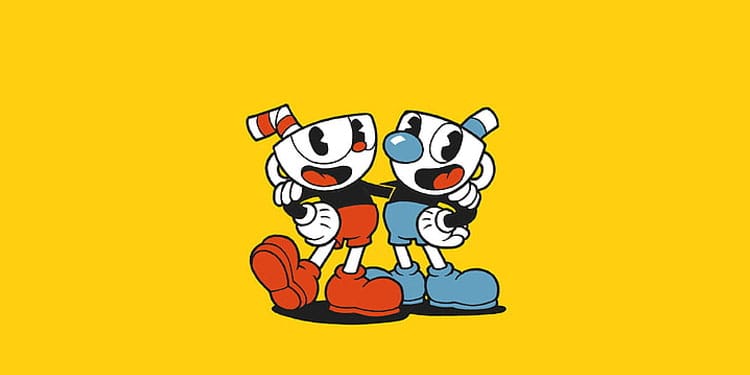 Developer: Studio MDHR
Publisher: Studio MDHR
Release Date: September 2017
Platform: Windows, Xbox One, PS4, Nintendo Switch, macOS
Cuphear is a difficult run-and-gun 2D game. You play as Cuphead, and you may play either solo or co-op with Cuphead's brother Mugman. Both embark on a dangerous journey after losing a bet to the Devil.
You go through a series of levels shooting at everything that moves. You can also run, jump and dash, skills you use to dodge enemy attacks.
Also, the game focuses on boss fights plus a surrealist cartoon style. Moreover, as the story progresses, you unlock offensive and mobility skills -but you can equip limited skills at any time.
Divinity: Original Sin 2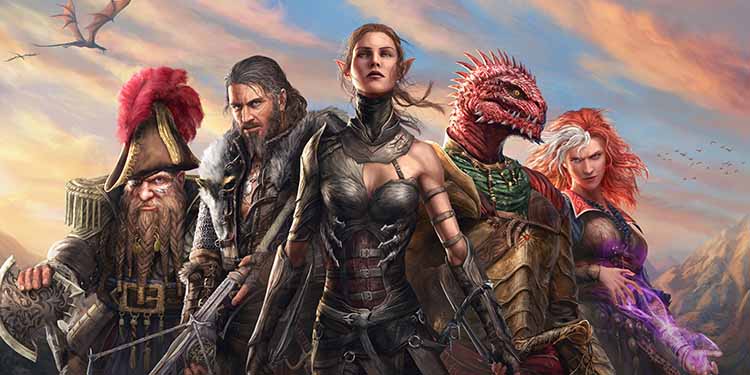 Developer: Larian Studios
Publisher: Larian Studios
Release Date: September 2017
Platform: Windows, PS4, Xbox One, Nintendo Switch, macOS
Original Sin 2 is perhaps the best modern turn-based RPG, heir to classic titles like Baldur Gate I & II. But the game is better in co-op: you can play the entire campaign with 4 players. Otherwise, the rest of the squad would be AI companions, but you can swap between characters at any moment.
The story puts you in the fantasy land of Rivelion. Here, you're a Sorcerer, capable of using the mysterious "Source" power to cast spells. Using the Source made you a prisoner, but you're not a prisoner. The Gods chose you to save them from their dwindling -or so it seems.
You play with a customizable character or preset hero among many races and classes. Then, turn-based combat has each squad member use their action points to move, perform skills, and attack. Lastly, character progression is fairly complex and allows you to learn hundreds of skills across various skill trees.