In this modern era, most of us spend maximum time gazing at our desktop or laptop screens. Whether you're a gamer or a casual office worker, computer ergonomics is an important thing to consider for everyone.
As a matter of fact, poor postures lead to back pains, eye strains, muscle fatigue, headaches, or even musculoskeletal disorders! Apart from just the incorrect sitting positions, an improper monitor setup can also lead to such issues.
You should always use the one-arm distance rule to identify how far to sit from the monitor. Along with that, learning to adjust the screen height is also equally essential.
General Checklist for Monitor Ergonomics
Here're a few things to consider when talking about monitor ergonomics:
Your neck should be in a natural position, ensuring absolute comfort.
No way should your shoulders get bent forward.
Avoid any kinds of awkward postures that pressurize your lower back.
Prefer keeping the spinal cord straight, maintaining its natural curves.
Never place the monitor above your eye level. Always prefer a lower position (but not very low).
Use a desk of an appropriate height.
Do not place the monitors in front of bright light sources, ensuring you do not encounter any screen glare problems.
Utilize additional tools for maintaining proper height and distance, if necessary.
Ideal Height of the Monitor
According to office ergonomics research on 40 workstations, nearly 45% percent of the employees had unsupported back postures. This resulted in serious ergonomic deficiencies among the workers, where 58% suffered from eyestrain, 43% had back aches, 45% with shoulder issues, 30% faced wrist & neck pains, and 35% suffered arm discomfort.
Also, multiple researchers claim that an ideal computer user sits for 4 to 5 hours (on average) in front of a monitor. Therefore, it's pretty much sure that musculoskeletal discomforts are quite common.
After successful research on workstation chairs and computer screen height adjustments, it was concluded that users who followed ergonomic measures had significantly reduced work-related upper quadrant musculoskeletal pains. Therefore, we highly recommend adopting all the necessary conditions defined below to set the appropriate height for your monitor.
Position Upper Bezel at Eye Height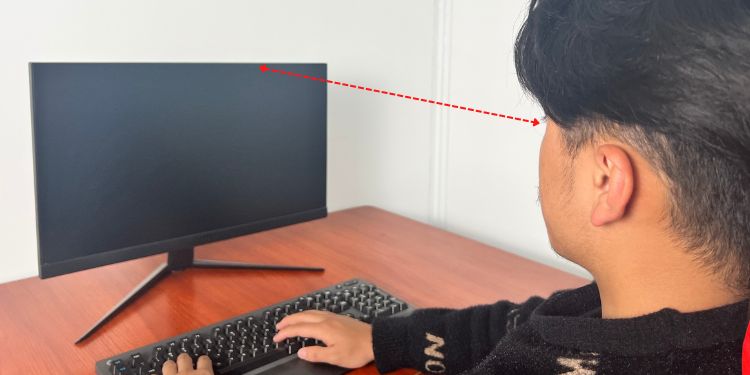 When our eyes rest in a natural position, we perceive things that are straight ahead and more downward than upwards. Thus, experts recommend adjusting a monitor's height such that its upper bezel is either at eye level or slightly lower (somewhere around 2 to 3 inches).
It's fine to adjust the VDU height up to 18 degrees lower. This is a conclusion from a journal that claims that there were no changes in the neck posture relative to the trunk. However, the subject's atlantooccipital and upper cervical joints were noticed to be bent.
Keep the Center of the Monitor Below Eye Level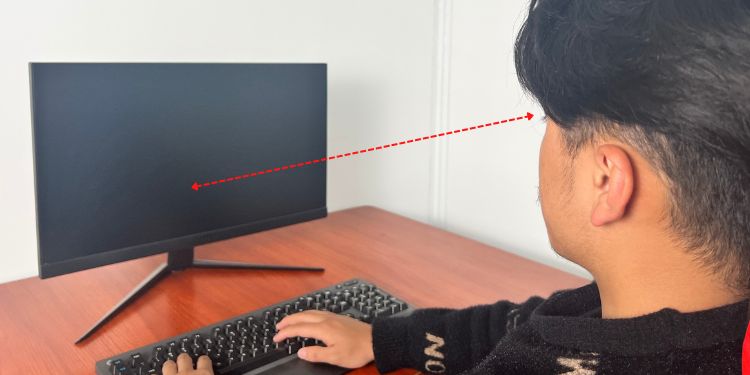 The second thing to note is that the center of the monitor should always be below your eye level. We suggest aiming for about 15 to 20 degrees, not lower than that.
Never consider positioning the top of the screen above your eyes, even as minimum as 15 degrees. If you do so, you'll need to look up all the time, which eventually hurts both the eye and neck muscles.
Position Screen to Reduce Glare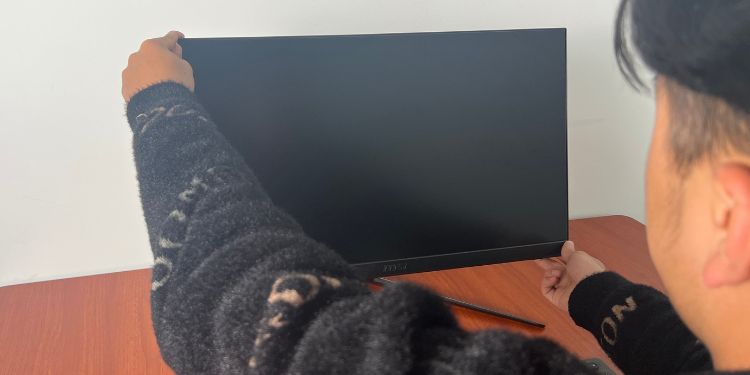 Despite proper height adjustment, we often tend to miss out on screen glares. While there's a myth that staring at computer monitors for hours harms your eyes, this certainly holds true if you have made zero contribution to the lightning.
One of the common methods to reduce screen glares is by tilting the monitor a little backward (up to 10 or 15 degrees), making it face you. This can make the display much clearer. However, in cases where the lights are right above, you may require positioning the screen a little downwards.
Ensure You're Seated Ergonomically
The final thing to ensure is that you have adopted an appropriate sitting posture for good ergonomics. For a 20/20 vision, it's best to keep an arm's distance. Along with that, it's also essential to consider your elbow height, elbow-to-seat distance, seat height, and proper footrest.
If you're hunching too much or sitting uncomfortably, know that you haven't positioned yourself or the monitor correctly. Indeed, there are more things to consider when talking about ergonomics, which we shall discuss in later sections of this article.
Additional Tip:
Along with adjusting your monitor's height and ensuring ergonomics, doing exercises every 20 minutes is a bonus point. Consider moving your wrists and fingers, twisting your waists, and stretching all the other parts (arms, shoulders, chest, legs, etc.). In fact, Stanford University's Environmental Health & Safety guide recommends looking at something 20 feet away for 20 seconds every 20 minutes (20-20-20 rule).
Ergonomic Setup for Multiple Monitors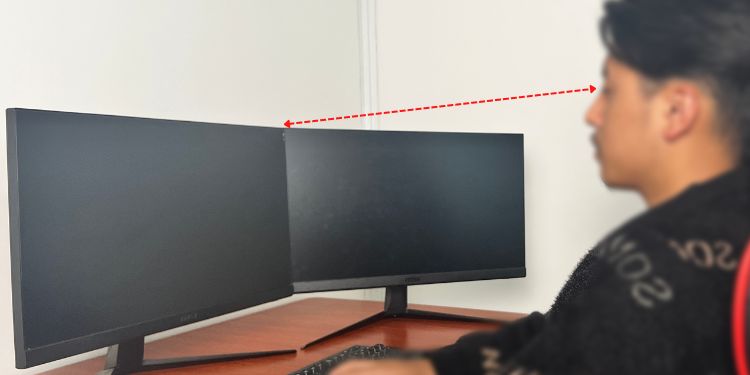 For dual monitors, determine the dominant display first and place it right before you. Next, seat the secondary screen on your preferred side, forming half of the semi-circle. If you prioritize both displays, ensure their inner edges touch and are placed forming a semi-circle. As in a single monitor setup, adjust both of their heights such that the top of the screens aligns with the eye level or is slightly below.
Even when using three or more monitors, it's important to align all the displays with your eye level. Also, consider moving a little further from the screens for achieving an optimal viewing angle.
However, the case might be different in a stacked monitor configuration. Although these setups are not considered best for ergonomy, you can adopt certain sets of rules to reduce musculoskeletal injuries. We advise focusing mainly on the primary display and using the other screens just for optional tasks.
How to Properly Adjust Monitor Height?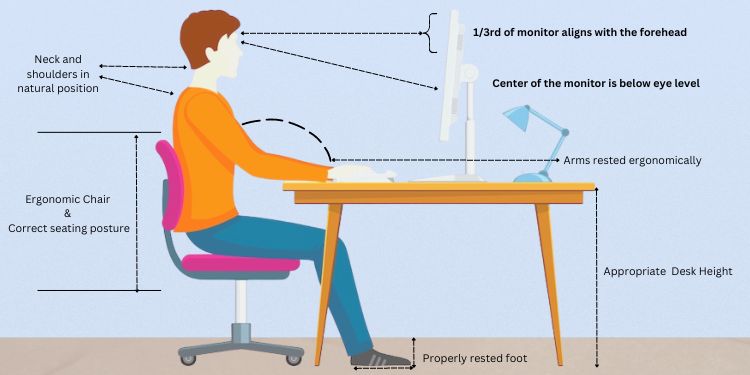 Keeping the above things in consideration, we advise adjusting the height so that the top one-third portion aligns with your forehead. This way, you'll be looking at the middle of the screen directly, which also provides an optimal viewing angle.
A monitor's placement is usually preferred below the operator's eye level (about 10 to 20 degrees). If it's kept too low, you'll have to bend your neck to look down. Slowly, the shoulders also hunch forward, leading to strains, aches, and pains.
However, if you wear bifocals or PALs (Progressive Addition Lenses), the monitor height should be much lower than in normal conditions. Since you're going to see through the lower part of the glasses, it might be troublesome to look straight ahead. So, we recommend placing the screen 20 to 30 degrees below the eye level and also tilting it backward as required.
The general idea is to move the monitor based on your comfort rather than bending or shifting yourself in awkward positions. Therefore, you may even require constantly altering the height of the display, chair, and desk.
Investing in Monitor Ergonomics
We suggest the following equipment for adjusting the monitor height and further improving ergonomics:
Monitor arm
Laptop stand (for laptop users)
Ergonomic chair
Ergonomic desk
Ergonomic footrest
Monitor mounts or arms are excellent tools that let you configure the monitor's height, depth, distance, and angle. You can comfortably move them around and place the mounted display in a preferred position. This doesn't just improve ergonomics, but also adds aesthetics to your setup.
If you're a laptop user, it's even more difficult to align the screen to the eye level. For this purpose, we recommend getting a dedicated stand that slightly elevates the laptop's height. This adds extra workspace to your setup and helps prevent the device from overheating.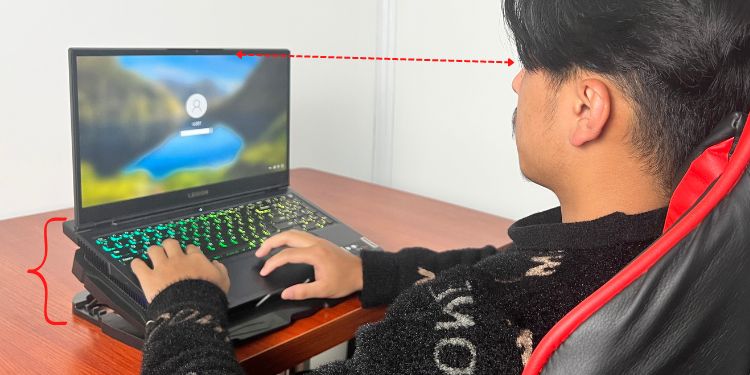 When using laptop stands, you may require lifting your arms to use the keypad and touchpad. Such a position is not ergonomically beneficial. Therefore, you should opt for an external keyboard and mouse.
Moving on, users who connect an external display to their laptop also need to keep certain things in mind. Firstly, avoid keeping the device in front of the monitor. This forces you to constantly move the head upwards and downwards, which can indeed lead to neck and eye strains.
Instead, opt for placing your laptop in a stand and make this your primary screen. Now, you can further join dual, triple, or multiple monitors to its adjacent left and right.
Sometimes, adjusting the monitor height isn't enough. For good ergonomics, you may require upgrading your chair and desk too.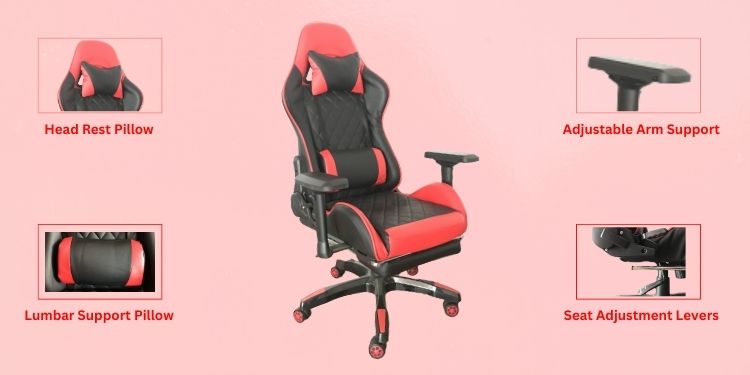 An ergonomic chair offers adjustable seat height, armrest, headrest, lumbar support, and seat depth. This improves your body posture and you do not have to lean forward or backward when working. When the monitor seems to be higher and you can't tilt it anymore, it's best to raise the seat a little higher.
Getting an ergonomic desk can also be beneficial as it offers better height adjustments. You can even move it forward/backward to maintain a proper distance from the monitor. Likewise, you may opt for a footrest to comfortably place your feet, which can further help reduce back pressure and improve blood circulation.