If your Samsung TV keeps turning on and off by itself, it could be a connection or hardware issue. Most of the time, the problem surfaces due to an uneven power supply to the main board of your TV.
Besides this, a misconfigured power settings and outdated TV firmware can also be responsible.
In this article we will first discuss several software fixes to sort out the problem. By the end, we will try resolving any hardware issues and demonstrate on how you can replace a faulty power supply unit on your Samsung TV.
Check Your TV's Event Logs
Samsung TV creates a log of different events that happen within the system. You can see what caused it to shut down or turn on from the event log and troubleshoot it accordingly.
Press Home button located on your Samsung TV remote.
Select Settings from the lower left of the screen.

Move down to Support menu.

Move right and select About This TV.

You can see Event logs listed in the new About TV window.
If anything is mentioned for Power-on or Power-off reasons, you can figure out the cause easily and take necessary actions.

Check Power Connections
Whenever you face issues like this, you can inspect the power cable that connects your TV with the power source. Improper connection to the wall socket or extension cord cause the problem. Also, if you were using OCB (One Connection Box) with your Samsung TV for convenient wiring, verify the connection is not loose.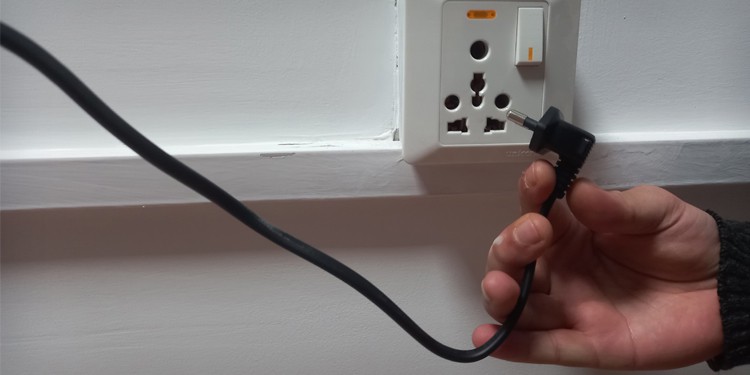 Next, see if there is any power fluctuations. Most people face this issue when they use a surge suppressor. Remove anything that comes in between your TV's power cable and the wall socket, then see if the issue persists.
Check Remote and Other Infrared Devices
Your TV remote has a power button that helps to power on or turn off the TV. If it gets stuck, it may send continuous signals to the TV and cause it to power off randomly. To check if that's the case, you can remove batteries from your remote and see if the TV still runs into a problem.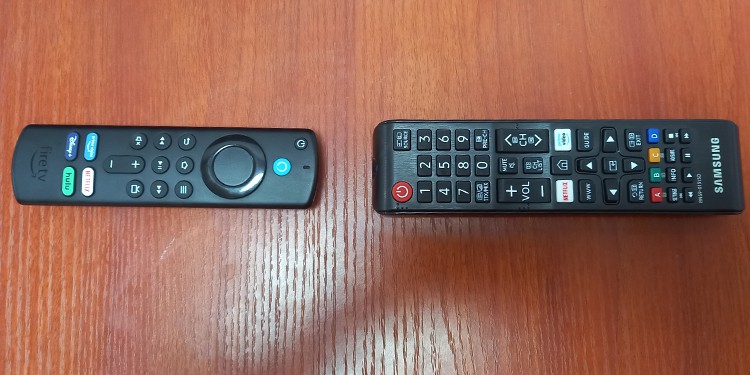 Likewise, If you have synchronized your cable box and TV remote, turning your cable box on or off can also turn your TV on and off. Please check if it's the case.
Run a Virus Scan
Viruses can enter your Samsung TV via Internet or a USB drive and interfere with the normal operation of the TV. It can even cause the TV to shut down. So, consider scanning your TV for viruses.
All the models of Samsung TV may not have the Scan feature. Here, we are taking reference of Samsung 7 Series TV for elucidating steps.
Open Settings and then choose General.
Select System Manager > Smart Security.

Under Smart Security, Select Scan to start the scan.

Let the scan process complete.

Disable Auto Power Off
Samsung TVs have integrated the Auto power off feature with the motive of reducing power consumption. When this feature is enabled, your TV turns off itself if it does not receive any sort of interaction for a specified time. You can check and disable it.
Open up Settings on your TV from the Home screen.
Move down to General menu.

From the right section, select Eco Solution.

Under Eco Solution, move to Auto Power Off and set it to Off.

Configure Sleep Settings
The sleep feature on your Samsung TV can also cause it to shut down randomly. In contrast to the Eco Solution feature, it does not matter if you interact with your TV or not. It will force shut down after a preset period. So, consider turning it off.
Press Home button on your TV remote and then navigate to Settings.
Go down to General settings.
Then navigate to System Manager.

Tap Time.

Select Sleep Timer and then choose Off.

Disable Smartthings Feature
Using the Smartthings feature, you can carry out operations like adjusting your TV volume, changing channels, and even more from your smartphone. It can also turn on your TV when the phone is within the range of the same Wi-Fi to which your TV is connected.
You can disable this feature and check if your TV still runs into problems. Here's how:
Open Settings on your TV.
Then navigate to General > Network > Expert Settings.

Toggle off Power On with Mobile option and you are done.

Disable Anynet+
Anynet+ is Samsung's CEC (Consumer Electronics Control) feature. With this property, a HDMI device connected to your TV can turn the TV on when that device is powered on. This feature sometimes malfunctions and causes your TV to turn on and off randomly.
Access Settings from your TV's home screen.
Then select General and choose External Device Manager from the right pane.

Then tap Anynet+ (HDMI-CEC) and turn it off.

Update Your Samsung TV's Firmware
When your Samsung TV's firmware is outdated, it can cause compatibility issues with the apps installed on your TV. So, when you launch that particular app, It can cause your TV to freeze and ultimately shut down. Therefore, updating the TV firmware can be helpful.
Hit Home button on your TV remote.
Select Settings.
Navigate to Support.
Then select Software Update.

Now tap Update Now.

Reset Samsung TV to Factory Settings
The last thing you can do is factory reset the TV. But before doing a reset, remember it will delete all the personal data and settings. So, if you are into this step, make sure you create a backup of your important files and apps.
From your Home screen, select Settings from the bottom left.
Select General and then tap Reset in the right section.

If prompted, enter a PIN to start the reset process.

Diagnosing Hardware Elements
If your Samsung TV started turning on and off randomly after a sudden power surge or a lightning strike, it may be time to diagnose the hardware elements.
Samsung TV utilizes a separate Power Supply Unit (PSU) to drive power to the TV. The PSU is made up of different elements like capacitors, transistors, and rectifier circuits. These elements are the one that is most vulnerable to damage due to power fluctuations. Damage to any of these components can result in an irregular power supply to the TV causing it to turn on and turn off randomly.
It isn't easy to figure out which of the components is faulty and replace it. Therefore, it would be better if you replace the entire power supply board of the TV and see if it solves the problem.
Get a new PSU for your TV from an authorized store. Make sure the specifications of the new board match the old board.
Now dismantle the TV. Take a screwdriver and open all the screws in its back panel.
Locate the power supply board on your TV.
You may click the picture of PSU. It can help you know the connections later.
Unplug all the wires that go into and come out of the power supply board.
Unfasten the power board from the TV chassis by unscrewing all the fasteners.
Remove the old board and place a new board to fit it correctly.
Tighten the board with the help of screws.
Replug all cables into the PSU.
Put over the back panel.
Turn on your TV. If power supply unit failure was causing the issue, it should now run without any problem.