Most monitors include more than one display port, with some even having separate ports such as HDMI, DisplayPort, or VGA. However, this case does not apply to all monitors, so you may be in a situation where you need to connect an HDMI laptop to a monitor with only DisplayPorts.
In such cases, there are two ways you can go about successfully making the connection. If your laptop has a USB Type-C Alternate mode port, you can use a USB-C adapter. If not, your only option is to use an HDMI-to-DisplayPort adapter.
HDMI to DisplayPort Adapter
This adapter is the easiest way to connect your HDMI laptop to a DisplayPort Monitor.
However, keep in mind that HDMI output cannot translate properly to a DisplayPort input if you simply use a passive adapter. It prevents you from using all the functionalities of the monitor, so you need to use an active adapter instead. An active adapter consists of some computing power that actively translates the signals from HDMI to DisplayPort-compatible and vice versa.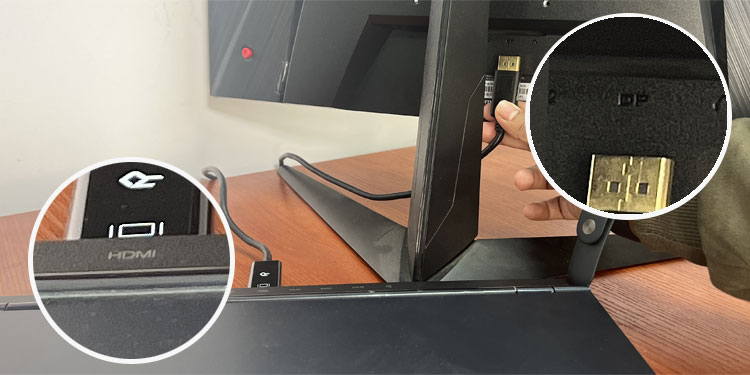 The video quality and other features depend on the minimum specifications of the monitor or your laptop's HDMI port. Also, the latest standards of both technology significantly improve the specs. So, it's best to use the adapter for the proper HDMI and DisplayPort standards to avoid bottlenecks.
It's better to get a male-to-male adapter to directly connect the devices without having to use other cables. Then, you can connect the HDMI end to your laptop and the DisplayPort end to the monitor. However, getting a male HDMI-to-female DisplayPort adapter is also fine. Here, you need to use a DisplayPort cable to connect the adapter's female port to your monitor.
USB Type-C Hub or Adapter
If your laptop has a USB-C port that supports DisplayPort over USB Type-C (Alt mode), the best way to connect it to a DisplayPort monitor is by using a USB Type-C hub or adapter/cable. These ports can transport DisplayPort audio/video (AV) as an output while reflecting the full capability of the DisplayPort standard in use.
To check if your port supports this feature, look for a DP or thunderbolt icon next to it. On the other hand, some compatible ports do not have any icons near them, so the best way to check is by visiting official sources.
If you have such a port, you can use a USB Type-C to DisplayPort Cable or Adapter to connect your laptop to the monitor. You can also use a Type-C hub or dongle as long as it has a DisplayPort output.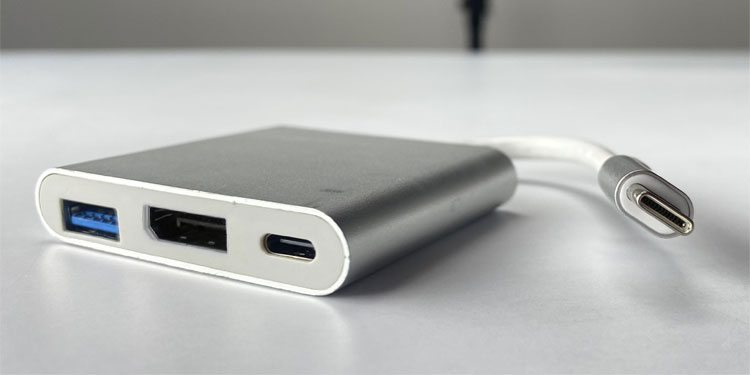 You must also inspect whether your USB Type-C cable supports carrying DisplayPort audio/video data. Many USB-C manufacturers don't comply with the proper specifications, so it's best to use a USB-IF-certified cable.
Then, simply connect the USB Type-C connector to the proper port on your PC and the DisplayPort end to the monitor. If you are using a hub or dongle, you need an additional DisplayPort cable to connect the monitor to the hub.