AirTag is a tiny gadget that can track your losing items. Once you attach the AirTag to the items like Keys or Bags, you can easily track its location. For instance, if you ever left your essential items somewhere, you can open your iPhone and find its location without breaking a sweat.
Since it is the latest product in Apple's lineup, many users are unaware of what AirTag is. But, how it works is even more interesting.
In this article we will first discuss what AirTag is and how it works. Then after, we will see how we can use AirTag and finish up with some of its applications.
How Does AirTag Work?
AirTag is made up of plastic and stainless steel back and is just 1.26Inch diameter. You can remove the stainless steel back by applying pressure and rotating counterclockwise.
Once you remove it, you will find a replaceable coin cell battery that will give power to AirTag that can run for over 12 months.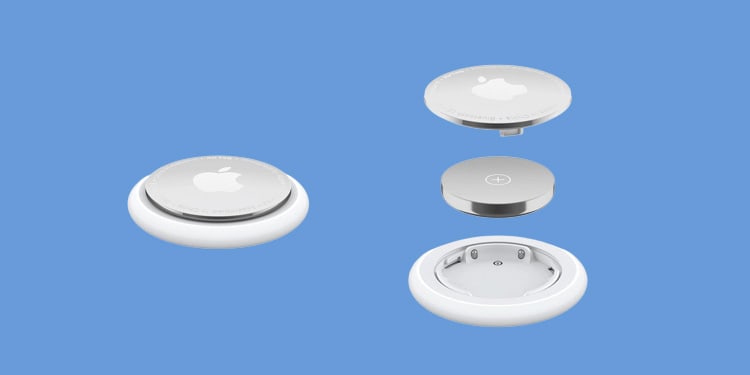 It's a rare product in Apple's lineup with a replaceable battery. But you can't charge it. You only need to replace it with a new one once it dies.
There's more important technology inside this tiny gadget you can't see, such as a speaker, Bluetooth, and U1 chip. So, with the interconnection of such components and the help of iOS devices and Find My app you can find your or someone else's lost items.
To understand how exactly AirTag works and how to connect AirTag with other devices follow along this article.
How to Connect AirTag?
Connecting AirTag is as simple as connecting your AirPods. But, before you connect, you should know and enable a couple of things on your iPhone.
Ensure your iOS version is running 14.5 or later.
Two-Factor Authentication must be turned on.
Find My and Bluetooth Settings also need to be enabled.
Your iPhone must be connected to the Internet using Wi-Fi or Cellular data.
If you have more than one AirTag, you must set them up one at a time.
Once you are clear about these things, now let's connect your AirTag to the iPhone.
Take off the protective wrapper and gently pull the plastic tag to activate the battery.
You will then hear the AirTag Play sound, which means it is ready to pair.
Bring your AirTag and iPhone close to each other, and a Connect menu will appear on your iPhone.

Hit Connect.

Now, choose the AirTag name from the default given list, or you can also Customize the AirTag name by swiping down.
Now, click on Continue.

iPhone will ask you to register AirTag to your Apple ID. Then, Hit Continue.
Once you hit continue, it will begin setting up on your device and will play sound.
Tap on Done.
How Does AirTag Work to Find Nearby Items?
Now, let's find out how AirTag works once you finish setting up all the device. Try to play a sound, and AirTag will give you a sound that gives you an idea of its location. You can follow the sound and find your item. But, there's an interesting way to locate such a lost item called Precision finding.
When writing this article, this precision-finding feature only works for iPhone 11 and higher. The precision finding is handy if the item is lost within 50 feet. Follow the below steps to use this functionality.
Open Find My app.
Go to the Items tab.
Tap on your AirTag name.

If it's closer, you can play the sound of AirTag to find it.

Or, if it's nearby enough, you can Tap on Find. Wait for a few seconds and try moving to a different location. Now, you can experience precision finding to find your lost items.

Roam around the room and follow the arrow to find.

Once you are close to the item, the word here will appear, and a sound will play.
How Does AirTag Work to Find Items That Are Not Nearby?
Let's imagine a scenario where you lose your items. Let's say you left the bag in the middle of nowhere, but fortunately you have attached the AirTag within it. Now, in such a scenario, AirTag really shines.
You can simply put it into Lost Mode, which will use Find My app and nearby iPhones to locate your lost items. It sends a Bluetooth signal through other people's iOS devices that happen to be within range and will report to you. This is a safe, anonymous, and encrypted transmission without letting other people know.
Also, it doesn't affect other people's battery life or data usage. When the closest iPhone device passes by, it will keep updating your device for the latest location. Luckily, iPhones are everywhere that constantly help you find your lost AirTag.
However, it also depends on the region where you live. Suppose you are in a region where there are not many people who use iPhones. AirTag might struggle to work in that case.
To find your AirTag using Lost Mode, you need to enable it first. Follow the given steps below to enable it.
Open Find My app.
Go to the Items tab.
Tap on your lost AirTag name.
Expand the menu by swiping up.
You can see the Lost Mode. Tap on Enable it.

Click on Continue.
Enter your Phone Number, or you can also provide other details and click on Next.
Toggle on the Notify when Found.
Hit Activate.

How to Help Someone if You Find Their Lost AirTag?
As mentioned above, only nearby iOS devices can locate the Lost items. However, in the case of lost and found, Android users can also help find the AirTag.
For instance, if you are an Android user and your Phone supports Near Field Communication (NFC), you can contribute to returning the lost item to the original AirTag owner by simply scanning the back of your android phone.
It will pop up on the website and give the necessary information about the owner details like Phone number and the message displayed on the AirTag. You can call or text that number to return their items. It's a great way to help someone.
But, for iPhone users, it's a different case. You can open the Find My app and click Identify Found item to alert the owner. Here's how you can do it.
On iPhone
Open Find My app.
Go to the Items tab.
Click on Identify Found Item.
It will search for the items and show the contact information of the AirTag owner.
You can kindly call or text that number to give their items back.
On Android
Turn on your Phone and bring the AirTag up to your Phone's back.
Once you do it, A browser will open and show the contact information of the AirTag owner.

You can kindly call or text that number to give their items back.
How to Know if Someone is Tracking You Through AirTag?
AirTag is one of a kind gadget, but it's a blessing and curse. It can be very useful to track your essential items. However, there's a catch. People with bad intentions can use this gadget to stalk or track you wherever you go or live.
If you think someone is tracking you, they put an AirTag on your purse or attach it to your car. It can be a serious threat if you are not aware of it. Thankfully, there's a solution for that.
If the AirTag has been traveling close to you after leaving its AirTag owner for 10 minutes or more. Eventually, you will be notified with a notification saying an unknown AirTag is moving with you.
Tap the notification and see where the AirTag was detected near your device. To get Notifications on time, ensure to enable Find My app notification (from device settings) and Items Safety Alert (from Find My app) to keep you updated.
If you receive a notification that says AirTag Found Moving with you, follow the given instructions to deal with it:
Open that Notification.

Hit continue.
It will redirect to Find My app and show a map with a red line where the AirTag was detected near your device.
Tap on Play Sound to listen, whether it's close to you or not.

If you know who this AirTag belongs to, you can click on Disable the Safety Alerts to stop receiving notifications.

If you aren't aware of that AirTag, you should click on Learn About This AirTag, and follow the instructions shown on your iPhone.
If you are insecure about the AirTag, click on Instructions to Disable AirTag. And then follow the instructions on your iPhone.

If you want to verify the nearby AirTag, follow the given instructions:
Open Find My app.
Go to the Items tab.
Tap on the (+) icon.
Click on Add AirTag to see if a nearby AirTag is following you.