DDR versions do not support forward or backward compatibility. So, you cannot use a DDR3 memory stick in a DDR4 slot and vice-versa. Not only this, you cannot mix RAM with different DDR versions on any motherboard.
DDR3 and DDR4 memory have different numbers of pins and run on speeds that are poles apart. This also means the RAM operates on different voltages. To prevent users from connecting the wrong stick and slot, the keying/notch is in a different location.
However, there are some motherboards with DIMM slots that support different DDR versions. Here too, you can only connect a DDR RAM type with its designated DDR slot.
Physically Not Possible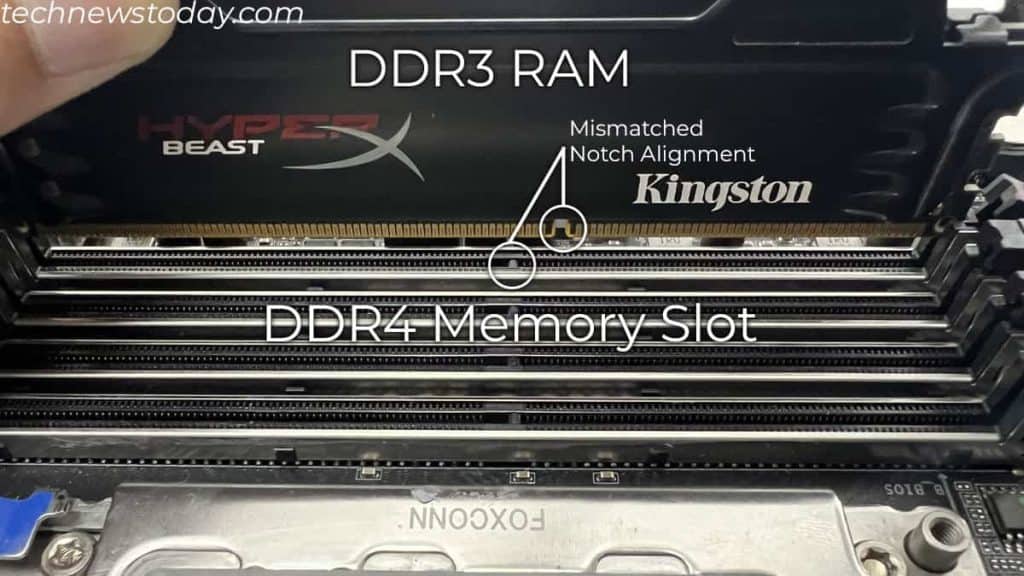 The notch on the DDR3 stick is slightly on the right side. While for DDR4 slot, it's near the center. So, you cannot physically install a DDR3 on a DDR4 slot.
Besides keying/notch, there is another physical attribute that restricts users from installing DDR3 RAM in a DDR4 slot.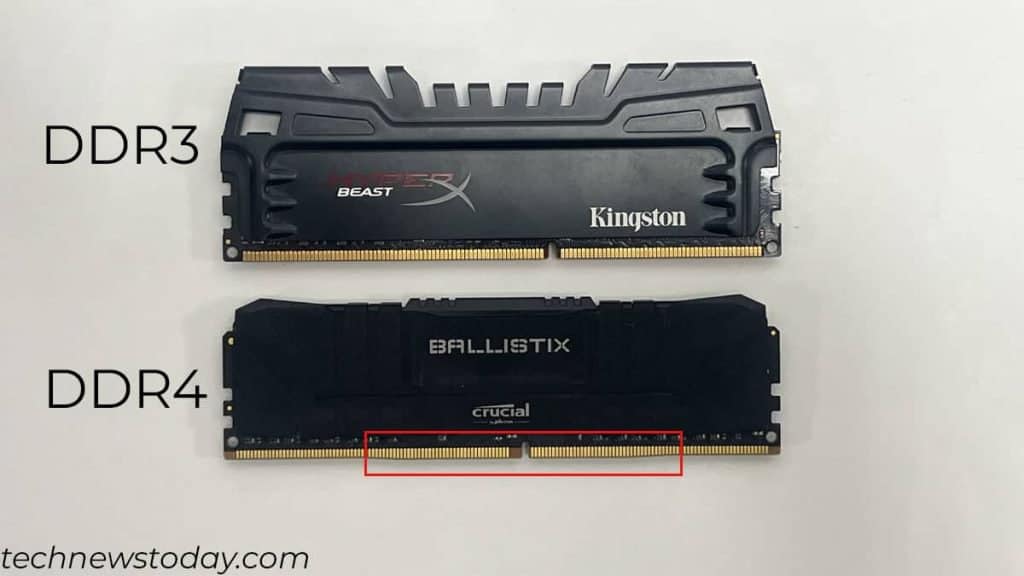 As you can see in the picture, the DDR4 RAM has a slight bulge area around the center. To accompany this, the DDR4 slot also has a small dent. This allows the DDR4 RAM and DDR4 slot to fit in perfectly.
To prevent users from connecting different DDR generations, the notch/key and the small bulge exist. So, if you try to force insert a RAM of a different generation into the slot, the RAM slot, sticks, or the Mobo will get damaged and not work later.
The internal architecture of each DDR generation is completely different. Newer DDR generation comes with the latest technology and data transfer mechanism. Older DDR slots are not designed to operate with newer DDR memory modules.
In the same way, DDR3 and DDR4 memory modules are completely different. DDR4 runs at a higher speed of up to 5333 MT/s and performance is much better. While DDR3 is limited to 3200 MT/s.
It also has a greater bandwidth and supports a higher capacity. DDR4 slots are designed to support these specifications.
Here are a couple of other reasons why communication is impossible between DDR4 slots and DDR3.
Mismatched Number of Pins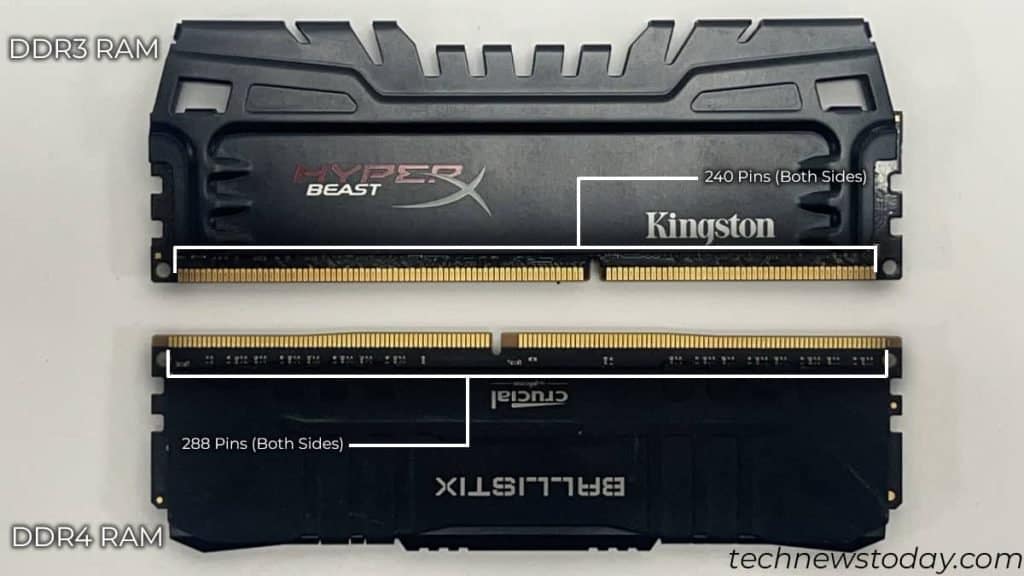 Both DDR3 and DDR4 communicate to the CPU using the 64-bit wide bus. Even though it uses the same memory bus, how it communicates with the CPU is completely different.
The two DDR types have different numbers of pins and so does the slot. DDR3 has a total of 240 pins for DIMM and 204 for SODIMM. DDR4 has 288 for DIMM units and 260 for SODIMM.
The pins on DDR3 RAM is not compatible with motherboard's DDR4 slot.
Furthermore, each of these pins has a designated task. Some pins are to access the address bus and some access the data bus. The task of each connector pin is different depending on the RAM type.
For a successful communication, the pins on the RAM must connect to the pins on the slot. This is not possible when the total pins are different on the RAM stick and the slot.
Voltage Incompatibility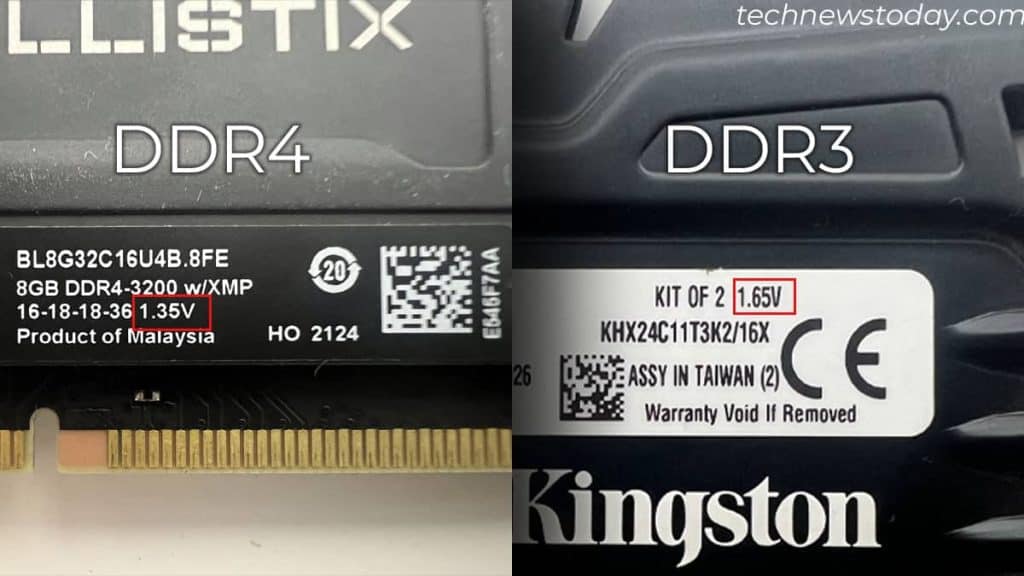 Another crucial point is the difference in voltage. DDR3 operates on 1.35 and 1.5 V (1.35 for DDR3L and 1.5 for DDR3). DDR4, on the other hand, operates on 1.05 and 1.2 V (1.05 for DDR4L, 1.2 for DDR4, and 1.35 when enabled XMP). 
Can a Motherboard Run DDR3 and DDR4 Simultaneously?
Manufacturers used to produce motherboards with different generations of DDR slots. Here are a few motherboards that could support two different DDR generations.
Biostar Hi-Fi series H170Z3 (DDR3, DDR3L and DDR4)
ASRock B150m Combo-G (DDR3, DDR3L and DDR4)
Gigabyte G41M COMBO (DDR2 and DDR3)
Gigabyte GA-P35C-DS3R (DDR2 and DDR3)
One thing to note is that you need to use only one single type of DDR RAM in this motherboard.
Consider you have a DDR3 and a DDR4 RAM stick, and a motherboard with a slot for both. You cannot boot the system with both of these modules installed. The system needs either one or the other to run, not both.
Processors, especially Intel, come with support for two DDR versions. Intel 12th Generation processor supports both DDR4 and DDR5 RAM. But motherboards today do not support multiple DDR versions. And there is quite a good reason for it.
First off, these older motherboards could only use two sticks instead of four.
Secondly, manufacturing boards that support both DDR generation means power supply for two types of RAM. So, this would require a separate pin configuration.
Along with this, using four sticks of memory instead of two performs better. So, these boards although they support different RAMs will not have much of a performance benefit.
Memory Modules For DDR4 Motherboard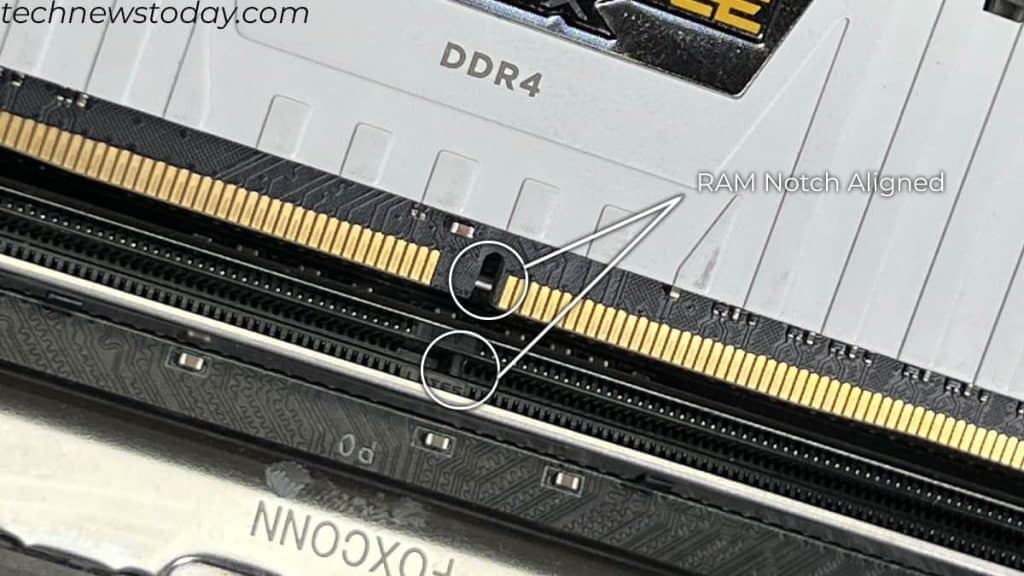 You can only use a DDR4 memory stick on a motherboard with a DDR4 slot. If you are getting a new RAM, check for writings that say DDR4 on the label.
You can find DDR4 RAM in two different form factors. Both these modules will have DDR4 on the label. However, it may not fit in your system.
The label on your RAM should say DIMM or SODIMM. You need to get DIMM DDR4 RAM if you are a desktop user. For laptop users, you need to get SODIMM.
Furthermore, I also recommend you consider the maximum RAM frequency your system supports when choosing a memory module.
Depending on the motherboard, processor used, and OS installed you will also find maximum RAM capacity. So, make sure you install RAM below this limit.