The printer must always be in a "Ready" state before you can print anything. However, if the printer enters an error state, you will see a "Printer in an error state" message on your computer screen.
The issue mostly arises when there is a communication error between your printer and computer. For instance, if you are trying to print when the printer is in sleep mode or printing without official drivers installed, you might get the error message. Similarly, if you have multiple printers connected to your computer, port mismatch errors are also liable for the issue.
Check Connections
First, you have to verify if the printer is properly connected to the PC. So, to begin with, make sure it is correctly connected to the power supply.
Moving forward, check the USB connection of the printer. Replug the printer's USB cable into your computer and try swapping the cable or USB port to see if it fixes the issue.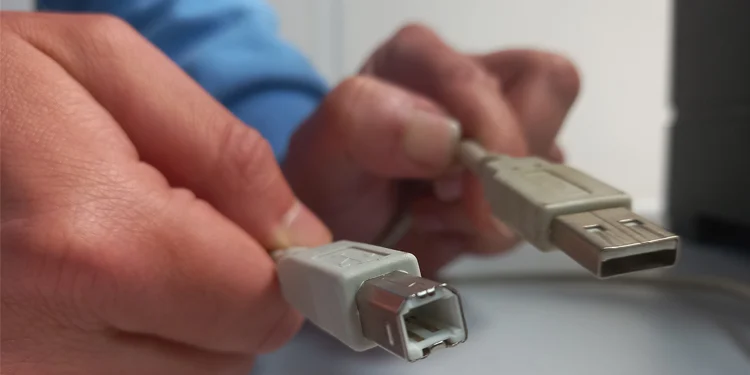 Similarly, check the wireless connection status if you are using a wireless printer. Connect your PC and printer to the same Wi-Fi and reduce the distance between the printer and router.
Also, if your printer comes with a display panel, make sure there are no error messages on the printer's screen, and the printer has not entered sleep mode.
Troubleshoot Printer
After checking the connections, I recommend you run the built-in printer troubleshooter in Windows to find and fix issues with your printer. It will diagnose the issue and apply the necessary fixes to get the printer back to its normal state again.
Go to Control Panel and open View devices and printers.

Right-click the printer you are facing issues with and click Troubleshoot.

Wait for a while till the wizard troubleshoots the device.

You will get such a message once the error is resolved.

You will now see the printer is ready to print again with a 0 document(s) in queue status.

Tip
: If you have an HP printer, you can use the official
HP Print and Scan Doctor
application that fixes almost all the issues with your HP printer.
Restart Spooler
Restarting the spooler service works like a charm when it comes to solving problems with your printer. It will also help you get your printer from an error state to a ready state instantly. Let me show you how to get the printer from the error state to the ready state in a few seconds.
Open Control Panel > View devices and printers.

Here's my printer in Error state.

Now open Command Prompt and run it as administrator.

Type the following command and press enter after each command:

net stop spooler
net start spooler
exit


Now see the Status of your printer in the control panel. The error is gone. You can start printing right away. If you still face the issue, move to fixes below.

Assign Correct Port to the Printer
The printer can also go into an error state when you have assigned an incorrect port to the printer. This mostly happens when you have multiple printers connected to the computer. To resolve the error, you should always assign a USB port for a wired printer and a WSD port for a wireless printer.
Go to Control Panel and open View devices and printers.

Right-click and select Remove device for other printers that are not in use.

Then right-click the problematic printer and choose Printer properties.

Go to the Ports tab. Check the port assigned to your printer. As mentioned earlier, it must be USB for wired printers and WSD for wireless printers.

If it's not, go to Settings > Bluetooth & devices > Printers & scanners.

Click Add device > Add manually.

Choose the last option and click Next.

Choose USB or WSD accordingly and click Next.

Choose your printer driver and click Next.

Check Replace the current driver option and follow the on-screen prompts. It will solve the port mismatch issues of your printer.

Install Official Drivers
Although it is not always necessary to install a full driver package for your printer to start printing, it can sometimes result in errors and show messages like "Driver is unavailable" when you try to print. So, it is always recommended to install official drivers from your printer manufacturer to avoid such issues.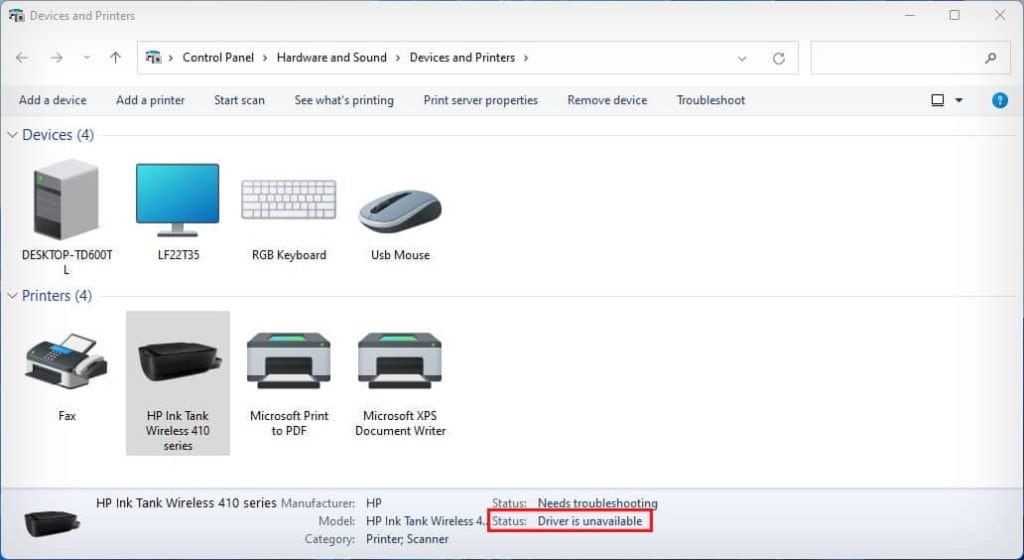 Check for Other Issues
In some of the printer models, you can also encounter the "Printer is in an error state" message when they are low on printer consumables like low ink level or low toner level.
Additionally, they may also run into problems when there is a paper jam on the printer.