Smart TVs these days come with advanced features like USB and Internet support. Although convenient, they have made our TVs more vulnerable to virus attacks.
In general, when viruses get into your TV, they mainly slow down the boot time and degrade the performance of your TV. Further, hackers can use viruses to get into your system and steal your login credentials. Although the chances are very slim as TVs are less susceptible to viruses, there are times when you need to be vigilant.
Can Your Smart TV Have Virus?
A virus can enter your TV either via USB or the Internet. If any infected applications or files get into your TV by these means, your TV can get infected. But, remember that viruses made for Windows or smartphones can not execute on TVs. So, it does not matter if these viruses enter the TV.
In case, if your TV runs over Android OS, it is more vulnerable to viruses. Android TV supports APK files, which is the same as the file format in Android phones. So, if the infected Android installation file gets into your TV, viruses can cause harm to the TV as well.
And talking about Samsung's Tizen OS, they are safer than Android TVs. Further, the integrated McAfee antivirus in Tizen makes it more secure. Likewise, in the case of a Vizio TV, the Smartcast OS does not allow the downloading of third-party applications making it less prone to viruses.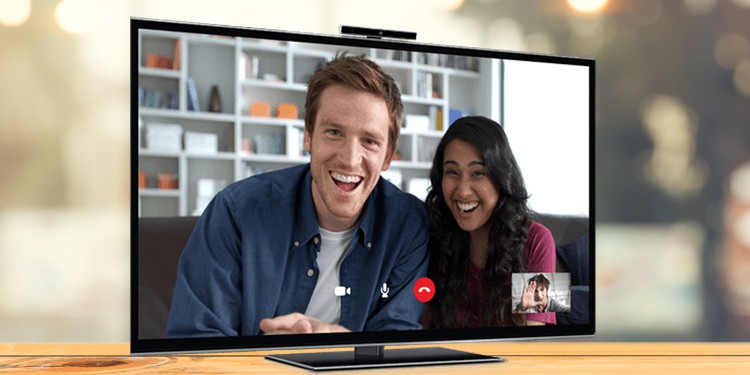 However, if your TV has a camera or webcam integrated, you could possibly be a victim of eavesdropping. Meaning, the virus can be a gateway for hackers to hear your conversation or spy on you. To avoid this, you can shield the webcam and microphone on your TV when not in use.
Is Your TV Safe Against Virus?
In 2019, Samsung Tweeted and asked users to scan TV for viruses every few weeks. In the Tweet, they also embedded a 19 seconds video demonstrating the steps to run a virus scan. Although Samsung later removed the Tweet mentioning it was only for education purposes, it raised a red flag in the entire smart TV market and people started assuming that smart TVs are somehow vulnerable to viruses.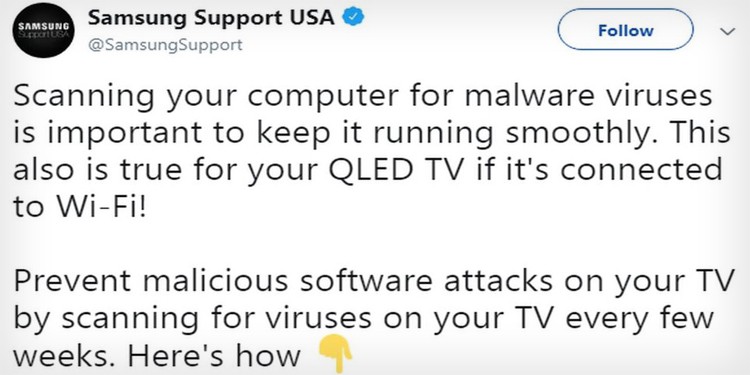 Keeping the Tweet at bay, Samsung itself has employed several security features on its TV models that help protect them from viruses. The TV firmware is mostly write-protected and signed with DRM (Digital Rights Management). With DRM, no third-party apps or viruses can make alterations to the TV firmware. So, there are very rare chances that viruses enter the TV.
On the other hand, viruses are mainly employed to steal sensitive data, cause data breaches and leak the private information of the users. But, as TV contain very little sensitive information compared to PCs and mobiles, there are very less chances the attackers would inject a virus into the TV. If the virus gets into your TV by any means, it can not create much havoc.
Symptoms Your TV Has a Virus
There are certain visible symptoms when your TV gets affected by a virus. So, before you conclude that your TV is affected, please go through the symptoms listed below.
The TV settings open and close abruptly.
Menu window keeps floating.
Unwanted pop ups and advertisements on the screen.
TV channels and volume levels change automatically.
Frequent lags and crashes.
TV boots up too slow.
The applications open up and terminate on their own.
Random sounds.
Disappearing files and folders.
Random websites launching on TV.
Lack of storage space.
The listed symptoms do not necessarily indicate the existence of a virus on your TV. There can be other causes of these problems as well.
How to Scan and Remove Virus From Your TV?
If you own Samsung TVs with Tizen OS, you can easily use the built-in McAfee antivirus on your TV to scan and remove viruses.
Press the Home button on your Samsung TV remote.
Now go to the lower left corner and open Settings.

Go down to General and choose System Manager.

Then tap Smart Security.

Select Scan.

Let the scanning process complete.

However, if you have a TV from another manufacturer, you may not have an antivirus built-in on the TV. You can go through the TV settings and check if the scan function is available. Otherwise, you can download an antivirus application suggested by your manufacturer, install it and run a scan. Please refrain from downloading antivirus from unreliable sources.
You can also try hard resetting the TV to eliminate the viruses. But, remember that resetting will wipe out every personal data and settings from your TV. So, keep a backup before doing a reset.
Open TV Settings.
Move down to General.

Choose Reset.

Enter PIN to start the reset.

Other Ways to Protect Your TV From Virus
It is always better to prevent your TV from getting viruses rather than regretting it later. There are different preventive measures to apply to protect your TV from a virus. We have discussed some of them below.
Update the TV Firmware Periodically
TV manufacturers release firmware updates over time to enhance the performance of your TV. These updates also include security patches that help prevent any viruses from entering your TV. If your TV has outdated firmware, it is more likely vulnerable to virus attacks. Therefore, consider updating the TV to the latest version.
Let's see how to perform a firmware update on Samsung TVs.
Open Settings and go to Support.

Choose Software Update.

Tap Update Now.

Enable Firewall on Router
If you frequently browse the Internet on your TV, it would be a good idea to enable the firewall on the Wi-Fi router. The firewall scans all the incoming traffic from the web and then only forwards it to the TV. It will help detect if any malware or virus tries to enter the home network and protects you from possible mishaps.
Safe Browsing Behavior
Since the virus mainly enters your TV while browsing, you should have a safe browsing behavior. You should avoid surfing any websites that might possibly inject a virus into your TV. Always download applications from trusted manufacturers.
If you need to browse files from USB, always make sure it is virus-free. Consider scanning the USB with an antivirus on a PC before using it on your TV.