If you have recently purchased a new printer and do not have enough space to accommodate it, you must be thinking of disposing of your old printer. However, you should be careful not to dispose of your printer like other household waste.
Printers contain many hazardous compounds, and improper disposal of the printer not only contaminates the environment but also poses risks to the human body.
So rather than throwing it haphazardly, you should consider other options like salvaging the usable parts, donating it, or giving it to a refurbisher.
Preparing for Printer Disposal
Before making up your mind to dispose of your printer, I recommend you check the warranty status of your printer. If it is still under the warranty period, you could get it repaired for free.
If you are planning to dispose of your printer as regular waste, you may be prosecuted for mishandling the electronic waste. So, proceed with caution. As a matter of fact, AT&T was once fined $52 million for the haphazard disposal of e-waste.
Also, don't forget to wipe out your personal data and remove the external SD card before planning to dispose of your printer.
After that, go through the options discussed in the post to know how to dispose of your printer correctly.
Caution: Don't ever think of putting your printer on a fire. It not only spreads toxicity in the environment, but also the toner cartridges can explode and harm you.
Donate Your Printer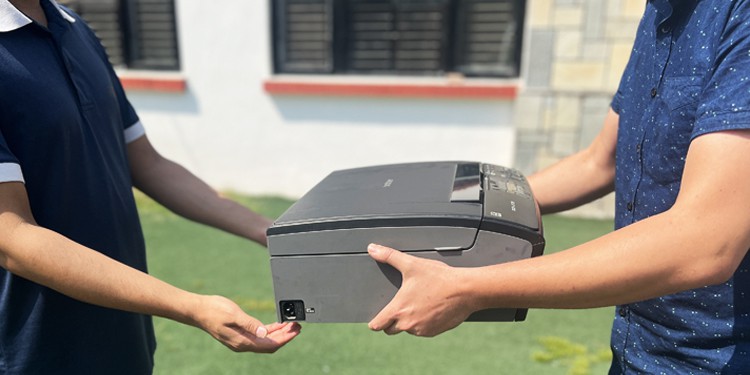 Your trash can be a treasure to another person. So, nothing can be a better option than donating your printer if it still works.
You can look after non-profit organizations or get in touch with the community schools or libraries to donate the printer.
When you donate the printer, the receiver is not the only one who gets benefited. In fact, you can claim an income tax deduction on your taxable income. Contact your local government body for further information.
List Your Printer in Online Marketplace
You could also make a few bucks out of your old printer by selling it on an online marketplace. It could be financially helpful if you are willing to buy a new printer.
You can list your printer in second-hand products buying/selling platforms or use emerging digital markets like Facebook Marketplace. You might get a handsome amount depending on the condition of your printer.
If you have laser printers, you might get a bit higher value than inkjet printers. Similarly, having a wireless connectivity option and multifunction series printer (Printer, Scanner, Copier, FAX) is a plus point.
You can print a printer status page and know more about how many pages your printer has printed and the information about the ink and cartridge levels. Use this information to mark a price for your printer when listing it for sale.
Utilize the Printer Buy-Back Schemes
All the major printer manufacturer companies like HP, Brother, Canon and Epson have a printer buy-back scheme.
Under this scheme, the manufacturers take your printer back, disassemble it and remanufacture the toner cartridges, ink cartridges, drum unit, chassis, and circuit board, and integrate them into their future productions.
However, the scheme is subject to availability depending on your printer model. You can contact an outlet representative or customer care of your printer manufacturer to know more about it.
Take Your Printer to Refurbisher
Refurbishers work on an old product and make it look new again. They repair, renovate, and clean your printer, then sell it to other customers with a fresh look.
You can contact the nearest refurbisher and ask them to buy your printer. If there are no refurbishers around, you can also sell it to a local electronic store or a printer repair store.
Harvest Useful Parts of Your Printer
Printer comprises several useful electronic components that can be easily harvested and reused even when the printer is dead.
First, remove the power cable and USB cable connected to your printer. You can use these cables on other devices that use similar types of cables.
Then you can dismantle the printer and remove the reusable parts like scanner glass, printheads, ink cartridges, toner cartridges, drum unit, roller wheels, paper tray, and many more. You can use these components with other printers that run on a similar setup.
Further, you may remove the internal components like stepper motors, DC motors, switches, and steel shafts. They can be useful for your DIY crafts.
Tip
: If you have an inkjet printer and get ink on your hands while dismantling the printer, you can go through this comprehensive guide to know more on
how to get printer ink off your hands
.
Give It to Recycler
Once you reap the reusable parts of your printer, you may now hand it over to a recycler. There are many e-waste recycling programs run by Staples, Office Depot, and Best Buy. You can coordinate with them to recycle your printer as well.
Depending upon your location, a representative may visit you, or you may have to drop it off at the nearest collection center yourself.