Did you accidentally spill water on your phone or drop it in water? Happens to a lot of us. The best method to get the water out of your charging port is to air dry it.
Depending on how severe it is, you might also need to use a Shop-Vac or a vacuum cleaner to suction out the excess water first.
Modern-day phones are mostly water-resistant. Depending on the IP rating, some phones won't get damaged even if submerged under water for a certain time. So, you should check the IP rating of your phone first.
If your phone has sufficient water resistance, you can keep using the phone normally. But don't charge it until the water fully dries off.
If not, you can try out the fixes below to get all the water out of your phone.
Shut Down Your Phone
The first thing you should do if water gets inside your phone is to shut it down. This is to prevent any further damage from being done to your phone, as the water can short-circuit the electronic components inside.
Remove Case and Detachable Components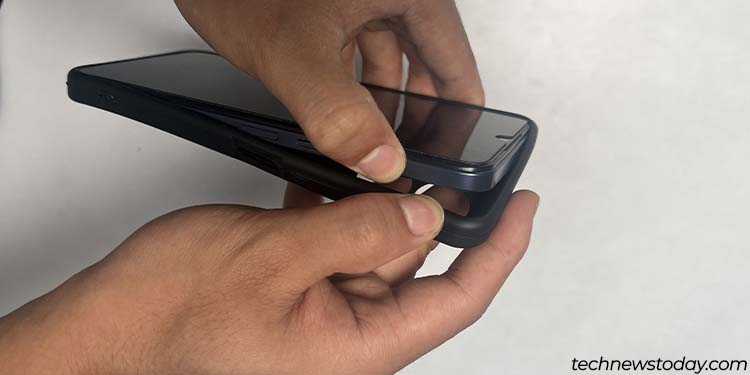 If your phone has a case or any other accessories tied to it, remove them. Then, take out the SIM tray and Sim card from your phone using a SIM ejector.
If you have an older model phone with detachable batteries, make sure to remove the batteries as well.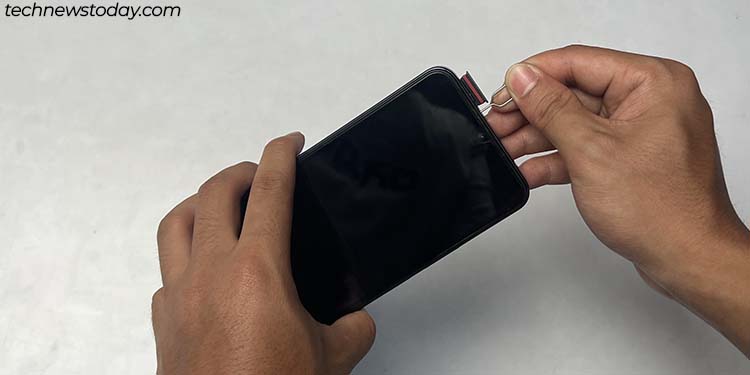 Wipe Off Excess Water
If there is still a lot of excess water stuck to your display or the back panel, you can use a cloth to wipe it off. In case there is excess water inside the small openings on your phone, gently pat your phone to make them drop.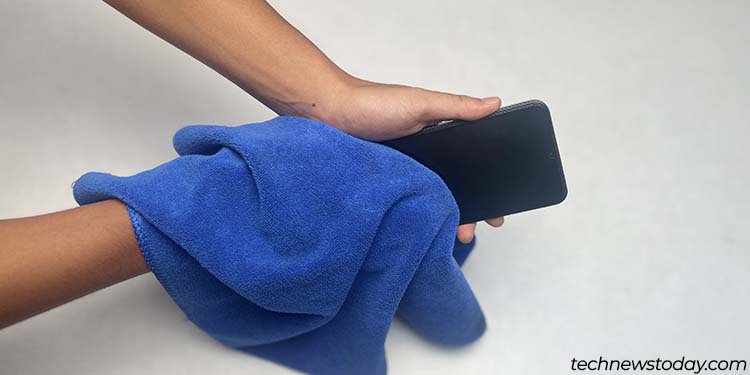 Now, that you have performed damage control on your water-logged phone, you can try out the fixes below to get the remaining water out.
Air Dry Your Phone
The best and safest way you can get water out of the charging port, or your phone in general, is by leaving it to air dry. You only need to place your phone in a dry place with moving air to naturally let all the water evaporate out of your phone.
After you've stripped your phone bare, place it in a dry place with the charging port facing down. (This lets gravity do the work for you, as the water will drip down from the charging port.)
Make sure your phone is in a place that has natural air circulation to properly dry it.

Leave the phone like that to dry off naturally. (Depending on how much water got inside the phone, it can take anywhere from a few hours to days to fully dry out. So, I recommend you dry the phone for at least 24 hours to be sure.)
If you want to speed up the process, you can use a fan or an air conditioner to blow more air into your phone. If you're using an air conditioner, make sure it is set to cool as hot air can further damage your phone.

Use Shop Vac or Vacuum Cleaner
If your phone took a full dip in a pool of water, simply air drying your phone might not help. There is probably a lot of excess water in your phone, and air drying may take too long to fully dry it out.
In such cases, you can use a shop vac or vacuum cleaner to suck out the excess water first. Then, air dry your phone to completely get rid of the water. With shop vacs, make sure to use the mild suction mode first as they're much more powerful than vacuum cleaners.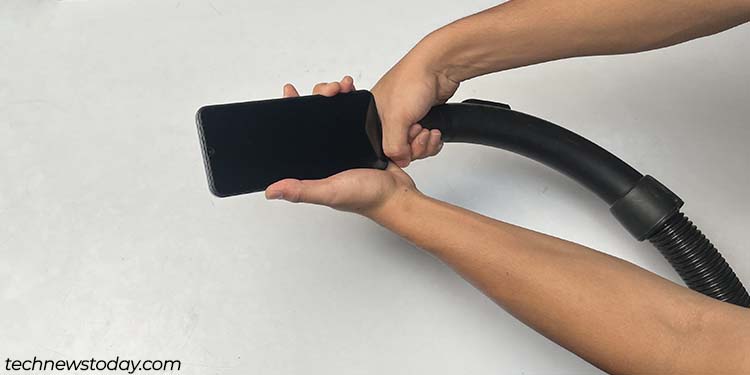 Then, you can cover the intake pipe of the shop vac or vacuum cleaner with your hand while leaving a small gap. Use that small gap to suction out water from all the openings of your smartphone. Do this for each individual opening for about 10-15s before moving to the next.
Rinse and repeat these steps for about 3-5 minutes to get all the excess water out. Now, you can air dry your phone to get all the water out.
Use Silica Gel Packets
Alternatively, you can also use hygroscopic materials like Silica Gel Packets to dry out your phone. A hygroscopic material will naturally absorb moisture from its surroundings. So, you can pack your phone with Silica Gel in a bag or box to get water out of your phone.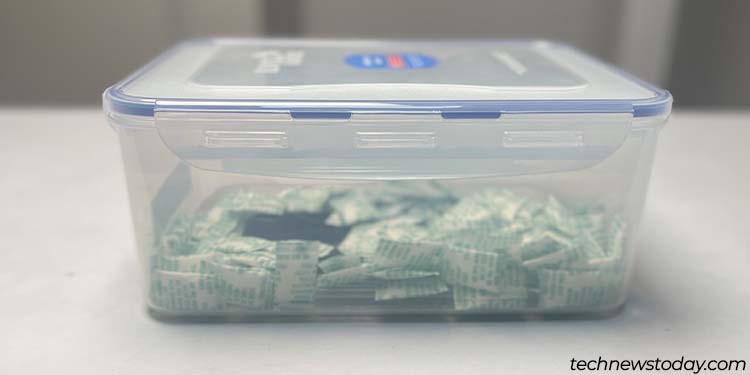 However, this method will also take quite some time to fully dry out your phone. You might need to leave your phone in Silica for days to get rid of all the water.
How to Tell When My Phone's Completely Dry?
When you connect any cable to your iPhone's lightning port, it will show the "Liquid Detected in Lightning Connector" error if wet. As long as you don't see this message, your phone is likely fully dry.
However, most android devices won't show any error message if the charging port is wet. In such cases, you can check for symptoms to know if your phone is dry.
When your phone is wet, you will usually see:
Minor glitches or screen flickering
Ghost touch
Speakers not working or muffled audio (If you have water in your speaker as well, the linked guide will help you remove it)
If you are not experiencing such issues on your phone and it is working completely fine, then your phone is probably fully dry.
Note
: If you had sticky liquids like juice spill on your phone, it could leave gunk or residue after it dries off. If this is the case for you, you may need to
clean your charging port
.
Things to Avoid While Getting Water Out of Charging Port
If your phone doesn't have high enough water resistance, don't let the phone sit to naturally dry the water off. If water stays too long inside your phone, it may start corroding the sensitive electronic components inside your phone and charging port.
Do not leave your phone to dry out in the Sun. The metal and glass on your phone quickly absorb heat, and this can cause your phone to overheat and suffer more damage.
Do not put your phone in Rice. While rice does absorb moisture from its surroundings, small rice grains can get stuck in your Phone's openings.
Do not use a cotton swab, paper tissue, or cloth to wipe your charging port. They can leave residues like lint and fiber which also get wet. Furthermore, charging ports sport delicate pins which can get damaged easily.
Do not shake or swing your phone to get the water out. While this does push some water out from your phone, it will also push some water inward toward the phone's electronic components.
Do not use a hair dryer, compressed air, or any kind of tool that blows out air with pressure. They can push the water droplets further into your phone's electronic components. Furthermore, the high heat of hair dryers is also bad for your phone.