There are many ways to print without a printer, from sharing your files as PDF files to printing wirelessly. The most suitable solution for you depends on the urgency of your document.
To print without a printer, first, see if there are any wireless printers available nearby. If accessible, use it and print your documents. Otherwise, use online printing services or printers at your school, office, or neighbor's.
In this guide, I will be covering all the methods on how you can print your document without actually owning a printer.
Share Your Document as a PDF File
Before all else, ask your recipient if they will accept the digital copy of the document.
If the recipient agrees, there's no need to rush around searching for printers. Simply mail the document or upload it to Google Drive and share it.
Since PDFs have become a de-facto standard these days for sharing files, I recommend you convert your document into a PDF file format before sharing.
Here are the quick steps to do so using a Windows computer.
Open your document.
Press the Ctrl and P keys on the keyboard together.
Choose Microsoft Print to PDF under the Printer drop-down.

Click the Print button.

Save the PDF file.
Share it with the recipient.
Note: You may even use mobile apps like CamScanner to do the needful. If your physical presence is required, save a copy of your document into the USB flash drive and hand it out.
Search for Nearby Wireless Printers
You do not always know, but there might be printers lying around you. Maybe the neighbor next door owns it?
You can quickly scan for wireless printers around and print if the owner allows it.
On your Windows computer, go to Settings.

Click the highlighted option.

Click the Add device button.

Wait till the scan completes.

If there are any wireless printers available, inquire your neighbors about that and make a request to print.
Some printers even have Wi-Fi Direct turned on. If you see a printer name while scanning the Wi-Fi networks, you can be assured there's a printer nearby.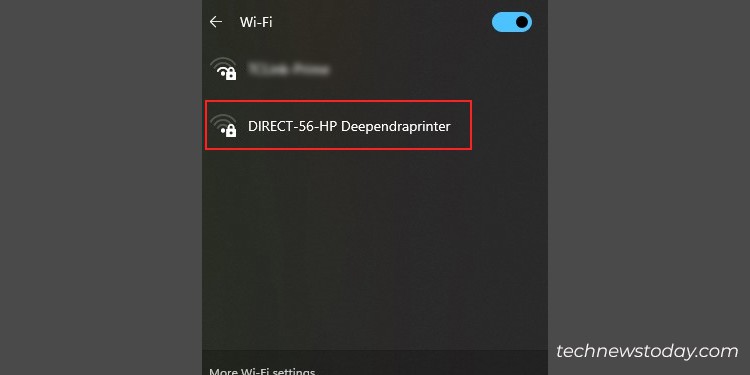 Use Online Printing Platform
FedEx is a reliable name when it comes to printing online. They take your print requests online, print the documents, and deliver the printouts to your doorsteps.
They have a pretty quick delivery time, too. Trust me, you won't regret it. You can either pay at the time of placing the order or do cash on delivery. It's up to you.
Yes, you do need to pay a small amount as a delivery charge. But it's far better than not having a printout. Isn't it?
Here are the basic steps to place an order in FedEx.
Go to FedEx's official website.
Click the Design & Print menu on the top and Explore Print.

Choose your print type.

Define your printing preferences.

Follow the on-screen instructions and proceed to checkout.
Do note that it may not be a viable option if your document has sensitive information in it, like your SSN or other personal details.
Nonetheless, if the document does not consist of private information, you're good to go.
Note: If you don't prefer using FedEx, there are multiple other online printing platform that allow you to do the same. Some of them are Staples, Walgreens Photo, and The UPS Store.
Find the Nearest Printing Service
If the methods discussed above are not feasible for you, you have no option except to search for the nearest printing service.
These days, printers are everywhere. You can get it at a stationery shop, local grocery store, library, or a departmental store.
Ask them to print your document, and they will get your job done, just for a few cents.
Additionally, if you work somewhere, you should have no problems printing your stuff.
I am sure the workplace has at least one printer to get office documents printed. You can use it to get the printouts.
Do note that it might not seem ethical to use an office printer without having proper permissions. Coordinate with your supervisor/manager before proceeding further.
Note: If you want to avoid all this hustle and bustle, just get a printer. They have really become inexpensive these days. There are a lot of decent inkjet printers below the $100 price tag.