Your TV screen may randomly go black if there is a power glitch in its PSU (Power Supply Unit). You may also encounter this problem when the PSU is not receiving correct voltage levels.
While performing a soft reset generally fixes this problem, there could be major hardware defects like blown capacitors or a bad T-Con board that needs professional help. You can, however, try some fixes on your own like configuring auto-power-off and disabling the sleep timer.
Soft Reset the TV
Soft resetting helps to solve power glitch issues in the PSU or main board of your TV. So, we recommend you soft reset the TV before moving to further fixes.
Turn off the TV and unplug the power cord from the power outlet.

Then, keep pressing the Power button on the button panel of your TV. It will help ditch any leftover charge on the circuit board and cancel out the power glitches.

Now re-plug everything and power on the TV.
Change the Power Outlet
TVs need constant voltage supply to operate correctly. Any fluctuations in the voltage level can make it go black randomly. Chances are there that the power outlet you are using to connect the TV is faulty. Further, if you are using any voltage control devices, they can go bad. Consider connecting the power cable of your TV directly to a functioning wall outlet.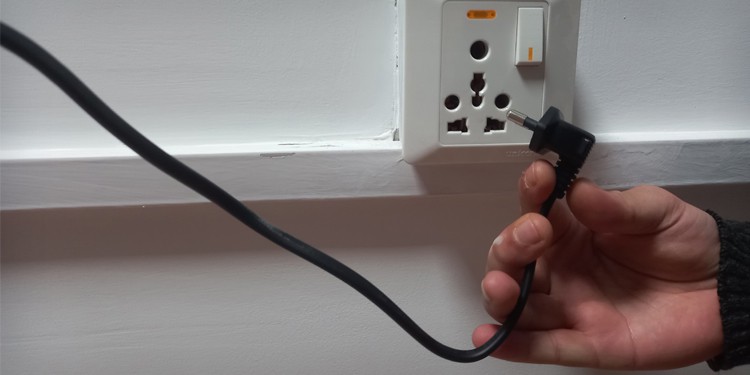 Also, inspect if the power cord of the TV and the source device have any wear and tear. You can try replacing the power cords and see if it fixes the issue.
Change the HDMI Cables
HDMI cables transmit audio and video signals from the source device to TV. It is possible that the cable is not supporting the data transfer speed or the resolution of the video. It can lead to a black screen problem. You can use a high-specs HDMI cable like HDMI 2.1 for better performance.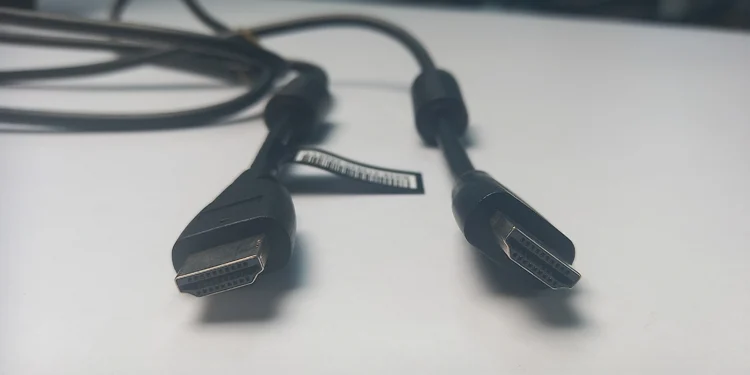 Furthermore, a malfunctioning HDMI port can be another reason behind the problem. If you have more than one HDMI port, you can try swapping between them. Also, check if the HDMI port is loose or damaged. If it is, you can consult this detailed guide on how to fix broken HDMI ports on TV.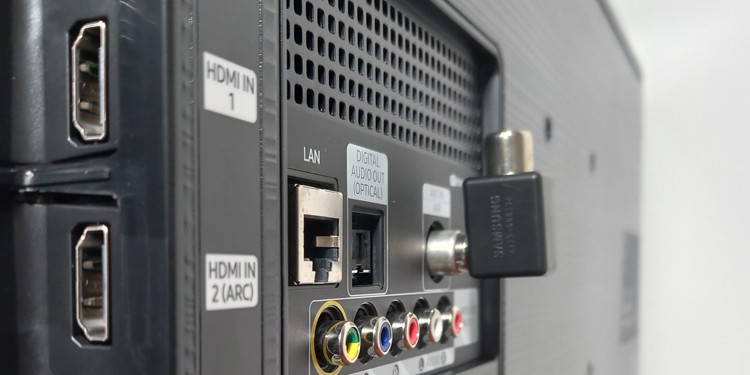 Check Issues in Source Device
There can also be cases when the source device is faulty. A bad source device can prevent the TV output signals from transmitting correctly. So, to narrow down the cause, you can switch to another source device and see if the issue still exists.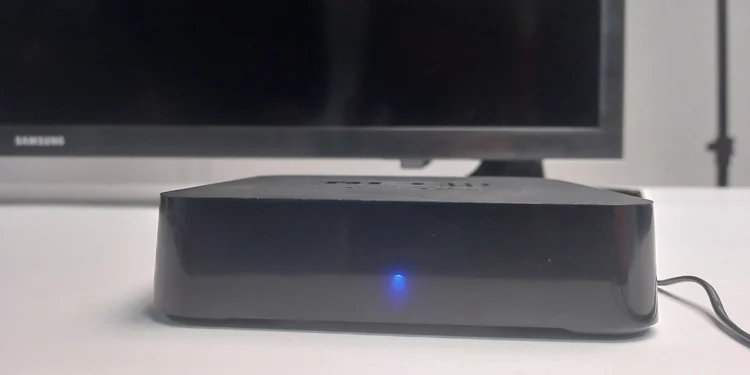 This way, you can know if the source device has gone bad. For instance, if you are using a set-top box as a source device, you may switch to USB mode and check.
Update or Uninstall Problematic Applications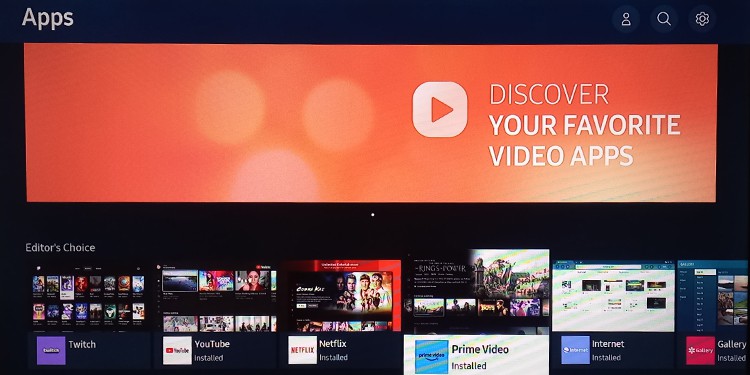 If you are facing a problem only while using certain apps, the app is more likely problematic. Your TV might not support the app or it is outdated. You can try updating the app and see if it fixes the problem. If not, you may uninstall the app to get rid of the problem.
Change Sleep Timer Settings
If you have enabled sleep timer settings on your TV, it will go to sleep mode after a specified time. Then, you will encounter a black screen. If the timer is set only for a few minutes, your TV will again go black after watching it for a while. So, check if you have enabled the sleep timer and disable it.
Here, we will be using a Samsung 4 Series TV for demonstrating steps.
Press the Home button on your Samsung TV remote and go all the way left to Settings.

Go down to General.

Then choose System Manager.

Tap Time.

Select Sleep Timer.

Choose Off.
Configure Power Settings
Modern TVs also have an Auto-power off feature that automatically turns off the TV when it does not detect any user interaction. You should disable the feature to get rid of the black screen problem.
Launch Settings.
Go to General settings.
Then choose Eco Solution.

Tap Auto Power Off.
Select Off.

Adjust the Picture Settings
You should properly configure picture settings on your TV to match the resolution of the content you are watching. This case is mostly applicable when you are using a PC or a gaming console with your TV.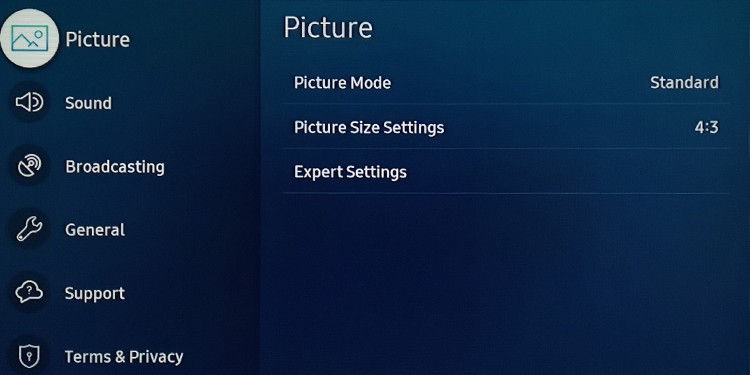 You should enable the gaming mode if you are trying to play games on your TV. Else, the picture settings of the TV may not handle the image processing and you can run into a black screen problem. It would be helpful if you know the best TV settings for gaming.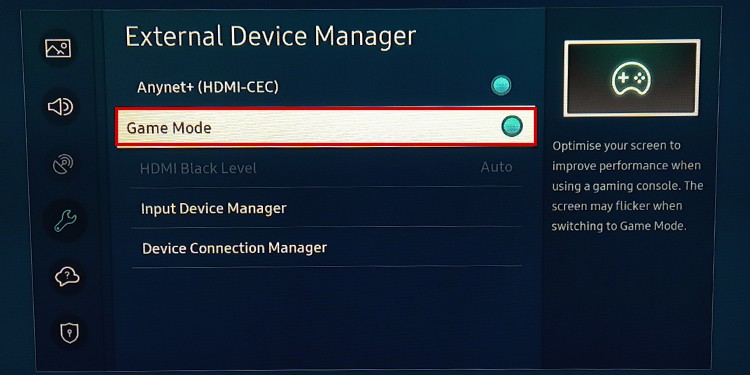 Likewise, if you are using your TV as a computer monitor, you should know how to make a computer fit TV screen.
Update the Obsolete Firmware
If your TV has an obsolete firmware, the hardware modules of the TV can not synchronize with the applications installed on your TV. It can create different issues including a random black screen problem. Updating the TV firmware can be helpful in such cases.
Open Settings on your TV and go to Support.

Choose Software Update.

Tap Update Now and follow the on-screen instructions to complete the update.

Perform a Full Reset
Resetting your TV to the factory version is the ultimate fix you can apply from your side. Factory reset can be obliging if any software settings are misconfigured and causing the TV screen to go black randomly.
Open Settings on your TV and go to General settings.

Choose Reset from the right section.

If prompted, enter the PIN code to start the reset process.

Tip: There are multiple ways you can use to reset your TV if you are unable to do it from TV settings. You can consult this comprehensive article on different ways to reset your TV.
Seek Professional Help
Now that you have factory reset your TV, it should solve any software side of problems. However, if it does not work, there might be a serious hardware failure. Mostly this happens when capacitors on the power supply board of your TV have malfunctioned.
Or, the display components like backlight inverter and T-Con board can also go bad. Please seek professional help to troubleshoot the problem.