To reset your HP printer, navigate through the touch panel and choose the Restore option.
In case it does not have a display panel, launch the printer's web page and reset it. Just make sure you have its IP address to start with.
Besides, you can connect your printer to a computer using a USB cable. Then reset it using the HP Smart app.
Reset Through Display Panel
HP printers with a display panel provide the Restore option under the Maintenance menu. Simply navigate to it and complete the reset.
Let me show you how I do it on my HP OfficeJet Pro 8020 model. Since resetting these kinds of printers involves similar steps, you should have no problems doing it on any of them.
Turn on your printer and open Settings once you are on the home screen.

On the next screen, scroll down and tap Printer Maintenance.

Again, move down and choose Restore.
Select Restore Factory Defaults.

Tap Continue. Wait till the reset is complete. It will often help fix if your HP printer won't print or frequently runs into printing errors.

Use the Webpage/Embedded Web Server of the Printer
This method is for you if your printer is currently connected to a Wi-Fi network and you have its IP address readily available. If not, first connect your HP printer to Wi-Fi. Then, find its IP address.
For instance, I found that my office printer HP Ink Tank Wireless 410 has IP 192.168.10.244. After you get the IP, enter it in your web browser and load the Embedded Web Server (EWS).
Now that you are at the EWS home page,
Go to Settings on the top.

Choose Restore Defaults > Restore Factory Defaults.

Confirm the restore.

If you do not have the printer's IP, you can still load the EWS from HP Smart. Interestingly, the HP Smart app supports a wide range of HP printer models. And you can easily reset your printer using it.
For that, use the USB A-B cable to connect your printer to the computer. Then install the HP Smart app and launch it.
While at it, go to Printer Settings, click on Advanced Settings and there it is. Follow the same steps discussed above to perform the reset.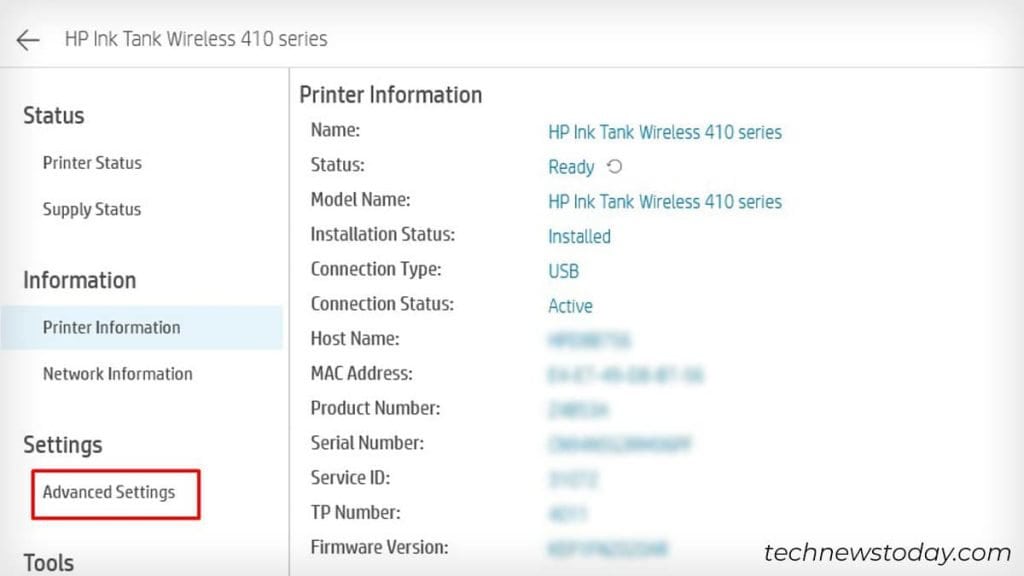 I don't think you will encounter any issues while resetting the printer via HP Smart. If anything goes wrong, visit HP's official support page and refer to the model-specific instructions to reset the printer.