The motherboard form factor is a crucial specification that dictates the physical dimension, mounting holes, and case/power supply compatibility. It ensures all your hardware components are perfectly aligned with your needs.
Today, most manufacturers adhere to the ATX standard, which has made PC building and upgrading a breeze for enthusiasts. However, non-standard or proprietary form factors also exist, which cater to unique user demands.
Most users go for the ATX standard. Amongst all, these are the most popular ones – full-size ATX, Micro-ATX, EATX, and Mini-ITX.
But don't worry! I'm not going to limit this article to just these four motherboard sizes. For your comfort, I have categorized all the form factors into their respective families. This should help you better understand their use cases and compatibility.
ATX Family
Let's begin with Advanced Technology eXtended (ATX). This is the most popular form factor in today's date. Developed by Intel, there are a plethora of sizes, each catering to the needs of different users.
ATX has superseded the older designs (XT, AT, Baby-AT, and LPX) and has become the 'de facto standard'. But that doesn't mean they are backward compatible with any of the mentioned form factors.
It has come with several revisions, the latest one being the ATX 3.0. Each version has improved in terms of power delivery, spike handling, etc.
Whether you're looking to build a powerful, enthusiastic, high-end, low-end, or even server system, this family integrates all types. Amongst all, these are the most popular variations – standard ATX, microATX, and Extended ATX.
Before we move on to the respective headings, here's a summary of the most common types used today and how they differ.
| | | | | | | |
| --- | --- | --- | --- | --- | --- | --- |
| Form Factor | Dimension (in mm) | Case Compatibility | Max. Expansion Slots | Max. number of DIMM Slots | No. of mounting holes (max.) | Best For |
| ATX | 305 × 244 | Full-tower and mid-tower | 7 | 4 | 9 | Standard desktop use |
| Micro-ATX | 244 x 244 | Full-tower, mid-tower, and micro-ATX | 4 | 2 | 9 | Budget build |
| EATX | No fixed standard (max-width = 330 mm) | Full tower or EATX | 7 | 8 | 10 | Server and workstations |
General specifications for ATX form factors
Standard ATX
When someone refers to ATX, it usually indicates the standard version. It has a rectangular design, measuring 305 mm in length and 244 mm in width. The demonstration of GIGABYTE B450 AORUS ELITE below should give you a better insight into its size.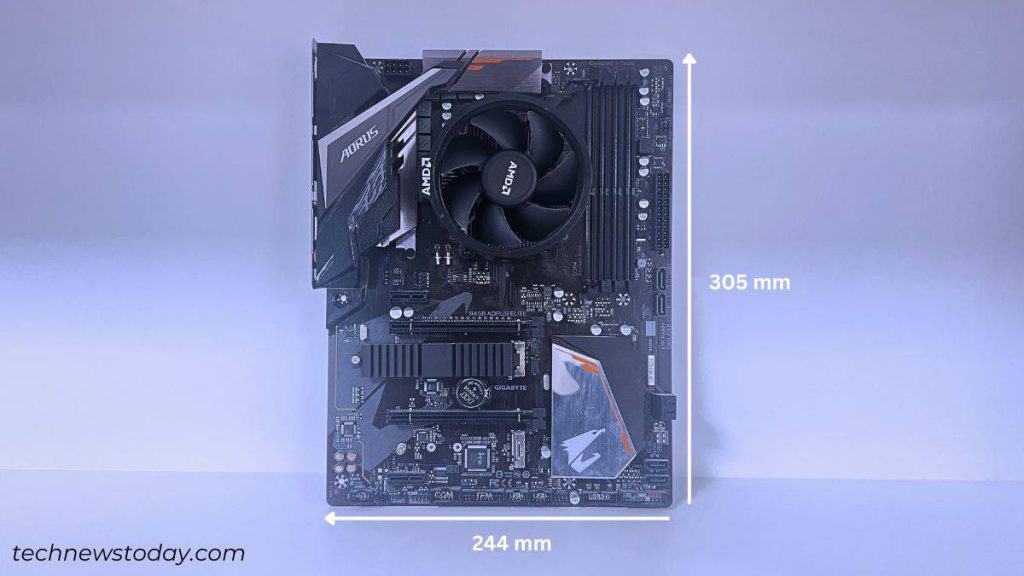 While this is the full-sized variant, even a mini-sized version was introduced (284 mm × 208 mm). Unfortunately, it never became a standard and was completely removed starting from the ATX 2.1 specification.
You can directly plug the expansion cards into the several available expansion slots (maximum of 7 as per the specifications). However, this completely depends on the manufacturer and chipset used.
Just understand that the full-sized ATX boards have a relatively large space enough to accommodate plenty of slots and ports. These usually include four DIMM slots, 6 to 8 SATA ports, more headers/connectors, larger heatsink compatibility, and additional features.
Moreover, it consumes up to 70W of power and higher-quality VRM designs. So, this is a suitable choice for overclocking enthusiasts as well.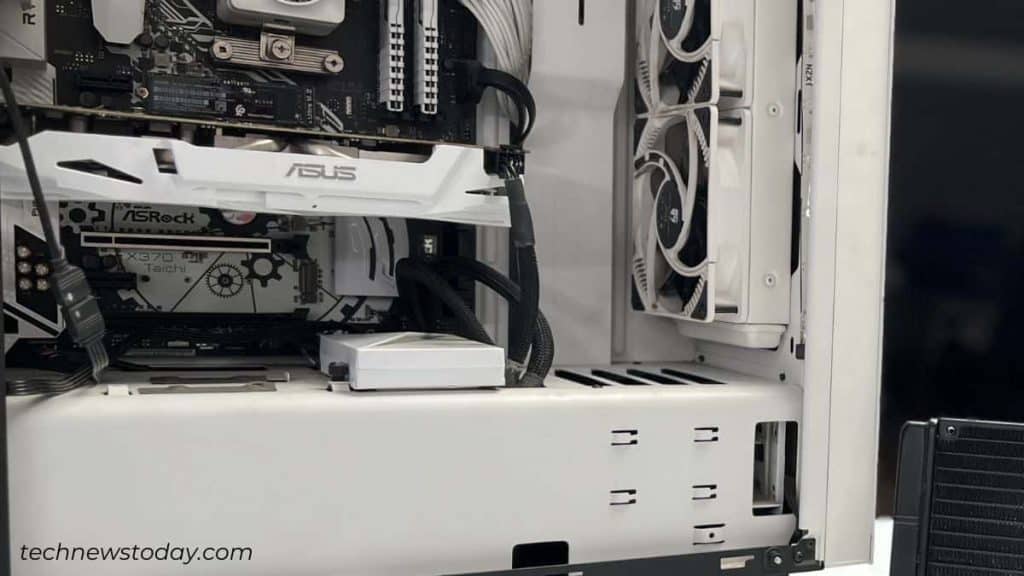 ATX boards do come with a few limitations. For instance, if you're planning to install expansion cards, the PC case needs to have enough headroom. Clearly, it isn't compatible with the small form factor cases.
Its component arrangement led to higher heat generation, which is the reason Intel introduced BTX form factors. The latter was indeed better in terms of structural design and cooling. However, it could never replace the ATX form factor as planned.
Micro ATX
The full-sized ATX is already the best choice but it doesn't satisfy the needs of those seeking lower-cost mid-end builds. Also, the Mini-ATX never met the demands, and a better solution was introduced – Micro ATX or mATX!
It follows the ATX principles but is relatively smaller in size. All boards are square-shaped with a physical dimension of 244 mm x 244 mm. Check out my ASUS PRIME B660M-K D4 below to get a clear idea of what a microATX board looks like.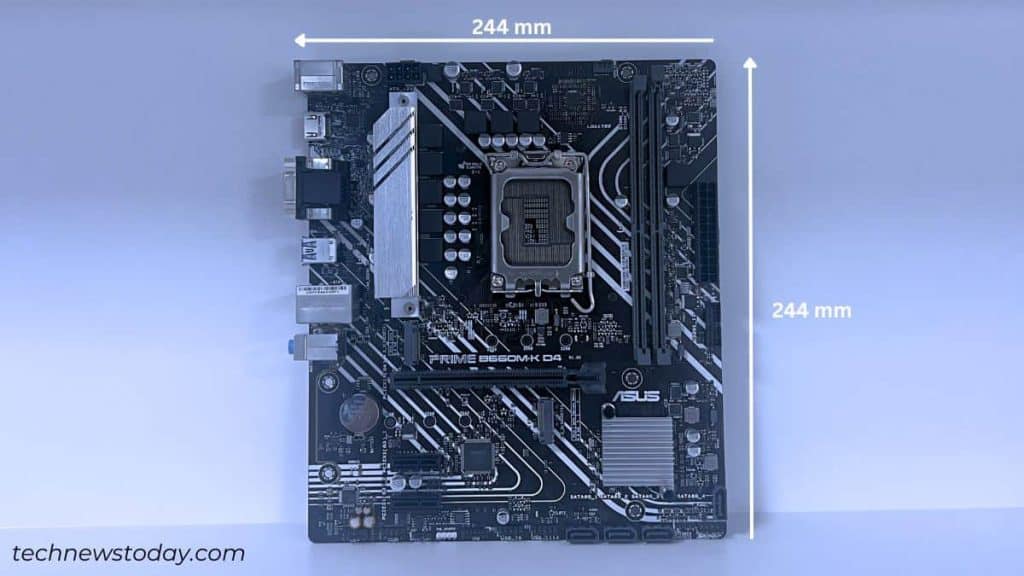 That said, these motherboards can easily fit into full-tower and mid-tower cases (those ranging from 12 to 14 inches). Since it adheres to the ATX-standard location of the mounting holes, you shouldn't face any issues.
It integrates a maximum of four I/O bus expansion slots. Plus utilizes smaller PSU form factors (not the ATX but only SFX/TFX). You might expect a significant cost reduction, but even this depends on the manufacturer, chipset, and build quality.
Intel has even developed the Flex-ATX specification, whose size was almost 41% smaller than the full-sized ATX ((229 mm × 191mm). These boards came with a maximum of one expansion slot (in most cases, none). But, they were fully compatible with ATX or micro-ATX cases.
Extended ATX
The standard and micro versions of the ATX family are already popular. But this definitely wouldn't suffice the needs of servers and workstations.
Such users usually seek a quad-channel memory configuration, multiple graphics cards, and even dual processors! If you're planning for a server system, it's best to go for the eATX form factor. This happens to be the largest and the most expensive among the three.
These motherboards can integrate eight DIMM slots, seven expansion slots, and more than eight SATA ports.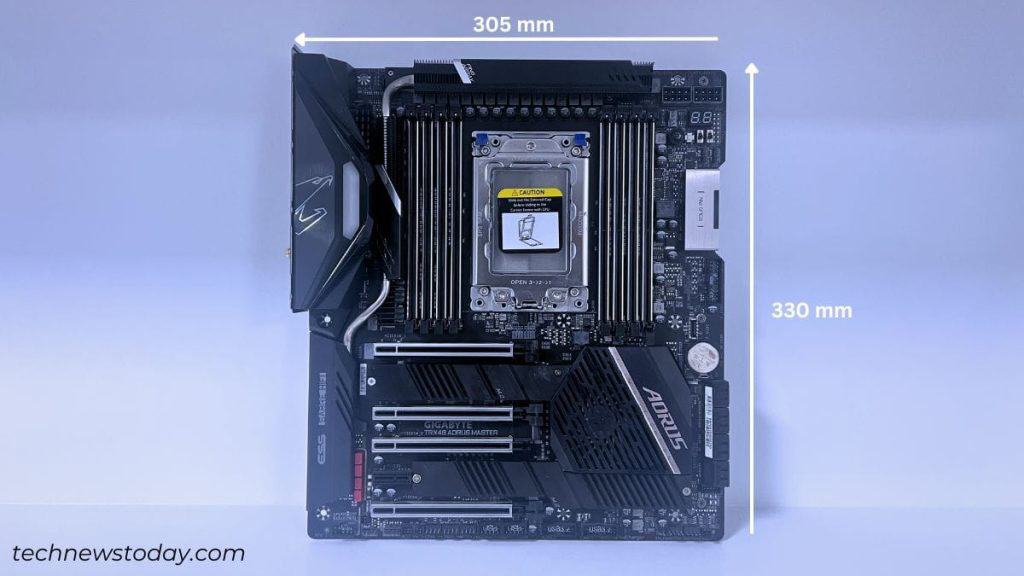 However, there is no official 'extended ATX' standard. So, the physical dimension completely differs based on the motherboard model. Most of these boards have a height identical to standard ATX boards and vary mainly on the widths.
But this isn't always the case! Take a look at my GIGABYTE TRX40 AORUS MASTER.
This E-ATX board measures 305 mm x 260 mm. Yours could be different. I highly recommend visiting your model's Tech Specs page to know the exact dimensions.
Well, motherboards adopting Supermicro/ASUS's eATX standard are usually 305 mm × 330 mm. Despite that, none of the models share compatible ATX pattern screw holes. So, you need to be extra cautious when picking a case for this build.
Other ATX Variations
Some manufacturers, like MSI, Gigabyte, Foxconn, EVGA, and Supermicro have come up with their own proprietary or semi-proprietary standards. These include EE-ATX, Ultra ATX, and XL-ATX.
All of the aforementioned follow the ATX standard but their boards are comparatively larger. Also, they are mostly used in workstation and server systems, like the EATX.
Let's get into the basic specifications of all the other ATX variations that I have only briefly explained above.
| | | | |
| --- | --- | --- | --- |
| Form Factor | Dimension (in mm) | Max. Expansion Slots | Use Case/Note |
| Mini-ATX | 284 × 208 (Intel), 150 × 150 (AOpen) | 6 | Fits into the same case as ATX and is used for standard desktop use |
| Flex-ATX | 229 × 191 | 3 | Mainly used for entertainment and appliance systems, fits well in flex-ATX/ micro-ATX/ATX cases, maximum of 6 mounting holes (usually 4) |
| EE-ATX | 347 × 330 | 7 | Used in multi-GPU systems |
| XL-ATX | Varies based on manufacturer (EVGA, Gigabyte, MSI) | 9 | Used in multi-GPU systems |
| Ultra ATX | 366 × 244 | 10 | For server-based systems where multiple GPUs and CPUs are used |
Some other ATX variations and their use cases
ITX Family
While I've covered most form factors for desktops and server systems, what if you wish to build a smaller rig? Catering to these needs, the VIA Technologies Platform Solutions Division introduced the ITX form factor.
Initially, this was proposed to supersede the Flex-ATX board. A design of 215 mm × 191 mm (6% smaller) was proposed. However, a standard ITX version was never released.
Instead, VIA came up with the mini-ITX design, which is also one of the most popular form factors today. It even rivals the ATX standard despite its small size.
Besides, thin Mini-ITX, Nano-ITX, and Pico-ITX are also abundantly used. Here are the general specifications before you proceed with the detailed explanation of each ITX motherboard.
| | | | | |
| --- | --- | --- | --- | --- |
| Form Factor | Dimension (in mm) | No. of DIMM Slots (max) | No. of Expansion Slots (max) | Use Case |
| Mini-ITX | 170 × 170 | 2 | 1 | Compact and portable gaming computers |
| Thin Mini-ITX | 170 × 170 | 2 | 1 | Thin-client PCs |
| Nano-ITX | 120 × 120 | 2 | 1 | DVRs, car PCs, set-top boxes, media centers |
| Pico-ITX | 100 × 72 | 1 | 1 | Mainly used in systems utilizing ARM architecture |
| Mobile-ITX | 75 × 45 mm | 1 | 1 | Transportation, military, and medical-based embedded systems |
| Neo-ITX | 170 × 85 × 35 mm | 1 | 1 | Embedded systems |
General specifications of ITX form factors
Mini ITX
As the name suggests, this is a small form factor that comes with the minimum width and depth dimensions – 170 mm × 170 mm. That's almost 34% smaller than the Flex-ATX form factor.
Despite that, the I/O shield remains identical, with no feature reduction, whatsoever. So, even a small form factor can sometimes be better than the standard ATX motherboards. This completely depends on the motherboard chipset though.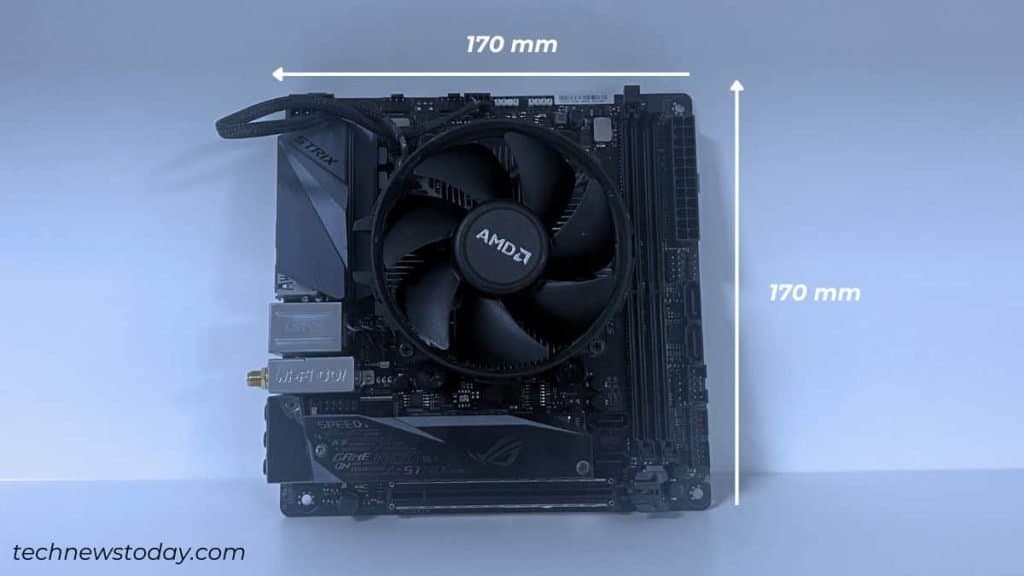 For instance, my ROG STRIX B550I-GAMING motherboard includes a USB BIOS Flashback feature. But the other ASUS models (ATX ones) — ROG STRIX B450-F GAMING or PRIME B450-PLUS, do not integrate such a feature.
From the above example, you might have noticed that Mini-ITX form factors are usually integrated with an 'I' in the chipset name.
To better manage space, these motherboards are usually equipped with less number of I/O ports, DIMM/expansion slots, and headers. Thanks to its size, it can easily be mounted on any type of casing.
For better aesthetics, it's always best to go for the mini-ITX form factor, but don't worry it can be compatible with NAS and other SFFs.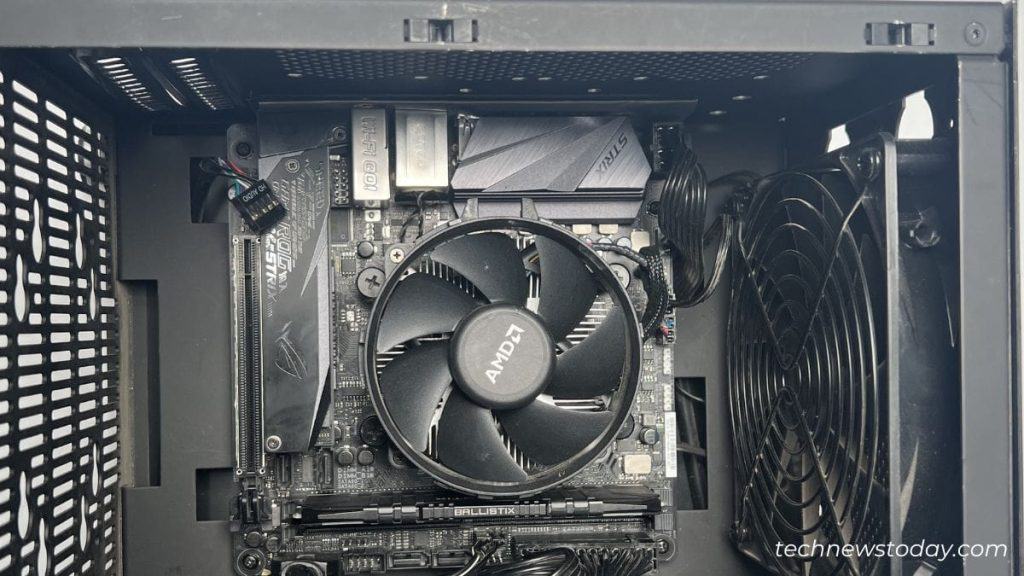 Usually, TFX PSUs are used to power these motherboards, and future upgrades are quite difficult.
Previously, only a few number of Mini-ITX boards were available, specifically from VIA. But today, you can find all popular motherboard manufacturers introduce different versions of the same motherboard model.
For example, ROG STRIX B450-F GAMING and ROG STRIX B450-I GAMING both use the same chipset. The difference is that the former is an ATX board while the latter belongs to the ITX family.
Thin Mini ITX
If you're looking to build thin-client PCs, opting for Thin Mini-ITX would be the best bet. However, such motherboards are quite rare to find. As per my intensive research, I've only come across ASUS and Gigabyte offering this form factor.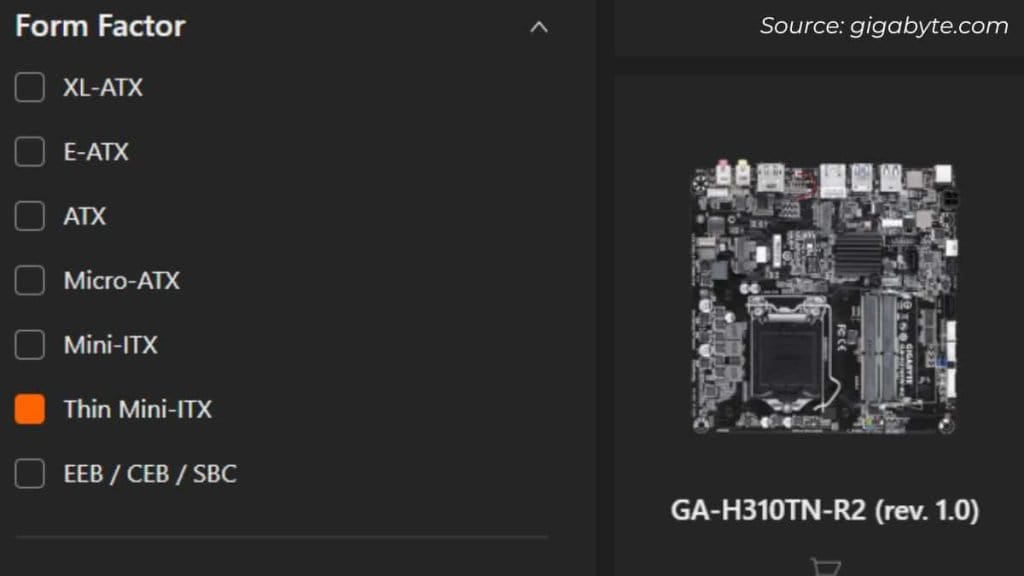 There's no subtle difference between the two in terms of dimension. But to adopt a thinner design, the number of I/O ports is reduced. Also, it uses SODIMM slots (just like in the laptop motherboard).
So, do all notebook computers use the Thin Mini ITX boards? Nope.
When it comes to laptops, there's no 'standard' form factor. This completely depends on the model used.
Other Small Form Factors
VIA has also introduced some more motherboard sizes in the form of Nano-ITX, Pico-ITX, Mobile-ITX, and Neo-ITX. They do not just differ in terms of dimension but also have specific use cases.
To cut it short, Nano-ITX is primarily used in media centers and set-top boxes. Their physical dimension is around 120 × 120 mm.
Pico-ITX (100 × 72 mm) and Mobile-ITX (75 × 45 mm) are comparatively less used (only in embedded systems).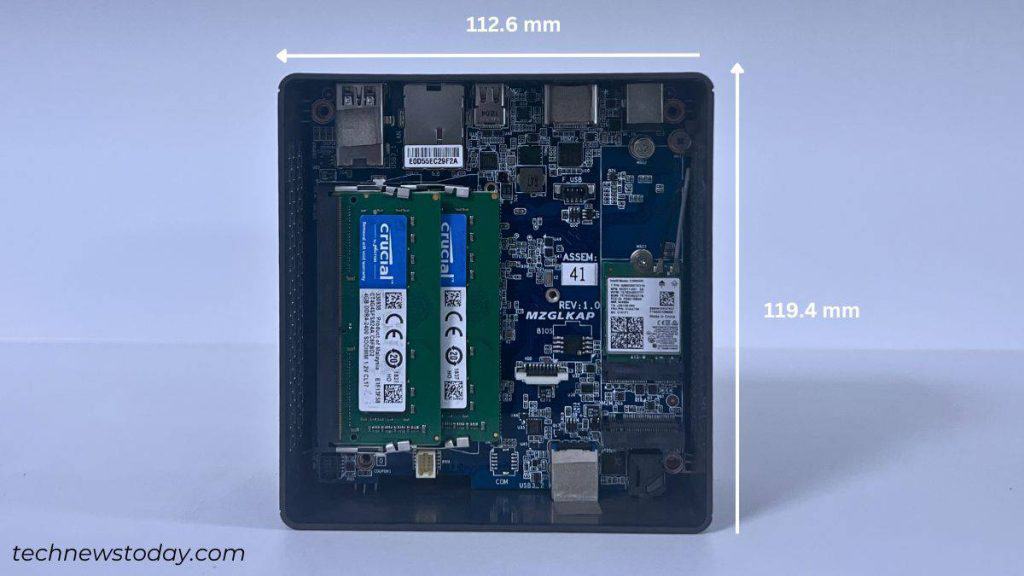 What about Mini PCs? Usually, they are sold as fully assembled systems and fall under the 'Nettop' motherboard type.
Check the demonstrated image of Gigabyte's MZGLKAP above. It has a dimension of 112.6 x 119.4 mm, which neither falls under Nano-ITX nor Pico-ITX. But somewhere in between.
Likewise, there are other SFF motherboard types, like COM, USFF, UCFF, etc. A popular example of UCFF is the Intel Next Unit of Computing (NUC).
SSI CEB / MEB / EEB
These form factors were introduced by the Server System Infrastructure (SSI) Forum and are adopted by a handful of manufacturers.
I have come across a few boards from Gigabyte and also from ASUS. They are mainly used for dual-processor purposes in servers and workstations.
All three specifications are compatible with the ATX family and have identical mounting holes. However, they are larger in terms of width. Have a look at their basic specifications to understand how they differ:
| | | |
| --- | --- | --- |
| Form Factor | Dimension (in mm) | Max. Expansion Slots |
| CEB (Compact Electronics Bay) | 305 × 267 | 7 |
| MEB (Midrange Electronics Bay) | 411 × 330 | 12 |
| EEB (Enterprise Electronics Bay) | 305 × 330 | 7 |
| TEB (Thin Electronics Bay) | 305 × 267 | 7 |
General specifications of SSI form factors (CEB, MEB, EEB, and TEB)
Mini-STX
Only in the market since 2015, Mini-STX has been a popular choice for building small-factor computers. Currently, there are a handful of motherboards coming from ASRock with a standard dimension of 140 mm x 147 mm.
Despite its small size, Mini-STX boards have a higher value with better performance. ASRock claims the motherboard can save 14% on power consumption after the replacement of a standard PSU with a DC-In Adapter.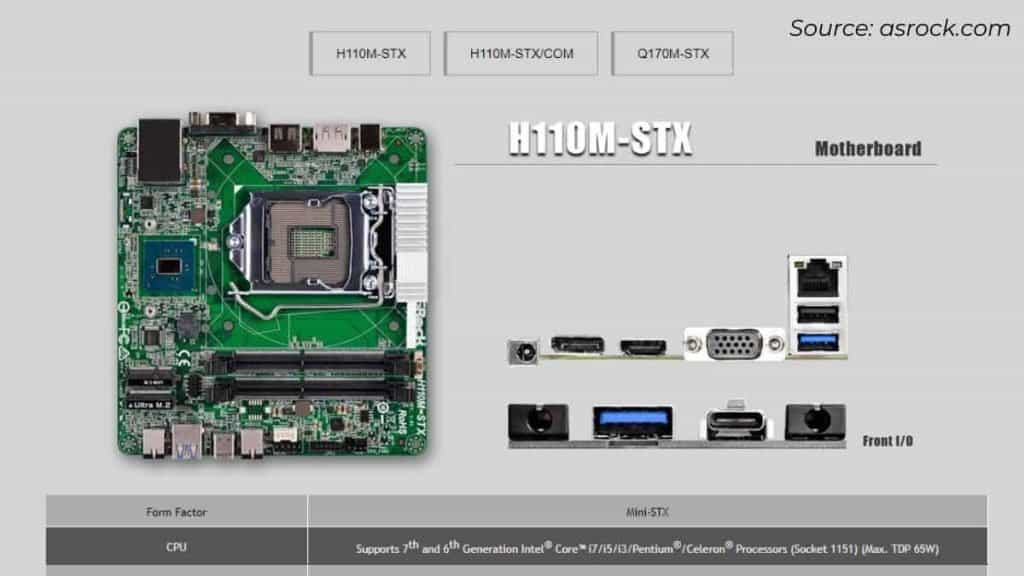 Additionally, it offers better customization, at least two M.2 slots, flexible LAN choice, a minimum of three video ports, etc. Thus, this can be an effective solution if you're planning to build a budget and small-sized system.
Legacy and Proprietary Form Factors
Well, the motherboard types that I have discussed are just the ones that are popular in recent times. Turning back time, plenty of sizes were available that are now obsolete.
I still remember my first PC (Biostar MB-1333UCG). It was a Baby-AT form factor with 330 x 218 dimensions.
You can even find crypto-mining-specific motherboards having a 305 × 203 dimension. These have not just four or five GPU slots but integrate even up to 20!
Let's not get into specific details or so. Here are some of the other motherboard types that are/were used. Even the below list is not complete as there are merely even more.
| | | |
| --- | --- | --- |
| Form Factor | Dimension (in mm) | Status/Use Case |
| XT | 216 × 279 | Succeeded IBM PC but now obsolete (used to be the de facto standard) |
| AT | 305 × 330 (max) | Superseded |
| Baby-AT | 216 × 330 (max) | Succeeded AT but was superseded by ATX |
| BTX | 325 × 267 | Planned to replace ATX but failed (limited use) |
| MicroBTX | 264 × 267 | BTX variant that can support four DIMM slots |
| DTX | 200 × 244 | Designed by AMD for small form factor PCs |
| ETX | 95 × 114 | Used for design applications |
| COM Express (Basic/Compact/Mini) | 95 × 125 / 95 × 95 / 55 × 84 | Used for embedded applications |
| LPX | 229 × 330 (max) | Adopted semi-proprietary design and superseded by ATX |
| NLX | 203 × 345 (max) | For corporate desktop or mini-tower systems |
| UTX | 88 × 108 | Used in embedded systems |
| WTX | 355.6 × 425.4 | Used in high-end, multiprocessor, multiple hard disk servers and workstations |
| SWTX | 418 × 330 | Proprietary and used in 4-socket servers |
Some legacy and proprietary form factors with their dimensions and use cases
What Motherboard Form Factor Do I Need?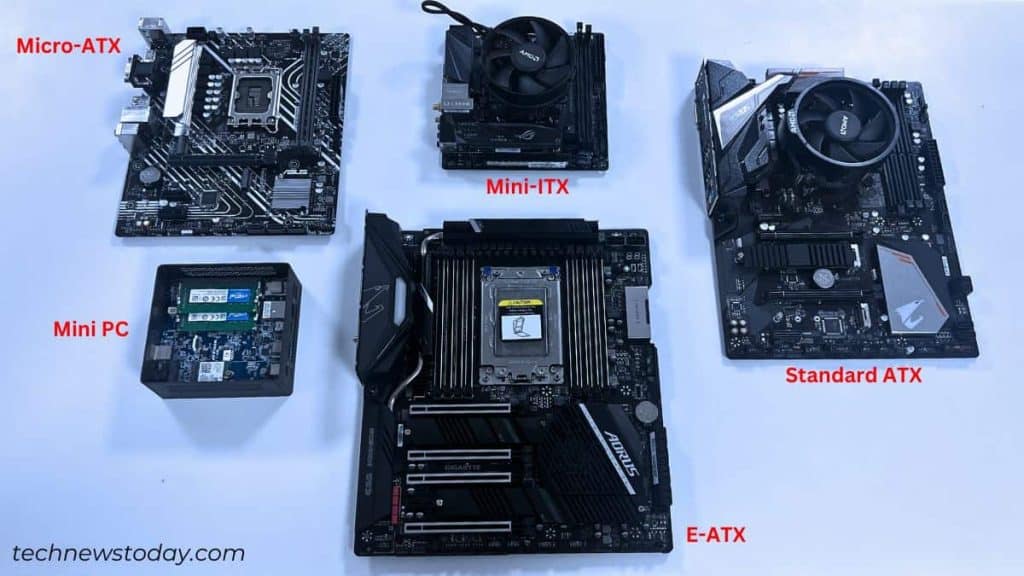 There's nothing called the 'best' motherboard form factor. Each size serves a specific purpose and the choice completely depends on your needs and preference.
As I mentioned earlier, the four popular choices are ATX, Micro ATX, EATX, and Mini-ITX. Go for the standard variant for general-purpose office/home setup. But if you're seeking to build a rig for your server or workstation, EATX would be the best.
For budget builds, I highly recommend Micro-ATX as they can be ideal for both compact and gaming purposes. The last one (Mini-ITX) is for those who seek portability.
Note that a small form factor doesn't mean they are cheaper. In some cases, their price tag can go even higher than a full-sized ATX motherboard.
However, motherboard size isn't the only thing to consider when getting a motherboard. CPU compatibility, chipset, future-proofing, warranty, aesthetics (usually that have RGB), and cooling are some other factors to keep in mind.